Jeremy Lin Most Valuable Player Odds Slashed Further
Published on:
Feb/19/2012
Even before Jeremy Lin lead his Knicks team to their most impressive win yet over the reigning NBA champion Dallas Mavericks, his Most Valuable Player odds had been slashed to 30/1 at Sportsbook.com. 
Just over a week ago, Lin had odds of 75/1.  These were quickly brought down to 45/1 and sat at 30/1 heading into Sunday's big early afternoon game against Dallas.
Expect his odds to be reduced further as the value dwindles for those who haven't locked in a price yet. 
The 104-97 win was definitely a team effort but Lin's contributions could not be ignored, even if he is turnover-prone.  Lin had nine turnovers, tied for the most in the NBA this season, Friday in an 89-85 loss to New Orleans.  He has had at least six turnovers in six straight games coming into Sunday. 
But it was Lin who helped rally his teammates for a third quarter comeback.  This included Steve Novak making four 3-pointers in about 4½ minutes of the fourth quarter.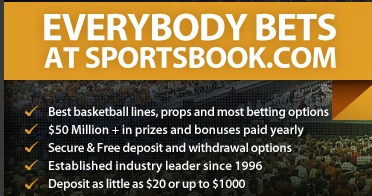 The Mavs outspoken owner, Mark Cuban, could have had Lin after he played in Dallas during their 2010 summer league.  Cuban said that Lin was not signed because he preferred to play closer to home in the Northeast U.S.
"It wasn't luck because there were how many other teams that could have signed Jeremy and the Knicks were the ones who went out and got him," Cuban said. "So they saw something and they were smart enough to go out and get him."
And you know you've made the big leagues when you're spoofed on Saturday Night Live as Lin was over the weekend.
- Dan Shapiro, Gambling911.com