Heat vs. Cavs Betting Line
Published on:
Apr/02/2015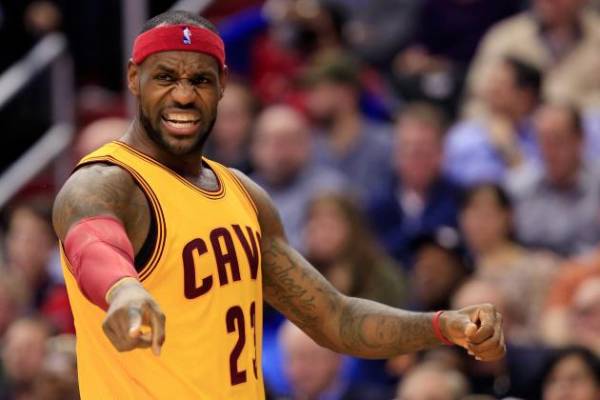 Carrie Stroup here with your Heat vs. Cavs betting line courtesy of Sportsbook.ag  The line on this game was Cleveland -10.5, total: 195.5.
The Heat look to improve their positioning in the Eastern Conference standings with a win over the Cavaliers Thursday.
The Heat faced the Spurs in Miami on Tuesday and lost 95-81 as 8-point home underdogs. Prior to that loss, Miami had won-and-covered in two of its previous three games. The Heat will need to improve on the offensive end though, as they've scored 100+ points in just once in their past six games.
The Cavaliers have now won five of their past six games SU after an 87-86 victory over the Sixers on Monday. Cleveland has failed to cover in two straight games and is averaging just 92.5 PPG in those contests. These teams have met three times this season and Miami is 2-1 SU and ATS in those contests.
Over the past three seasons, the Heat are 4-1 SU but 2-3 ATS when playing in Cleveland. Miami is also 9-1 SU and 4-6 ATS overall in this series in that time. Miami is 23-13 ATS after a game where it failed to cover the spread this season. Cleveland is 8-1 ATS in home games when revenging a road loss of 10 points or more versus an opponent this season. SF Luol Deng (Knee) is questionable for the Heat, who are without PG Shabazz Napier (Hip), PF Chris Bosh (Blood Clot) and PF Josh McRoberts (Knee) either indefinitely or for the season. SG Iman Shumpert (Ankle) is probable for Cleveland and PF Kevin Love (Back), and Kyrie Irving (Illness) are questionable.
The Heat have played well against the Cavaliers this season and SG Dwyane Wade (21.7 PPG, 5.0 APG, 3.6 RPG, 1.3 SPG) is a huge reason for that. Wade has absolutely torched Cleveland this season, averaging 31.5 PPG, 3.5 RPG, 3.5 APG and 3.5 SPG in 34.0 MPG in the two meetings between these teams. Wade is feeling healthier after having his knee drained last week and he should be good to go in this one.
C Hassan Whiteside (11.0 PPG, 9.7 RPG, 2.5 BPG) returned from a hand injury to put up 10 points, six rebounds, two blocks and two steals in 23 minutes against the Spurs Tuesday. He is averaging 11.0 PPG, 9.3 RPG and 1.3 BPG in three games against Cleveland this season and will need to provide a source of rim protection and rebounding for the Heat.
PG Goran Dragic (16.2 PPG, 4.4 APG, 3.5 RPG, 1.1 SPG) is averaging 19.0 PPG, 6.5 APG, 3.5 RPG and 2.0 SPG in two games against the Cavs this season. Kyrie Irving is not a great defender and Dragic will need to make him work extremely hard on both ends of the floor. He should be able to score on him and will also be able to tire out Irving so that he plays worse offensively.
SF Luol Deng (14.2 PPG, 4.9 RPG) is averaging 17.7 PPG, 7.3 RPG and 4.3 APG in three games against Cleveland this season. He is going to be matched up with LeBron James in this one and will need to hold his own on both ends of the floor, which has not been a problem this season.
The Cavaliers are looking to stay hot heading into the postseason and SF LeBron James (25.7 PPG, 7.3 APG, 5.9 RPG, 1.6 SPG) will need to play well against his former team in order to come away with a victory in this one. James is averaging 24.7 PPG, 6.3 APG and 5.0 RPG in three meetings with Miami this season. He has had trouble with Luol Deng at times in his career and will have to really bring it on both ends of the floor.
PF Kevin Love (16.5 PPG, 10.0 RPG) is coming off of a double-double (10 points, 10 rebounds) against the Sixers on Sunday. Love is averaging just 13.0 PPG and 5.5 RPG in two games against Miami this season. He is far too good of a rebounder to be grabbing less than 10 in any given game and will need to be aggressive on the glass against a Heat frontcourt that boasts Hassan Whiteside Thursday.
PG Kyrie Irving (21.9 PPG, 5.2 APG, 3.2 RPG, 1.4 SPG) will really need to play well in his matchup with Goran Dragic in this game. Irving is an incredible scorer and can get it going from deep (41% 3PT) in a hurry. He's averaging 20.3 PPG against the Heat this season and will need to take some pressure off of LeBron James offensively Thursday.
C Timofey Mozgov (9.7 PPG, 7.4 RPG, 1.3 BPG) has faced the Heat three times this season and is averaging 13.0 PPG and 7.7 RPG in those contests. Mozgov's matchup with Whiteside could determine who ends up winning this game.
- Carrie Stroup, Gambling911.com Senior Reporter