Hawks vs. Pacers Betting Line – NBA Playoffs Round 1
Published on:
Apr/20/2013
Carrie Stroup here with your Hawks vs. Pacers betting line for the NBA Playoffs Round 1.  Bet this and all other NBA Playoffs games at Sportsbook.com here and claim your FREE $100 WAGER.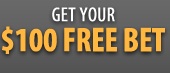 Sportsbook.ag Line & Total: Indiana -7 & 185.5
Atlanta travels to Indiana on Sunday afternoon for Game 1 of their first round playoff series with the Pacers, who were 30-11 at home during the regular season.
Despite Indiana's excellent SU record at Bankers Life Fieldhouse, the team was just 22-19 ATS at home. The Hawks were 19-22 SU, but 23-18 ATS (56%), on thee road this season. The home team won all four games in the season series with each team going 2-2 ATS against one another.
The Pacers won the last meeting at home on March 25 by a 100-94 score behind 17 points,13 rebounds and three blocks from C Roy Hibbert. Both teams have had their share of injuries this season, but it appears that both of Atlanta's top two players -- C Al Horford (shoulder) and PF Josh Smith (knee) -- will start in Saturday's game. The Hawks enter the playoffs having lost five of its final seven games SU and posting a 2-8 ATS mark in its final 10 contests. The Pacers also fizzled down the stretch with six straight ATS defeats to end the season, winning just one of those games outright, a 5-point win over lowly Cleveland.
The success of the Hawks this series is going to come down to the play of C Al Horford in the post. Horford missed three of the final five games for Atlanta with a shoulder injury, but in the two games he did play, he averaged 17.0 PPG (53% FG), 13.0 RPG and 4.5 APG. PF Josh Smith will also need to play at a high level if the Hawks are going to win this series. Smith averaged 19.3 PPG (60% FG) and 7.0 RPG over the final three regular-season games. His numbers would have been better, but he only played 13 minutes on Tuesday against the Raptors. PG Jeff Teague has a very crucial matchup with George Hill in this series and Teague will need to hang with him if the Hawks will stick around in the series. Teague averaged 9.0 APG and just 1.5 TOPG over his past four games. If he can take care of the ball like that, then the Hawks will be a tough team to beat.
Pacers SF Paul George is going to have to play better for the Pacers if they are going to advance in the Eastern Conference. George missed the last game with a strained abdomen, and scored just 11.5 PPG on 28.6% shooting in his prior four games. He averaged 17.4 PPG on 41.9% shooting from the field during the regular season, and was especially strong against the Hawks with 18.3 PPG (45% FG), 6.8 RPG and 4.5 APG in the four meetings. Luckily for the Pacers, their frontcourt of PF David West and C Roy Hibbert has been playing really well to end the season. West also sat out the final game (rest), but had averaged 17.5 PPG (61% FG) and 9.0 RPG in his past four contests. West torched the Hawks this season for 21.3 PPG (53% FG) and 5.7 RPG in the three games he played (sat one out with injury). Hibbert, who struggled all season, finished the year strong with 18 points, 10 rebounds and two blocks on April 12 against the Nets and 25 points and 10 rebounds on April 6 against the Wizards. Hibbert has been inconsistent this season, but he rebounded and defended well down the stretch, and as long as he is doing that he can really help Indiana in a number of ways.
- Carrie Stroup, Gambling911.com Senior Reporter