Grizzlies vs. Warriors Game 1 Betting Line – 2015 NBA Playoffs
Published on:
May/02/2015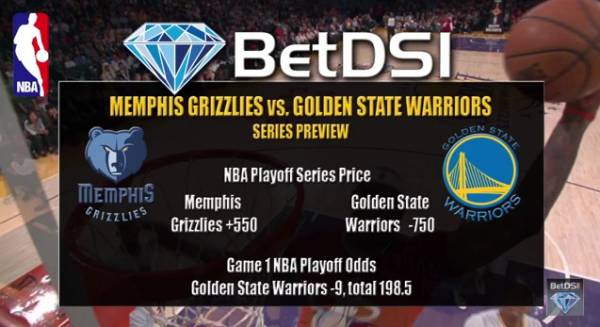 BetDSI.com has your Grizzlies vs. Warriors Game 1 betting line for the 2015 NBA Playoffs this Sunday in which Golden State was coming in as a -9.5 favorite.
The Memphis Grizzlies take on the Golden State Warriors in the Western Conference semifinals with the first game of the series set for Sunday, May 3rd. The Memphis Grizzlies took out the Portland Trail Blazers in five games in the first round while the Golden State Warriors swept away the New Orleans Pelicans. The Golden State Warriors are big favorites to win this best-of-seven game series and they are also solid favorites to win Game 1 on Sunday.
Here is a look at the matchup and NBA playoff picks.
Bet on NBA at BetDSI
NBA Playoff Series Price
Golden State Warriors -750, Memphis Grizzlies +550
Game 1 NBA Playoff Odds
Golden State Warriors -9, total 198.5
Matchups
The Golden State Warriors are the top seed and favored to win the NBA title in NBA futures. They led the NBA in scoring and they were virtually unbeatable at home. They have also been improving on defense thanks to Draymond Green who averaged 15.8 points, 12.8 rebounds and 6.3 assists per game in the series win over New Orleans.
The Grizzlies are the #5 seed and they rely upon defense to win games. They were second in the league in fewest points allowed this season. They are going to be severely tested in this series against a potent Golden State attack led by Stephen Curry and Klay Thompson. To be competitive in this series they need guard Mike Conley back in the lineup and playing well.