Buffalo vs. West Virginia Betting Line
Published on:
Mar/19/2015
The Buffalo vs. West Virginia betting line was available at BetPhoenix.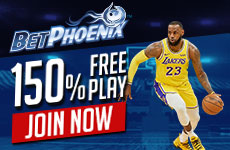 Both teams have identical records coming into Friday's game with West Virginia 16-13 Against The Spread and Buffalo 17-13 ATS.
The Bulls are 4-0 Against The Spread in their last 4 non-conference games while the Mountaineers are 13-5-1 ATS in their last 19 NCAA Tournament games and 6-2 ATS in their last 8 vs. Mid-American.
Buffalo (23-9) is making its first ever NCAA tournament appearance as the No. 12 seed in the Midwest Region.
West Virginia (23-9) is back in the tournament for the first time since 2012 with Coach Bob Huggins 27-20 all time in the NCAA tournament.
Buffalo is riding an eight-game winning streak into the tournament while West Virginia is going in the opposite direction with three losses in its last four games.
NCAA BASKETBALL - MEN - Mar 20

NCAA TOURNAMENT - TIME WARNER CABLE ARENA

CHARLOTTE, NC - 2ND ROUND

 

Mar 20

825

BELMONT

+17-110

o123½-110

 
 

3:10 PM

826

VIRGINIA

-17-110

u123½-110

 
 

Mar 20

827

GEORGIA

+6-110

o127½-110

+225

 

12:40 PM

828

MICHIGAN STATE

-6-110

u127½-110

-265

 

Mar 20

829

ROBERT MORRIS

+22½-110

o144½-110

 
 

7:10 PM

830

DUKE

-22½-110

u144½-110

 
 

Mar 20

831

ST. JOHN'S

+3½-110

o122-110

+160

 

3:00 PM

832

SAN DIEGO STATE

-3½-110

u122-110

-180

NCAA TOURNAMENT - NATIONWIDE ARENA

COLUMBUS, OH - 2ND ROUND

 

Mar 20

833

BUFFALO

+4½-110

o150½-110

+170

 

3:00 PM

834

WEST VIRGINIA

-4½-110

u150½-110

-200

 

Mar 20

835

VALPARAISO

+4½-110

o123-110

+170

 

3:00 PM

836

MARYLAND

-4½-110

u123-110

-200

 

Mar 20

837

ALBANY NY

+13½-110

o130-110

 
 

3:00 PM

838

OKLAHOMA

-13½-110

u130-110

 
 

Mar 20

839

DAYTON

+3-110

o131-110

+150

 

3:00 PM

840

PROVIDENCE

-3-110

u131-110

-170

NCAA TOURNAMENT - CENTURY LINK ARENA

OMAHA, NE - 2ND ROUND

 

Mar 20

841

NEW MEXICO STATE

+11-110

o131½-110

 
 

3:00 PM

842

KANSAS

-11-110

u131½-110

 
 

Mar 20

843

INDIANA

+6-110

o140½-110

+220

 

3:00 PM

844

WICHITA STATE

-6-110

u140½-110

-260

 

Mar 20

845

COASTAL CAROLINA

+20-105

o129½-110

 
 

3:00 PM

846

WISCONSIN

-20-115

u129½-110

 
 

Mar 20

847

OKLAHOMA STATE

+1½-115

o136-110

+115

 

3:00 PM

848

OREGON

-1½-105

u136-110

-135

NCAA TOURNAMENT - KEY ARENA

SEATTLE, WA - 2ND ROUND

 

Mar 20

849

WYOMING

+6½-115

o110-110

+230

 

3:00 PM

850

NORTHERN IOWA

-6½-105

u110-110

-270

 

Mar 20

851

CAL IRVINE

+8½-115

o125-110

+335

 

3:00 PM

852

LOUISVILLE

-8½-105

u125-110

-425

 

Mar 20

853

NORTH DAKOTA ST

+18-110

o128½-110

 
 

3:00 PM

854

GONZAGA

-18-110

u128½-110

 
 

Mar 20

855

DAVIDSON

+2½-115

o145½-110

+115

 

3:00 PM

856

IOWA

-2½-105

u

 
- Don Shapiro, Gambling911.com