Gambling911.com has your Arizona vs. Stanford betting odds for Saturday's games. 

Arizona vs. Stanford Head to Head
As seen below, Arizona has owned this series.  The line is Wildcats -5.5 today.  Using this spread, they have covered in the last five meetings of this series.
The College Basketball Betting Power Ratings indicates the line on this game should be Arizona -6.5.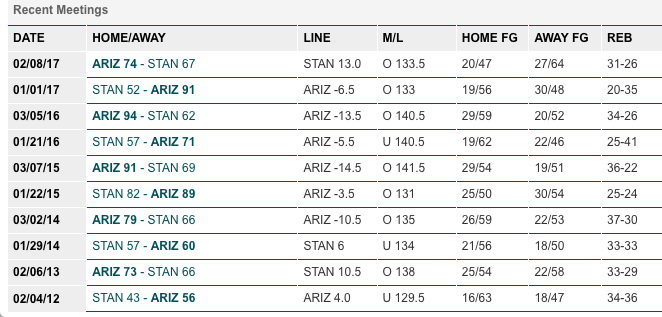 Arizona vs. Stanford Hot Trends
The Wildcats are 2-10-1 Against The Spread in their last 13 games vs. a team with a winning straight up record.
The Wildcats are 1-6-1 ATS in their last 8 games following a ATS win.
The Cardinal are 5-0 ATS in their last 5 vs. Pacific-12.
Date Time
#
Team
Spread
Total
Money Line
NCAA BASKETBALL - MEN - Jan 20
01/20/2018
531
GEORGE WASHINGTON
+8-110
o141½-105
+325
09:30:00
532
VA COMMONWEALTH
-8-110
u141½-115
-395
01/20/2018
533
NORTHERN KENTUCKY
-12-108
o152-110
 
10:00:00
534
WISC GREEN BAY
+12-112
u152-110
 
01/20/2018
535
FORDHAM
+11-110
o136½-110
+475
10:00:00
536
ST. JOSEPHS
-11-110
u136½-110
-650
01/20/2018
537
RHODE ISLAND
-4-110
o146½-115
-183
10:00:00
538
DAYTON
+4-110
u146½-105
+163
01/20/2018
539
LSU
+2-115
o143-110
 
10:00:00
540
VANDERBILT
-2-105
u143-110
 
01/20/2018
541
ILLINOIS STATE
+4-110
o144½-110
+163
11:00:00
542
INDIANA STATE
-4-110
u144½-110
-183
01/20/2018
543
OHIO
+6-110
o140-110
+225
11:00:00
544
EASTERN MICHIGAN
-6-110
u140-110
-265
01/20/2018
545
NORTHERN ILLINOIS
+3-115
 
 
13:30:00
546
AKRON
-3-105
 
 
01/20/2018
547
DELAWARE
+10-115
o141-110
 
11:00:00
548
NORTHEASTERN
-10-105
u141-110
 
01/20/2018
549
SAINT LOUIS
+3-110
o128½-110
+140
11:00:00
550
MASSACHUSETTS
-3-110
u128½-110
-160
01/20/2018
551
OLD DOMINION
-8-110
o130-110
-375
11:00:00
552
FLORIDA ATLANTIC
+8-110
u130-110
+315
01/20/2018
553
BUTLER
-5-115
o148½-110
-230
11:00:00
554
DEPAUL
+5-105
u148½-110
+190
01/20/2018
555
PENN STATE
+3-110
o137-110
+140
11:00:00
556
NORTHWESTERN
-3-110
u137-110
-160
01/20/2018
557
TEMPLE
-1½-110
o139-110
 
11:00:00
558
PENNSYLVANIA
+1½-110
u139-110
 
01/20/2018
559
GEORGIA TECH
+14-110
o139-105
 
11:00:00
560
NORTH CAROLINA
-14-110
u139-115
 
01/20/2018
561
OKLAHOMA
-2½-105
o166½-110
-140
11:00:00
562
OKLAHOMA STATE
+2½-115
u166½-110
+120
01/20/2018
563
TEXAS
+9-110
o136½-110
+363
11:00:00
564
WEST VIRGINIA
-9-110
u136½-110
-438
01/20/2018
565
TEXAS TECH
-7½-110
o141-110
-340
11:00:00
566
IOWA STATE
+7½-110
u141-110
+280
01/20/2018
567
GEORGIA SOUTHERN
+5-110
o136½-110
+185
11:15:00
568
GEORGIA STATE
-5-110
u136½-110
-225
01/20/2018
569
XAVIER
+3-110
o159-110
+140
11:30:00
570
SETON HALL
-3-110
u159-110
-160
01/20/2018
571
LA SALLE
-1-110
o142½-110
 
11:30:00
572
RICHMOND
+1-110
u142½-110
 
01/20/2018
573
CREIGHTON
+2-105
o152-110
+120
12:00:00
574
PROVIDENCE
-2-115
u152-110
-140
01/20/2018
575
CENTRAL MICHIGAN
+1-110
o153½-110
 
12:30:00
576
BOWLING GREEN
-1-110
u153½-110
 
01/20/2018
577
BALL STATE
-5-110
o141-115
-225
12:30:00
578
MIAMI OHIO
+5-110
u141-105
+185
01/20/2018
579
ILLINOIS CHICAGO
-2-110
o141½-110
-135
12:30:00
580
CLEVELAND STATE
+2-110
u141½-110
+115
01/20/2018
581
MISSISSIPPI
+8-110
o156½-110
+315
12:30:00
582
ARKANSAS
-8-110
u156½-110
-375
01/20/2018
583
ARIZONA
-5½-110
 
 
13:00:00
584
STANFORD
+5½-110
 
 
01/20/2018
587
UTEP
+6-110
 
 
17:30:00
588
TEXAS SAN ANTONIO
-6-110
 
 
01/20/2018
589
TCU
+2½-110
 
 
13:00:00
590
KANSAS STATE
-2½-110
 
 
01/20/2018
591
HOFSTRA
+6-110
 
 
13:00:00
592
COLL OF CHARLESTON
-6-110
 
 
01/20/2018
593
EAST CAROLINA
+30-110
 
 
13:00:00
594
CINCINNATI
-30-110
 
 
01/20/2018
595
DREXEL
+4½-110
 
 
13:00:00
596
JAMES MADISON
-4½-110
 
 
01/20/2018
597
OAKLAND
-9-110
 
 
13:00:00
598
DETROIT
+9-110
 
 
01/20/2018
599
MISSOURI STATE
-2½-110
 
 
13:00:00
600
DRAKE
+2½-110
 
 
01/20/2018
601
MISSOURI
+5-110
 
 
13:00:00
602
TEXAS A&M
-5-110
 
 
01/20/2018
603
PITTSBURGH
+28½-105
 
 
13:00:00
604
DUKE
-28½-115
 
 
01/20/2018
605
NOTRE DAME
+6½-110
 
 
13:00:00
606
CLEMSON
-6½-110
 
 
01/20/2018
607
APPALACHIAN STATE
+3-110
 
 
13:05:00
608
SOUTH ALABAMA
-3-110
 
 
01/20/2018
609
GEORGE MASON
+5½-110
 
 
13:30:00
610
DUQUESNE
-5½-110
 
 
01/20/2018
611
UNLV
-5-110
 
 
14:00:00
612
COLORADO STATE
+5-110
 
 
01/20/2018
613
NORTH TEXAS
+2-110
 
 
14:00:00
614
SOUTHERN MISS
-2-110
 
 
01/20/2018
615
UL - MONROE
+13½-107
 
 
14:15:00
616
UT ARLINGTON
-13½-113
 
 
01/20/2018
617
COASTAL CAROLIN
+5½-110
 
 
14:15:00
618
TROY
-5½-110
 
 
01/20/2018
619
UL - LAFAYETTE
-6½-110
 
 
14:30:00
620
TEXAS STATE
+6½-110
 
 
01/20/2018
621
ARKANSAS STATE
+4-115
 
 
15:00:00
622
ARKANSAS LITTLE ROCK
-4-105
 
 
01/20/2018
623
WASHINGTON
+5-110
 
 
15:00:00
624
COLORADO
-5-110
 
 
01/20/2018
625
GEORGIA
+9-110
 
 
15:00:00
626
AUBURN
-9-110
 
 
01/20/2018
627
TENNESSEE
-3½-110
 
 
15:00:00
628
SOUTH CAROLINA
+3½-110
 
 
01/20/2018
629
TULANE
+12½-110
 
 
15:00:00
630
SMU
-12½-110
 
 
01/20/2018
631
CENTRAL FLORIDA
-11½-115
 
 
15:00:00
632
SOUTH FLORIDA
+11½-105
 
 
01/20/2018
633
BAYLOR
+9-110
 
 
15:00:00
634
KANSAS
-9-110
 
 
01/20/2018
635
RICE
+12½-110
 
 
16:00:00
636
LOUISIANA TECH
-12½-110
 
 
01/20/2018
637
MIDDLE TENN ST
+5½-110
 
 
16:00:00
638
WESTERN KENTUCKY
-5½-110
 
 
01/20/2018
639
SAN DIEGO STATE
-1½-110
 
 
16:00:00
640
NEW MEXICO
+1½-110
 
 
01/20/2018
641
IUPUI
-1-110
 
 
16:00:00
642
YOUNGSTOWN STATE
+1-110
 
 
01/20/2018
643
CORNELL
+5-110
 
 
16:00:00
644
COLUMBIA
-5-110
 
 
01/20/2018
645
KENT STATE
+12-110
 
 
16:00:00
646
TOLEDO
-12-110
 
 
01/20/2018
647
UAB
-1-110
 
 
16:00:00
648
MARSHALL
+1-110
 
 
01/20/2018
649
HARVARD
-4½-110
 
 
16:00:00
650
DARTMOUTH
+4½-110
 
 
01/20/2018
651
WILLIAM & MARY
+2-105
 
 
16:00:00
652
ELON
-2-115
 
 
01/20/2018
653
CHARLOTTE U
+7½-110
 
 
16:00:00
654
FLORIDA INTL
-7½-110
 
 
01/20/2018
655
TOWSON
-6½-110
 
 
16:00:00
656
NC WILMINGTON
+6½-110
 
 
01/20/2018
657
WRIGHT STATE
-1½-110
 
-145
17:00:00
658
WISC MILWAUKEE
+1½-110
 
+125
01/20/2018
659
MEMPHIS
+3-115
 
 
17:00:00
660
TULSA
-3-105
 
 
01/20/2018
661
EVANSVILLE
+4-110
 
 
17:00:00
662
BRADLEY
-4-110
 
 
01/20/2018
663
GONZAGA
-20-110
 
 
17:00:00
664
SANTA CLARA
+20-110
 
 
01/20/2018
665
USC
-2½-110
 
 
17:00:00
666
OREGON STATE
+2½-110
 
 
01/20/2018
667
FLORIDA
+2½-115
 
 
17:15:00
668
KENTUCKY
-2½-105
 
 
01/20/2018
669
MISSISSIPPI STATE
+5½-110
 
 
17:30:00
670
ALABAMA
-5½-110
 
 
01/20/2018
671
SAN DIEGO
+10½-110
 
 
18:00:00
672
BYU
-10½-110
 
 
01/20/2018
673
WYOMING
+3-110
 
 
18:00:00
674
UTAH STATE
-3-110
 
 
01/20/2018
675
CAL POLY SLO
-3½-110
 
 
16:00:00
676
CS NORTHRIDGE
+3½-110
 
 
01/20/2018
677
CAL IRVINE
+7-105
 
 
21:00:00
678
CAL SANTA BARBA
-7-115
 
 
01/20/2018
679
SAINT MARY'S CA
-10-115
 
 
19:00:00
680
PACIFIC
+10-105
 
 
01/20/2018
681
PORTLAND
+6½-110
 
 
19:00:00
682
LOYOLA MARYMOUNT
-6½-110
 
 
01/20/2018
683
PEPPERDINE
+9½-105
 
 
19:00:00
684
SAN FRANCISCO
-9½-115
 
 
01/20/2018
685
BOISE STATE
+6½-110
 
 
19:00:00
686
NEVADA
-6½-110
 
 
01/20/2018
687
UCLA
+4½-110
 
 
19:15:00
688
OREGON
-4½-110
 
 
01/20/2018
689
CS FULLERTON
+2½-110
 
 
19:30:00
690
LONG BEACH STATE
-2½-110
 
 
01/20/2018
691
ARIZONA STATE
-10½-110
 
 
19:30:00
692
CALIFORNIA
+10½-110
 
 
01/20/2018
693
UC DAVIS
+3-105
 
 
21:00:00
694
HAWAII
-3-115
 
 
ADDED GAMES
01/20/2018
695
NORTH DAKOTA ST
+3-110
o150½-110
+135
10:00:00
696
IPFW
-3-110
u150½-110
-155
01/20/2018
697
THE CITADEL
+3½-110
o164½-110
+145
10:00:00
698
VMI
-3½-110
u164½-110
-165
01/20/2018
699
NIAGARA
+2½-110
o158½-110
+125
10:00:00
700
FAIRFIELD
-2½-110
u158½-110
-145
01/20/2018
701
TENNESSEE MARTIN
+1½-110
o148½-110
 
11:00:00
702
SIU EDWARDSVILLE
-1½-110
u148½-110
 
01/20/2018
703
EASTERN WASHINGTON
-4-105
o161½-110
-175
11:30:00
704
SOUTHERN UTAH
+4-115
u161½-110
+155
01/20/2018
705
WESTERN CAROLINA
+18½-110
 
 
13:00:00
706
EAST TENN STATE
-18½-110
 
 
01/20/2018
707
TENNESSEE TECH
-1-110
 
 
13:15:00
708
MOREHEAD STATE
+1-110
 
 
01/20/2018
709
SE MISSOURI STATE
+3-105
 
 
13:15:00
710
EASTERN ILLINOIS
-3-115
 
 
01/20/2018
711
SAMFORD
+14-110
 
 
13:30:00
712
FURMAN
-14-110
 
 
01/20/2018
713
MERCER
+2-110
 
 
14:00:00
714
NC GREENSBORO
-2-110
 
 
01/20/2018
715
AUSTIN PEAY
+10-110
 
 
15:00:00
716
BELMONT
-10-110
 
 
01/20/2018
717
TENN CHATTANOOGA
+11½-110
 
 
16:00:00
718
WOFFORD
-11½-110
 
 
01/20/2018
719
JACKSONVILLE ST
-6-110
 
 
16:00:00
720
EASTERN KENTUCKY
+6-110
 
 
01/20/2018
721
IDAHO
-10½-110
 
 
16:00:00
722
NORTHERN ARIZONA
+10½-110
 
 
01/20/2018
723
MARIST
+16½-110
 
 
16:00:00
724
RIDER
-16½-110
 
 
01/20/2018
725
SOUTH DAKOTA ST
-10½-110
 
 
17:00:00
726
WESTERN ILLINOI
+10½-110
 
 
01/20/2018
727
SOUTH DAKOTA
-6½-110
 
 
17:00:00
728
NEBRASKA OMAHA
+6½-110
 
 
01/20/2018
729
DENVER
+8½-115
 
 
17:00:00
730
ORAL ROBERTS
-8½-105
 
 
01/20/2018
731
MURRAY STATE
-7-105
 
 
17:30:00
732
TENNESSEE STATE
+7-115
 
 
01/20/2018
733
NORTH DAKOTA
+7-110
 
 
18:00:00
734
NO. COLORADO
-7-110
 
 
01/20/2018
735
MONTANA
-7-110
 
 
18:00:00
736
MONTANA STATE
+7-110
 
 
01/20/2018
737
PORTLAND STATE
+1½-110
 
 
18:00:00
738
WEBER STATE
-1½-110
 
 
01/20/2018
739
SACRAMENTO STATE
+2½-105
 
 
18:00:00
740
IDAHO STATE
-2½-115
- Tyrone Black, Gambling911.com