2015 NCAA Tournament Midwest Region Odds to Win
Published on:
Mar/18/2015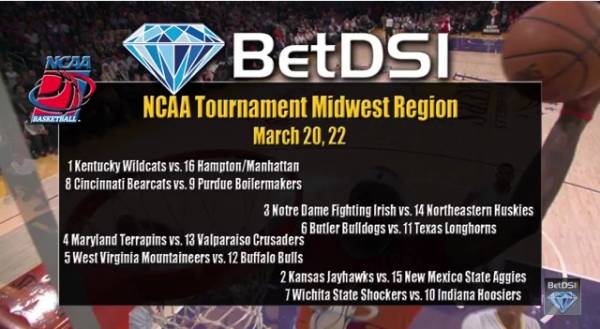 BetDSI.com has your 2015 NCAA Tournament Midwest Region odds to win.
There is only one favorite here. Kentucky plays in the Southeastern Conference, a league without a lot of other top teams in college basketball. The Wildcats are going to be doubted by some just because they've been playing in the SEC for the past two and a half months. Their return to the non-conference environment of the NCAA tournament will be greeted with some questions. However, the Wildcats pounded Kansas and North Carolina and other quality teams back in November and December, so the idea that Kentucky is unproven beyond the SEC is not really an accurate one. The problem might be more a matter of the Wildcats getting dragged down to the SEC's level and finding it hard to return to their November level of play, when they absolutely destroyed good non-conference opponents.
Kentucky's collective stats are going to be viewed by a lot of people who will understand that a lot of games against SEC teams fed into these numbers. Yet, even if SEC play created these statistics, they're still impressive on a national scale. Kentucky is at or near the top 50 in overall shooting percentage and two-point percentage. The Wildcats are a top-20 team in terms of points scored per possession, and they are number one in the nation in points allowed per possession.
Their defense is overwhelmingly good and has been that way all season long. The Wildcats have so much size in the paint, with Willie Cauley-Stein protecting the rim and Karl-Anthony Towns being a bruising low-post enforcer who is impossible to move out of his spot. Trey Lyles adds depth, as does Dakari Johnson. On the perimeter, Devin Booker and Andrew Harrison give Kentucky competent three-point shooting and the team's two double-figure scorers.
Since so many players play at least 15 minutes but rarely more than 35, Kentucky is able to keep a lot of players fresh. What's also worth noting is that a per-game average will often be based on 20 minutes of play, which is half of a full game. These various averages, then, are not a true reflection of how much production Kentucky receives each game. This is a team that's even better than you think it is.
Sleepers/Longshots
There's a chance that Maryland could become a thorny team in this region. What's fascinating about Maryland is that the stats say this team isn't very good. The Terrapins are outside top 120 in shooting, outside top 130 in two-point shooting, and in the top 90 in three-point shooting. This team does well at the foul line, placing in the top 35 in free throw shooting. This team is okay in some other metrics – the top 80 in both points per possession and points allowed per possession.
Maryland finished worse in some other categories: outside the top 100 in turnovers per game, and outside the top 250 in assists per game. The Terps were a top-50 team in terms of shooting defense. They placed in the top 80 in two-point defense and the top 70 in three-point defense. This team was weak on the boards, outside the top 210 in rebounding percentage.
Why did this team manage to get a number four seed? Maryland finished 11-1 in games decided by six points or fewer. When a team learns how to win like that, it demands respect.