2012 NCAA Basketball Tournament Betting Odds – March 18
Published on:
Mar/17/2012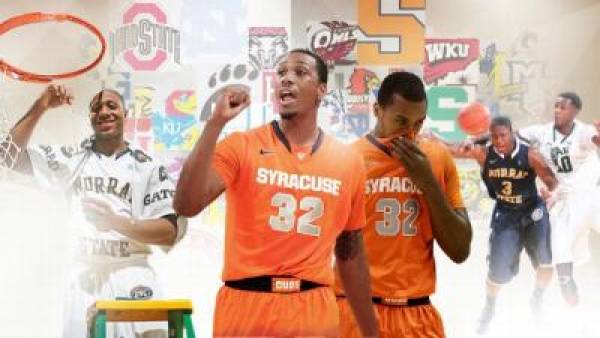 2012 NCAA Basketball Tournament betting odds for the March 18 games were available at Bookmaker.eu here.  Be sure to claim up to $500 in FREE CASH when you open an online betting account here today.   MOBILE WAGERING AVAILABLE!!!
The most bet on sides for the day were Florida State as a -2 favorite against Cincinnati, Michigan State as a -6.5 favorite against St. Louis and the 4.5 underdog North Carolina State playing Georgetown. 
Michigan State was the single most bet on team getting just shy of 85 percent while Norfolk State unbelievably was getting the most lopsided action as it was facing Florida as a +15 underdog.  85 percent of those wagering on this game were deeming this spread too exaggerated. 
North Carolina and Florida State were also receiving lopsided betting action at 70 percent on the spread.
Here were all your 2012 NCAA Basketball Tournament betting odds for March 18 below and you can bet them here at Bookmaker.eu, which has been serving the sports wagering public since 1985. 
COLLEGE BASKETBALL - Mar 18 
COLLEGE BASKETBALL SUNDAY, MARCH 18TH NCAA TOURNAMENT - THIRD ROUND GREENSBORO COLISEUM - GREENSBORO, NC
NCAA TOURNAMENT - THIRD ROUND GREENSBORO COLISEUM - GREENSBORO, NC
 

| | | | |
| --- | --- | --- | --- |
| CREIGHTON | +8-110 | o159-110 | +355 |
| NORTH CAROLINA | -8-110 | u159-110 | -425 |
 

| | | | |
| --- | --- | --- | --- |
| LEHIGH | +3½-110 | o139½-110 | +150 |
| XAVIER | -3½-110 | u139½-110 | -170 |
NCAA TOURNAMENT - THIRD ROUND NATIONWIDE ARENA - COLUMBUS, OH
 

| | | | |
| --- | --- | --- | --- |
| NC STATE | +4½-110 | o132-110 | +170 |
| GEORGETOWN | -4½-110 | u132-110 | -200 |
 

| | | | |
| --- | --- | --- | --- |
| SAINT LOUIS | +6½-110 | o123-110 | +250 |
| MICHIGAN ST | -6½-110 | u123-110 | -300 |
NCAA TOURNAMENT - THIRD ROUND BRIDGESTONE ARENA - NASHVILLE, TN
 

| | | | |
| --- | --- | --- | --- |
| CINCINNATI | +2-110 | o127-110 | +115 |
| FLORIDA ST | -2-110 | u127-110 | -135 |
 

| | | | |
| --- | --- | --- | --- |
| OHIO | +2½-110 | o114-110 | +125 |
| SOUTH FLORIDA | -2½-110 | u114-110 | -145 |
NCAA TOURNAMENT - THIRD ROUND CENTURYLINK CENTER - OMAHA, NE
 

| | | | |
| --- | --- | --- | --- |
| NORFOLK ST | +14-110 | o143-110 | +900 |
| FLORIDA | -14-110 | u143-110 | -1400 |
 

| | | | |
| --- | --- | --- | --- |
| PURDUE | +8-110 | o141-110 | +325 |
| KANSAS | -8-110 | u141-110 | -385 |
- Tyrone Black, Gambling911.com