Betting is available for UFC 252: Miocic vs Cormier 3 from Florida (Tampa, Orlando, Pensacola, Fort Meyers, Jacksonville and More).  Use bonus code G911 to claim the Jazz Sports generous welcome bonus (the max bonus is $1000). Best payouts for this fight include method of victory: Daniel Cormier by Decision $40 for every $10 bet, fight being decided in first round $60 payout for every $10 bet, and fight decided in 4th round paying $1400 for every $10 bet (payouts vary per book)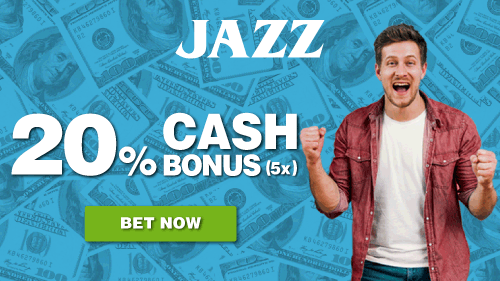 Gov. Ron DeSantis, a Republican, gradually opened businesses in May, starting in Florida's less populous counties. In early June, he moved forward with reopening bars and larger entertainment venues in some counties, even as case counts rose. On June 26, he moved to effectively shutter bars again after a spike in cases.
As such, only restaurants with bars will be showing the big fight Saturday night.  Capacity seating is limited.  We urge you to call in advance to make reservations.
Harry Buffalo @ Orlando129 W Church St Orlando, FL  
(407) 422-6658 
Buffalo Wild Wings @ Ft. Myers9390 Dynasty Dr. #101 Ft. Myers, FL  
(239) 210-9467 
Buffalo Wild Wings @ Orlando (Internatio7004 International Dr. Orlando, FL  
(407) 351-6200 
Buffalo Wild Wings @ Orlando (LBV)12511 S.R. 535 Orlando, FL  
(407) 827-0444 
Buffalo Wild Wings @ Orlando FL ( UCF)11400 University Blvd Orlando, FL  
(407) 250-4880 
Buffalo Wild Wings @ West Melbourne FL4325 Norfolk Parkway West Melbourne, FL  
(321) 951-2138 
Buffalo Wild Wings @ Jacksonville FL (So10300 Southside Blvd Suite #2430A Jacksonville, FL  
(904) 363-0410 
Buffalo Wild Wings @ Cassleberry900 State Rd 436 Casselberry, FL  
(407) 671-9300 
Buffalo Wild Wings @ Clermont FL2465 S Hwy 27 Clermont, FL  
(352) 536-2500 
Buffalo Wild Wings @ Jensen Beach FL3299 NW Federal Highway Jensen Beach, FL  
(772) 692-0465 
Buffalo Wild Wings @ Lakeland FL3750 US Highway 98 N Lakeland, FL  
(813) 234-9464 
Buffalo Wild Wings @ Wesley Chapel FL26725 State Road 56 Wesley Chapel, FL  
(813) 994-8812 
Buffalo Wild Wings @ St. Augustine318 State Road 312 St. Augustine, FL  
(904) 679-3495 
Buffalo Wild Wings @ Pensacola FL5153 Bayou Blvd. Pensacola, FL  
(850) 471-2989 
Buffalo Wild Wings @ Kissimmee FL3099 Formosa Gardens Blvd. Westwind Comm Kissimmee, FL  
(407) 397-1500 
Buffalo Wild Wings @ Viera FL7191 Lake Andrew Drive Viera, FL  
(321) 638-0882 
Buffalo Wild Wings @ Gainesville FL6401 W Newberry Rd Gainesville, FL  
(352) 331-9685 
Buffalo Wild Wings @ Orange Park FL1940 Welles Road Orange Park, FL  
(904) 215-4969 
Buffalo Wild Wings @ Brandon2055 Badlands Dr. Brandon, FL  
(813) 571-1045 
Buffalo Wild Wings @ Jacksonville FL13230 City Station Drive Jacksonville, FL  
(904) 757-5777 
Buffalo Wild Wings @ Orlando Sea World F10761 International Drive Orlando, FL  
(407) 985-3400 
Buffalo Wild Wings @ Pinellas Park4075 Park Blvd. Pinellas Park, FL  
(727) 350-1020 
Buffalo Wild Wings @ Tallahassee FL392 South Magnolia Drive Tallahassee, FL  
(850) 309-0065 
Buffalo Wild Wings @ University Park FL5235 University Pkwy University Park, FL  
(941) 351-8584 
Buffalo Wild Wings @ Cape Coral FL307 SW Pine Island Rd Cape Coral, FL  
(239) 424-8024 
Buffalo Wild Wings @ Daytona Beach FL2479 W International Speedway Blvd Daytona Beach, FL  
(386) 872-3300 
Buffalo Wild Wings @ Oldsmar4058 Tampa Rd Oldsmar, FL  
(813) 814-9900 
Twin Peaks Restaurant @ Pensacola4952 Bayou Boulevard Pensacola, FL  
(850) 696-6242 
Twin Peaks Restaurant @ Lake Buena Vista12353 Winter Garden Vineland Rd Orlando, FL  
(407) 778-4810 
Twin Peaks Restaurant @ Altamonte Spring227 W. State Road 436 Altamonte Springs, FL  
(407) 649-3171 
Twin Peaks Restaurant @ I Drive8350 International Dr Orlando, FL  
(407) 680-2811 
Mr. Chubbys Wings @ Fleming2349 Village Square Pkwy; Unit 101 Fleming Island, FL  
(904) 272-9464 
FUBAR Pizza Bar114 Amberjack Dr Fort Walton Beach, FL  
(850) 226-7084 
Racks Billiards Sports Bar and Grill312 Entrance Rd N Sanford, FL  
(407) 449-7665 
Press Box @ Tampa222 S. Dale Mabry Highway Tampa, FL  
(813) 876-3528 
Mr. Chubbys Wings @ Jacksonville11043 Crystal Springs Rd; Ste 12 Jacksonville, FL  
(904) 355-9464 
Toucan Bar and Grill431 Mandalay Ave Clearwater, FL  
(727) 461-4550 
Davenports Ale House1260 Posner Blvd Davenport, FL  
(863) 420-8000 
Dukes Brewhouse @ Plant City2212 James Redman Parkway Plant City, FL  
(813) 752-2700 
Stripes Pub & Grill1878 Andorra St Navarre, FL  
(850) 939-8400 
Cocoa Beach Ale House5590 N Atlantic Ave Cocoa Beach, FL  
(321) 868-9010 
Patio421 S Macdill Ave Tampa, FL  
(813) 873-7846 
Thirsty First119 First Ave N Saint Petersburg, FL  
(727) 317-3333 
City Limits Taproom2620 N Woodland Blvd Deland, FL  
(386) 956-6825 
Dukes Brewhouse @ Lakeland4960 S Florida Avenue Lakeland, FL  
(813) 695-6966 
Oops Alley3721 Hwy 90 Milton, FL  
(850) 995-9191 
Pockets Pool & Pub2810 Sharer Road Tallahassee, FL  
(850) 385-7665 
Prime Time Sports Grill14404 N. Dale Mabry Tampa, FL  
(813) 908-0780 
Sandbar Sports Bar4301 Ocean Beach Blvd. Cocoa Beach, FL  
(321) 799-2577 
Shades Bar & Grill10952 E Co Hwy 30A Panama City Beach, FL  
(850) 231-9410 
Evies Tavern on Main St1560 Main St Sarasota, FL  
(941) 366-7711 
Gators Dockside @ Gainesville3842 Newberry Rd Gainesville, FL  
(352) 338-4445 
Gators Dockside @ Ocala3920 SW 42nd St; Ste 101 Ocala, FL  
(352) 433-2441 
Gators Dockside @ Spring Hill4329 Commercial Way Spring Hill, FL  
(352) 610-4915 
Dukes Brewhouse @ Winter Haven1708 6th Street Southeast Winter Haven, FL  
(863) 576-9464 
Castaways Sports Bar & Grill504 North Alafaya Trail, Ste 102 Orlando, FL  
(407) 377-5895 
Buffalo Wild Wings @ Riverview (Big Bend10607 Big Bend Rd. Riverview, FL  
(813) 234-9464 
Buffalo Wild Wings @ Ybor (Tampa FL)1625 E. 7th Ave. Tampa, FL  
(813) 247-9453 
Buffalo Wild Wings @ Clearwater21688 US Highway 19 N. Clearwater, FL  
(727) 723-9100 
Buffalo Wild Wings @ South Tampa FL4015 S. Dale Mabry Hwy Tampa, FL  
(813) 252-7666 
Buffalo Wild Wings @ New Port Richey10936 State Road 54 New Port Richey, FL  
(727) 372-2323 
Buffalo Wild Wings @ North Port18379 Taimami Tr North Port, FL  
(941) 429-9722 
Buffalo Wild Wings @ Largo FL10500 Ulmerton Road Suite 476 Largo, FL  
(727) 584-9453 
Buffalo Wild Wings @ Bradenton FL4120 W. 14th Street Bradenton, FL  
(941) 345-4883 
Oyster Pub555 Seabreeze Blvd. Daytona Beach, FL  
(386) 255-6348 
Fergs Sports Bar1320 Central Ave St. Petersburg, FL  
(727) 822-4562 
Pelican Larrys @ Naples8855 Immokalee Rd Naples, FL  
(239) 330-1300 
Buffalo Wild Wings @ Tropea Way4594 Tropea Way Jacksonville, FL  
(904) 807-9565 
Buffalo Wild Wings @ Lake City FL2465 W Hwy 90 Lake City, FL  
(386) 758-7714 
Buffalo Wild Wings @ Ft Walton Beach99 Eglin Parkway 3A Ft. Walton Beach, FL  
(850) 301-9464 
Buffalo Wild Wings @ Panama City Beach701 S. Pier Park Dr.-Suite 100 Panama City Beach, FL  
(850) 236-0325 
Avenue330 1st Ave S Saint Petersburg, FL  
(727) 851-9531 
Buffalo Wild Wings @ Sanford FL1670 Rinehart Road Sanford, FL  
(407) 330-3589 
Buffalo Wild Wings @ International Dr -8363 International Drive Orlando, FL  
(407) 413-5115 
Crafty Squirrel259 Central Avenue Saint Petersburg, FL  
(727) 488-3626 
Buffalo Wild Wings @ St. Petersburg FL2938 Tyrone Blvd N. Saint Petersburg, FL  
(727) 202-6311 
Dukes Brewhouse @ St Cloud4037 13th Street St. Cloud, FL  
(407) 498-4444 
Dukes Brewhouse @ Brandon795 West Lumsden Road Brandon, FL  
(813) 278-5085 
Apps & Tapps @ Palm Harbor36221 East Lake Road South Palm Harbor, FL  
(727) 754-4764 
Stix Billiards @ Oldsmar13918 West Hillsborough Avenue Tampa, FL  
(813) 475-4697 
Wild Wing Cafe @ Jacksonville4555 Southside Boulevard Jacksonville, FL  
(904) 619-3670 
Soho Saloon410 Howard Ave. Unit C Tampa, FL  
(813) 251-3800 
Silver Q Billiards & Sports225 West University Avenue Gainesville, FL  
(352) 451-4827 
Hagan O'Rielly's16112 Marsh Road Winter Garden, FL  
(407) 905-4782 
Iron Axe Bar & Grill2842 South Ridgewood Avenue South Daytona, FL  
(386) 238-9170 
Das Craft Beer & Pizza2415 North Ocean Avenue Riviera Beach, FL  
(561) 444-3989 
Beef OBradys @ Satellite Beach724 S Patrick Dr Satellite Beach, FL  
(321) 777-7107 
Time Out Plus607 Florida Avenue Cocoa, FL  
(321) 504-0823 
Celebration Park2880 Becca Avenue Naples, FL  
(239) 316-7253 
- Tyrone Black, Gambling911.com