Betting on UFC 249 Justin Gaethje vs Tony Ferguson is available from the Orlando and Tampa Bay area via BetOnline.  Set Up a Wagering Account and Claim Your Welcome Bonus With a Maximum of $1000.  Winner, Method of Victory and Round betting along with a massive prop menu is available.  Gaethje pays $140 on every $100 bet, Ferguson was listed as the -160 favorite.  Scroll down for venues.

*Now Celebrating 21 Years in Business
*50% signup bonus up to $1000
*24/7 customer service, fully operational during Covid-19 crisis
*Available in California
*Payouts in just hours using digital options such as Bitcoin
*True dime line in Baseball up to -170
*$55 minimum to open account
*Highest credit card acceptance rate
LEARN MORE HERE
The following Orlando and Tampa Bay area venues typically show UFC fights.  Standalone bars are not expected to be open in time for this fight.  Social distancing rules are anticipated to reduce seating capacity so Gambling911.com recommends calling the venue in advance regardless of advertised policy. Scroll Down to See Venues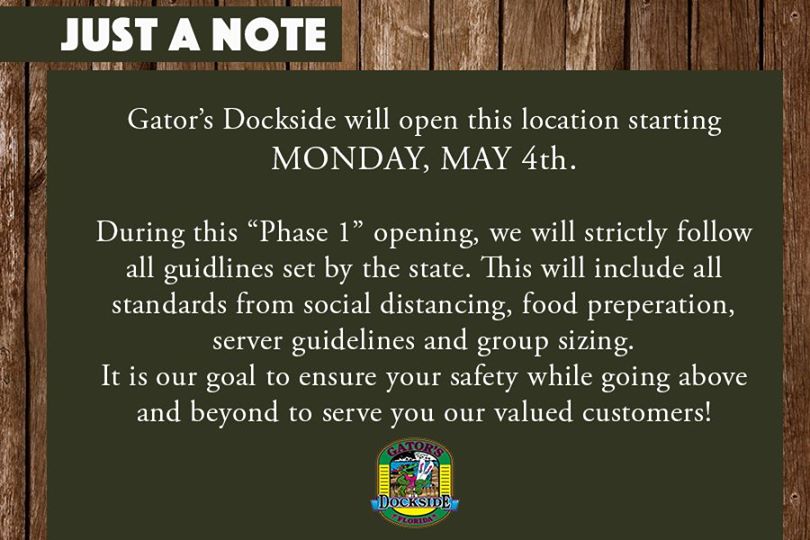 Graffiti Junktion - Thornton Park hours are only until 8 pm so call in advance and also confirm if they are showing the fight.
Twin Peaks open Monday May 4 in the Orlando area.
These venues have shown recent UFC fights
(Scroll Down Further for Tampa)
    Harry Buffalo @ Orlando
    129 W Church St Orlando, FL
    0.2 miles away
    (407) 422-6658
    Market on Magnolia
    150 South Magnolia Orlando, FL
    0.21 miles away
    (407) 412-9230
    Basement
    68 E Pine St Orlando, FL
    0.22 miles away
    (407) 250-4840
    Underground Public House
    19 S Orange Ave Orlando, FL
    0.23 miles away
    (407) 841-4000
    Swiggs
    50 E Central Blvd Orlando, FL
    0.26 miles away
    (407) 906-5455
    Sports Club at Celine
    50 East Central Boulevard Suite B Orlando, FL
    0.26 miles away
    (407) 801-7005
    Magnolia
    13 Magnolia Ave Orlando, FL
    0.27 miles away
    (407) 250-6695
    Stagger Inn
    100 E. Central Blvd. Orlando, FL
    0.28 miles away
    (407) 317-8484
    Elixir
    9 W Washington Orlando, FL
    0.37 miles away
    (407) 985-3507
    Graffiti Junktion @ Thornton Park
    700 East Washington Street Orlando, FL
    0.76 miles away
    (407) 426-9503
    Cavos
    900 East Washington Street Orlando, FL
    0.85 miles away
    (407) 709-8736
    Gators Dockside @ SoDo
    45 W Crystal Lake St Orlando, FL
    1.6 miles away
    Millers Ale House Orlando - East Colonial
    2600 E Colonial Dr Orlando, FL
    2.05 miles away
    (407) 547-1371
    Graffiti Junktion @ College Park
    2401 Edgewater Drive Orlando, FL
    2.48 miles away
    (407) 377-1961
    Gators Dockside @ Baldwin Park
    4982 New Broad St Orlando, FL
    3.84 miles away
    (407) 622-4700
    Duffys Sports Grill @ Millenia
    4158 Conroy Rd Orlando, FL
    4.55 miles away
    (407) 930-2960
    Millers Ale House Winter Park Village
    1251 Lee Rd Winter Park, FL
    4.77 miles away
    (321) 214-1505
    Winghouse VII
    3201 Parkway Center Court Orlando, FL
    4.89 miles away
    (407) 522-6422
    Winghouse XVI
    3789 S. Kirkman Road Orlando, FL
    5.35 miles away
    (407) 472-9464
    Copper Rocket Pub
    106 Lake Ave Maitland, FL
    5.59 miles away
    (407) 853-5036
    Aroogas Rt 436 Winter Park
    227 S Semoran Blvd Winter Park, FL
    5.89 miles away
    (407) 986-9464
    Teak Neighborhood Grill
    6400 Time Square Avenue Orlando, FL
    5.89 miles away
    (407) 313-5111
    Millers Ale House Winter Park
    101 University Park Dr. Winter Park, FL
    6.09 miles away
    (407) 671-1011
    Hooters @ Kirkman Road
    5300 Kirkman Rd. Orlando, FL
    6.1 miles away
    (407) 354-5350
    Millers Ale House Orlando Airport
    6141 S Semoran Blvd Orlando, FL
    6.17 miles away
    (407) 856-7045
    Millers Ale House Kirkman Road
    5573 Kirkman Road Orlando, FL
    6.18 miles away
    (407) 248-0000
    Friendly Confines @ Winter Park
    3088 Aloma Ave Winter Park, FL
    6.18 miles away
    (407) 636-7586
    Gemini Hookah Lounge
    2295 South Hiawassee Road Orlando, FL
    6.39 miles away
    (407) 845-8888
    Millers Ale House Florida Mall
    1667 Florida Mall Ave. Orlando, FL
    6.62 miles away
    (407) 240-4080
    Hooters @ Orlando (Airport)
    7222 Augusta National Drive Orlando, FL
    6.98 miles away
    (407) 850-2552
    Gators Dockside @ Ocoee
    8969 W Colonial Dr Ocoee, FL
    7.9 miles away
    (407) 521-5545
    Buffalo Wild Wings @ Orlando (Internatio
    7004 International Dr. Orlando, FL
    7.92 miles away
    (407) 351-6200
    GameTime @ Ocoee
    9441 W Colonial Dr Ocoee, FL
    8.32 miles away
    (407) 505-4600
    Buffalo Wild Wings @ Cassleberry
    900 State Rd 436 Casselberry, FL
    8.34 miles away
    (407) 671-9300
    Groovy Goat @ Orlando
    7720 Turkey Lake Road Orlando, FL
    8.43 miles away
    (407) 601-0310
    Orlando Starflyer
    8265 International Drive Orlando, FL
    8.52 miles away
    (407) 640-7009
    Twin Peaks Restaurant @ I Drive
    8350 International Dr Orlando, FL
    8.54 miles away
    (407) 680-2811
    Buffalo Wild Wings @ International Dr -
    8363 International Drive Orlando, FL
    8.57 miles away
    (407) 413-5115
    American Social @ Orlando
    7335 West Sand Lake Road Suite 101 Sand Lake, FL
    8.6 miles away
    (407) 454-9992
    Twin Peaks Restaurant @ Altamonte Spring
    227 W. State Road 436 Altamonte Springs, FL
    8.62 miles away
    (407) 649-3171
    Winghouse XII
    275 West State Rd. 436 Altamonte Springs, FL
    8.7 miles away
    (407) 786-9464
    Millers Ale House Altamonte
    477 E. Altamonte Drive Altamonte Springs, FL
    8.71 miles away
    (407) 331-6611
    Duffys Sports Grill @ Altamonte Springs
    525 E Altamonte Drive Altamonte Springs, FL
    8.71 miles away
    (407) 636-9980
    Hooters @ I Drive
    8801 International Drive Orlando, FL
    8.91 miles away
    (407) 355-3033
    Millers Ale House I-Drive
    8963 International Dr Orlando, FL
    9.07 miles away
    (407) 370-6688
    Dave & Busters @ Orlando
    8986 International Drive Orlando, FL
    9.08 miles away
    (407) 541-3300
    Froggers @ Altamonte
    1022 West SR 436 Altamonte Springs, FL
    9.19 miles away
    (407) 865-7703
    Craig Millers Field House
    7958 Via Dellagio Way Suite 100 Orlando, FL
    9.2 miles away
    (407) 248-3474
    Gators Dockside @ Winter Springs
    5275 Red Bug Lake Rd Winter Springs, FL
    9.78 miles away
    (407) 695-6622
    Buffalo Wild Wings @ Orlando Sea World F
    10761 International Drive Orlando, FL
    10.04 miles away
    (407) 985-3400
    Gators Dockside @ Hunt Club
    3030 E Semoran Blvd Apopka, FL
    10.15 miles away
    (407) 869-4222
    Buffalo Wild Wings @ Orlando FL ( UCF)
    11400 University Blvd Orlando, FL
    10.32 miles away
    (407) 250-4880
    Castaways Sports Bar & Grill
    504 North Alafaya Trail, Ste 102 Orlando, FL
    10.45 miles away
    (407) 377-5895
    Graffiti Junktion @ Lake Nona
    9344 Narcoossee Road Orlando, FL
    10.48 miles away
    (407) 377-1961
    World of Beer @ UCF Area
    3402 Technological Ave Orlando, FL
    10.5 miles away
    (321) 235-9741
    Millers Ale House Alafaya
    641 N Alafaya Trail Orlando, FL
    10.57 miles away
    (407) 736-0333
    Duffys Sports Grill @ Waterford Lakes
    315 N Alafaya Trail Orlando, FL
    10.68 miles away
    (407) 207-4444
    Gators Dockside @ Waterford Lakes
    12448 Lake Underhill Rd Orlando, FL
    10.78 miles away
    (407) 249-9444
    Social House
    435 N Alafaya Trail Orlando, FL
    10.93 miles away
    (407) 906-9001
    Millers Ale House Winter Garden
    12175 West Colonial Drive Winter Garden, FL
    11.18 miles away
    (407) 274-9067
    Millers Ale House Buena Vista
    12371 Winter Garden Vineland Rd. Orlando, FL
    11.66 miles away
    (407) 239-1800
    Gators Dockside @ Windermere
    6516 Old Brick Rd; Ste 130 Windermere, FL
    11.89 miles away
    (407) 217-5191
    Millers Ale House Hunters Creek
    13536 South John Young Parkway Orlando, FL
    12.09 miles away
    (407) 852-9151
    Gators Dockside @ Hunters Creek
    13701 S. John Young Parkway Orlando, FL
    12.11 miles away
    (407) 985-1790
    Millers Ale House Oviedo
    312 W Mitchell Hammock Rd Oviedo, FL
    12.84 miles away
    (407) 365-6331
    Kitty OSheas Irish Pub
    8470 Palm Pkwy Lake BuenaVista, FL
    12.87 miles away
    (407) 238-9769
    Hooters @ Lake Buena Vista
    8510 Palm Pkwy Orlando, FL
    12.94 miles away
    (407) 239-0900
    Bonfires Bar and Grill
    1340 Alafaya Trail Oviedo, FL
    12.95 miles away
    (407) 366-4073
    Twin Peaks Restaurant @ Lake Buena Vista
    12353 Winter Garden Vineland Rd Orlando, FL
    13.08 miles away
    (407) 778-4810
    Buffalo Wild Wings @ Orlando (LBV)
    12511 S.R. 535 Orlando, FL
    13.14 miles away
    (407) 827-0444
    Hooters @ Kissimmee East
    1201 W Osceola Pkwy Kissimmee, FL
    13.68 miles away
    (407) 846-2735
    Gators Dockside @ Lake Mary
    4349 W Lake Mary Blvd Lake Mary, FL
    15.06 miles away
    (407) 330-2557
    Winghouse VIII
    3405 West Vine Street Kissimmee, FL
    16.49 miles away
    (407) 518-9566
    Froggers @ Kissimmee
    5770 West Irlo Bronson Memorial Highway Kissimmee, FL
    16.62 miles away
    (407) 507-0760
    Winghouse XIII
    2935 Orlando Dr. Sanford, FL
    17.11 miles away
    (407) 323-9464
    Duffys Sports Grill @ Lake Mary
    951 Market Promenade Ave Fl 1 Ste 1101 Lake Mary, FL
    17.33 miles away
    (407) 878-3604
    Hooters @ Sanford
    500 Towne Center Circle Sanford, FL
    18.63 miles away
    (407) 324-1272
    Buffalo Wild Wings @ Sanford FL
    1670 Rinehart Road Sanford, FL
    18.64 miles away
    (407) 330-3589
    Millers Ale House Sanford
    50 Town Center Circle Sanford, FL
    18.76 miles away
    (407) 328-7037
    Racks Billiards Sports Bar and Grill
    312 Entrance Rd N Sanford, FL
    18.81 miles away
    (407) 449-7665
    Millers Ale House Kissimmee
    8123 W. Irlo Bronson Memorial Hwy Kissimmee, FL
    19.32 miles away
    (407) 238-4499
    Hooters @ Kissimmee West
    8207 W Irlo Bronson Memorial Hwy Kissimmee, FL
    19.44 miles away
    (407) 239-1791
    Buffalo Wild Wings @ Kissimmee FL
    3099 Formosa Gardens Blvd. Westwind Comm Kissimmee, FL
    19.49 miles away
    (407) 397-1500
    Gators Dockside @ St. Cloud
    4001 13th St Saint Cloud, FL
    20.37 miles away
    (407) 891-8095
    Dukes Brewhouse @ St Cloud
    4037 13th Street St. Cloud, FL
    20.4 miles away
    (407) 498-4444
    Gators Dockside @ Clermont
    1200 Oakley Seaver Dr Clermont, FL
    21.22 miles away
    (352) 242-1825
    Buffalo Wild Wings @ Clermont FL
    2465 S Hwy 27 Clermont, FL
    21.73 miles away
    (352) 536-2500
    Graffiti Junktion @ Clermont
    2400 S. Hwy 27 Clermont, FL
    21.82 miles away
    (352) 432-9331
    Millers Ale House Champions Gate
    8170 Laura Lane Davenport, FL
    23.89 miles away
    (407) 274-9731
    Bulldog Pub
    577 Deltona Blvd Deltona, FL
    24.16 miles away
    (386) 860-0800
    Jakes 29 Sports Bar @ Orange City Racing
    822 Saxon Blvd STE 4 Orange City, FL
    26.15 miles away
    (386) 252-6484
    Davenports Ale House
    1260 Posner Blvd Davenport, FL
    26.96 miles away
    (863) 420-8000
    Gators Dockside @ Eustis
    15241 US Hwy 441 Eustis, FL
    27.81 miles away
    (352) 357-1255
    Gold Lion Bar
    4580 Coquina Blvd Titusville, FL
    34.72 miles away
    (321) 362-5427
    Olde Bank Tavern
    345 South Washington Avenue Titusville, FL
    35.07 miles away
    (321) 567-2204
    City Limits Taproom
    2620 N Woodland Blvd Deland, FL
    37.51 miles away
    (386) 956-6825
    Park and Rec @ Tampa
    290 South Meridian Avenue Tampa, FL
    0.69 miles away
    (813) 563-4777
    American Social @ Tampa
    601 S Harbour Island Blvd Tampa, FL
    0.83 miles away
    (813) 605-3333
    Gametime @ Tampa
    1600 E 8th Ave; Space A147 Tampa, FL
    1.18 miles away
    (813) 241-9675
    Buffalo Wild Wings @ Ybor (Tampa FL)
    1625 E. 7th Ave. Tampa, FL
    1.2 miles away
    (813) 247-9453
    Duckys Sports Lounge
    1719 W Kennedy Blvd Tampa, FL
    1.32 miles away
    (813) 254-6160
    Thee Treehouse
    1809 W Platt St Tampa, FL
    1.43 miles away
    (813) 855-5778
    Irish 31 @ Hyde Park
    1611 West Swan Tampa, FL
    1.49 miles away
    (813) 250-0031
    Bar HWRD
    302 South Howard Avenue Tampa, FL
    1.67 miles away
    (813) 551-0094
    Soho Saloon
    410 Howard Ave. Unit C Tampa, FL
    1.72 miles away
    (813) 251-3800
    MacDintons Irish Pub & Restaurant SoHo
    405 S Howard Ave Tampa, FL
    1.75 miles away
    (813) 251-8999
    Patio
    421 S Macdill Ave Tampa, FL
    2.34 miles away
    (813) 873-7846
    Press Box @ Tampa
    222 S. Dale Mabry Highway Tampa, FL
    2.98 miles away
    (813) 876-3528
    Duffys Sports Grill @ Tampa
    1580 N Dale Mabry Hwy Tampa, FL
    3.03 miles away
    (813) 875-7340
    Winghouse XXXIV
    3712 West Columbia Dr Tampa, FL
    3.11 miles away
    (813) 575-8734
    Millers Ale House Tampa International
    3860 West Columbus Dr Tampa, FL
    3.36 miles away
    (813) 330-2175
    Blind Goat Food & Drink Company
    4106 Henderson Blvd Tampa, FL
    3.71 miles away
    (813) 515-7962
    Emporers Gentlemens Club @ Tampa
    5718 East Adamo Drive Tampa, FL
    4.09 miles away
    (813) 630-0707
    Irish 31 @ WestShore
    214 WestShore Plaza Tampa, FL
    4.3 miles away
    (813) 207-0308
    Buffalo Wild Wings @ South Tampa FL
    4015 S. Dale Mabry Hwy Tampa, FL
    4.33 miles away
    (813) 252-7666
    Hammered Harrys
    6807 E Adamo Tampa, FL
    4.75 miles away
    (813) 664-3800
    Winghouse XV
    5003 U.S. Hwy. 301 North Tampa, FL
    6.74 miles away
    (813) 490-9464
    Millers Ale House Tampa USF
    2012 E Fowler Ave Tampa, FL
    7.28 miles away
    (813) 210-8280
    Dave & Busters @ Tampa
    10209 Estuary Lakes Dr Tampa, FL
    7.45 miles away
    (813) 603-9700
    Winghouse III
    8001 W. Hillsborough Ave. Tampa, FL
    7.64 miles away
    (813) 806-9464
    (closed) Gators Dockside @ Tampa
    5840 Fowler Ave Tampa, FL
    8.29 miles away
    (813) 341-4445
    Buffalo Wild Wings @ Brandon
    2055 Badlands Dr. Brandon, FL
    8.72 miles away
    (813) 571-1045
    Millers Ale House Brandon
    1817 W Brandon Blvd Brandon, FL
    8.84 miles away
    (813) 643-0511
    Prime Time Sports Grill
    14404 N. Dale Mabry Tampa, FL
    9.39 miles away
    (813) 908-0780
    Winghouse XXVI
    775 W. Brandon Blvd. Brandon, FL
    9.91 miles away
    (813) 526-7007
    Dukes Brewhouse @ Brandon
    795 West Lumsden Road Brandon, FL
    10.03 miles away
    (813) 278-5085
    Obriens Irish Pub And Grill
    701 W Lumsden Rd Brandon, FL
    10.03 miles away
    (813) 661-9688
    Peabodys Billiards
    15333 Amberly Drive Tampa, FL
    10.11 miles away
    (813) 972-1725
    World of Beer @ Westchase
    9524 West Linebaugh Ave Tampa, FL
    10.4 miles away
    (813) 852-2337
    Irish 31 @ Westchase
    10102 Montague St Tampa, FL
    10.7 miles away
    Paninis Bar & Grill @ Lutz
    3973 Van Dyke St Lutz, FL
    12.69 miles away
    (813) 962-3479
    Stix Billiards @ Oldsmar
    13918 West Hillsborough Avenue Tampa, FL
    12.84 miles away
    Courtside Grille
    110 Fountain Pkwy Saint Petersburg, FL
    13.01 miles away
    (727) 561-7433
    Buffalo Wild Wings @ Oldsmar
    4058 Tampa Rd Oldsmar, FL
    13.38 miles away
    (813) 814-9900
    Buffalo Wild Wings @ Riverview (Big Bend
    10607 Big Bend Rd. Riverview, FL
    13.45 miles away
    (813) 234-9464
    Whiskey Wings @ Oldsmar
    4013 Tampa Rd Oldsmar, FL
    13.6 miles away
    (813) 543-0439
    Millers Ale House St. Petersburg
    7901 Martin Luther King St. North St. Petersburg, FL
    13.67 miles away
    (727) 217-9206
    The Tiki Tavern
    201 Main Street Safety Harbor, FL
    14.45 miles away
    (727) 843-8454
    Apps & Tapps @ Clearwater
    2454 McMullen Booth Road #103 Clearwater, FL
    15.88 miles away
    (727) 268-8607
    Hideaway @ Clearwater
    2454 N. McMullen Booth Rd Suite 09 Clearwater, FL
    15.88 miles away
    (727) 725-1188
    Winghouse II
    7790 US Hwy 19 N. Pinellas Park, FL
    15.88 miles away
    (727) 547-9464
    Buffalo Wild Wings @ Pinellas Park
    4075 Park Blvd. Pinellas Park, FL
    16.11 miles away
    (727) 350-1020
    Thirsty First
    119 First Ave N Saint Petersburg, FL
    16.36 miles away
    (727) 317-3333
    MacDintons Irish Pub
    242 1st Ave N Saint Petersburg, FL
    16.5 miles away
    (727) 201-9783
    Pelican Pub
    18 2nd St. S. Saint Petersburg, FL
    16.51 miles away
    (727) 896-6329
    Caddys on Central
    217 Central Ave Saint Petersburg, FL
    16.52 miles away
    (727) 575-7939
    Crafty Squirrel
    259 Central Avenue Saint Petersburg, FL
    16.54 miles away
    (727) 488-3626
    Winghouse XXV
    2640 Gulf to Bay Blvd. Clearwater, FL
    16.55 miles away
    (727) 724-9464
    Galley @ St. Petersburg
    27 4th St N Saint Petersburg, FL
    16.58 miles away
    (727) 575-7071
    Avenue
    330 1st Ave S Saint Petersburg, FL
    16.65 miles away
    (727) 851-9531
    Diamond Dolls
    16361 US Hwy. 19 Clearwater, FL
    16.74 miles away
    (727) 538-2295
    Buffalo Wild Wings @ Clearwater
    21688 US Highway 19 N. Clearwater, FL
    16.74 miles away
    (727) 723-9100
    Buffalo Wild Wings @ Wesley Chapel FL
    26725 State Road 56 Wesley Chapel, FL
    17.12 miles away
    (813) 994-8812
    Fergs Sports Bar
    1320 Central Ave St. Petersburg, FL
    17.2 miles away
    (727) 822-4562
    Winghouse I
    7369 Ulmerton Rd. Largo, FL
    17.69 miles away
    (727) 530-9799
    Irish 31 @ Wiregrass
    28358 Willet Way Wesley Chapel, FL
    17.69 miles away
    (813) 907-2306
    Apps & Tapps @ Palm Harbor
    36221 East Lake Road South Palm Harbor, FL
    17.82 miles away
    (727) 754-4764
    1916 Irish Pub
    2309 Thonotosassa Road Plant City, FL
    19.52 miles away
    (813) 756-6504
    Winghouse X
    34900 US Hwy. 19 N. Palm Harbor, FL
    19.73 miles away
    (727) 784-7706
    Buffalo Wild Wings @ New Port Richey
    10936 State Road 54 New Port Richey, FL
    19.85 miles away
    (727) 372-2323
    Buffalo Wild Wings @ St. Petersburg FL
    2938 Tyrone Blvd N. Saint Petersburg, FL
    19.99 miles away
    (727) 202-6311
    Buffalo Wild Wings @ Largo FL
    10500 Ulmerton Road Suite 476 Largo, FL
    20.44 miles away
    (727) 584-9453
    Winghouse XXVIII
    5510 Post Oak Blvd Wesley Chapel, FL
    20.5 miles away
    (813) 428-7157
    Dukes Brewhouse @ Plant City
    2212 James Redman Parkway Plant City, FL
    20.75 miles away
    (813) 752-2700
    Stix Billiards
    38529 US Hwy 19 N Palm Harbor, FL
    20.89 miles away
    (727) 937-9225
    Sports Bar & Grill @ St. Pete
    9685 Bay Pines Blvd. St. Petersburg, FL
    21.48 miles away
    (727) 393-9110
    Whiskey Wings @ Tarpon Springs
    40737 US Hwy 19 N Tarpon Springs, FL
    21.75 miles away
    (727) 934-6847
    Millers Ale House Seminole
    7695 113th St N Seminole, FL
    21.98 miles away
    (727) 451-9573
    Irish 31 @ Seminole
    77-24 113th Street Seminole, FL
    22.0 miles away
    (727) 614-0576
    Molly Malones Irish Pub
    4106 Little Road New Port Richey, FL
    22.41 miles away
    (727) 807-6988
    Irish 31 @ Clearwater Beach
    486 Poinsettia Avenue Clearwater, FL
    22.62 miles away
    (727) 202-1412
    Brown Boxer Pub & Grill
    483 Mandalay Ave Clearwater Beach, FL
    22.65 miles away
    (727) 441-6000
    Toucan Bar and Grill
    431 Mandalay Ave Clearwater, FL
    22.66 miles away
    (727) 461-4550
    Surfside Taphouse
    395 Mandalay Ave Clearwater, FL
    22.66 miles away
    (727) 201-3530
    Toasted Monkey
    6100 Gulf Blvd Saint Petersburg Beach, FL
    23.23 miles away
    (727) 360-5800
    Bare Assets
    1406 U.S. 19 Holiday, FL
    23.38 miles away
    (727) 937-9333
    Localz Sports Bar And Grill
    14219 Walsingham Road Largo, FL
    23.58 miles away
    (727) 221-0002
    Time Out @ Seminole
    9009 Oakhurst Rd. Seminole, FL
    23.6 miles away
    (727) 593-3114
    Tight Ends
    2857 U.S. 19 Holiday, FL
    24.45 miles away
    (727) 935-4800
    Dog & Parrot
    19703 Gulf Boulevard Indian Shores, FL
    24.63 miles away
    (727) 593-3208
    The Social
    Main Street Port Richey, FL
    25.76 miles away
    (727) 834-8137
    Winghouse IV
    6515 US Hwy. 19 New Port Richey, FL
    26.62 miles away
    (727) 816-9464
    Winghouse XXXI
    2015 60th Avenue E Ellenton, FL
    29.02 miles away
    (941) 479-5182
    Kickin Wingz
    8702 SR 52 Hudson, FL
    29.26 miles away
    (727) 233-3369
    Millers Ale House Lakeland
    5650 S Florida Ave Lakeland, FL
    30.05 miles away
    (863) 709-9262
    Dukes Brewhouse @ Lakeland
    4960 S Florida Avenue Lakeland, FL
    30.45 miles away
    (813) 695-6966
    Winghouse XX
    4515 South Florida Ave. Lakeland, FL
    30.58 miles away
    (863) 646-0303
    Buffalo Wild Wings @ Lakeland FL
    3750 US Highway 98 N Lakeland, FL
    30.95 miles away
    (813) 234-9464
    Hooters @ Lakeland II
    3400 US 98 N. Lakeland, FL
    31.02 miles away
    (863) 859-7772
    Hooters @ Lakeland
    3437 South FL Ave. Lakeland, FL
    31.27 miles away
    (863) 644-8461
    Buffalo Wild Wings @ Bradenton FL
    4120 W. 14th Street Bradenton, FL
    34.41 miles away
    (941) 345-4883
    Gators Dockside @ Highland City
    5147 US Hwy 98 S Lakeland, FL
    35.0 miles away
    (863) 619-7627
    Hooters @ Bradenton
    4908 14th St Bradenton, FL
    35.03 miles away
    (941) 758-1175
    Winghouse XXIII
    5105 14th St. W. Bradenton, FL
    35.22 miles away
    (941) 932-8629
    Rookies Sports Bar and Grill
    3095 Anderson Snow Rd Spring Hill, FL
    36.3 miles away
    (352) 593-4114
    Gators Dockside @ Spring Hill
    4329 Commercial Way Spring Hill, FL
    38.54 miles away
    (352) 610-4915
    Buffalo Wild Wings @ University Park FL
    5235 University Pkwy University Park, FL
    38.66 miles away
    (941) 351-8584
    Duffys Sports Grill @ Sarasota
    3005 University Pkwy Sarasota, FL
    38.88 miles away
    (941) 777-2110
- Don Shapiro, Gambling911.com