With all eight Cardinals road games having gone under the total last season, one may want to consider betting the UNDER here.  That number was sitting at 53.5, up from 51.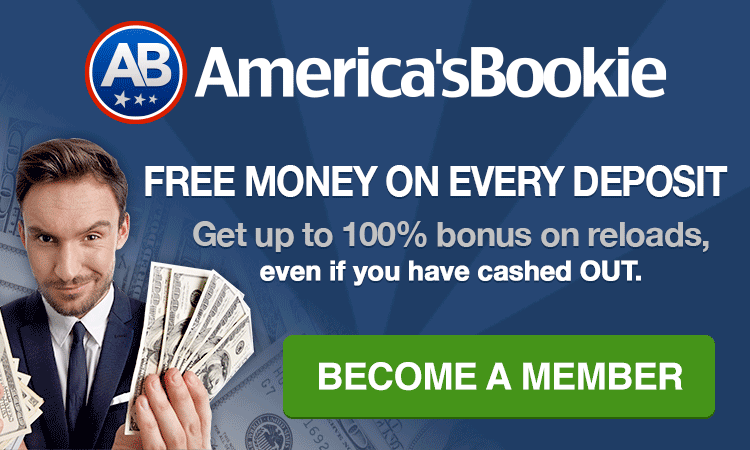 What Are Some Good Bets Offered on the Cardinals vs. Titans Early Game?
In addition to the UNDER, other enticing bets include props on the First to Score a Touchdown.
The Cards WR DeAndre Hopkins has caught more passes (83) for more yards (1,313) against the Titans than any other opponent in his career, all while with Houston. He's gone for at least 100 yards in four of his last six games against Tennessee.
Hopkins pays out $800 for every $100 bet to score the first touchdown.
WR Julio Jones makes his debut for the Tennessee Titans and is averaging 95.5 yards receiving per game, the most in NFL history with a minimum of 100 games. The former Falcon ranks fourth all-time with 58 games with at least 100 yards receiving.
His receiving yards total were set at 66.5 for this game.
Titans Derrick Henry is favored to score the first touchdown with a payout od $550 on every $100 bet.  
Arizona has won the last two head-to-heads but the last three have been decided by a combined 11 points.
Cardinals @ Titans Sun, Sep 12, 2021 EST
| Rot | Player to score first touchdown in the Game | Moneyline |
| --- | --- | --- |
| 801 | Kyler Murray (ARI)     | +900 |
| 802 | James Conner (ARI)     | +1400 |
| 803 | Chase Edmonds (ARI)     | +1000 |
| 804 | DeAndre Hopkins (ARI)     | +800 |
| 805 | Rondale Moore (ARI)     | +2200 |
| 806 | Christian Kirk (ARI)     | +1800 |
| 808 | Derrick Henry (TEN)     | +550 |
| 810 | A.J. Brown (TEN)     | +800 |
| 811 | Julio Jones (TEN)     | +1000 |
| 815 | Anthony Firkser (TEN)     | +1400 |
| 817 | Ryan Tannehill (TEN)     | +1600 |
| 819 | Josh Reynolds (TEN)     | +1600 |
| 820 | Field     | +600 |
| Rot | Kyler Murray (ARI) Total Passing Yards | Moneyline |
| --- | --- | --- |
| 1001 | Over  261½  Passing Yards | -115 |
| 1002 | Under  261½  Passing Yards | -115 |
| Rot | Kyler Murray (ARI) Total Completions | Moneyline |
| --- | --- | --- |
| 1003 | Over  23½  Completions | -105 |
| 1004 | Under  23½  Completions | -125 |
| Rot | Kyler Murray (ARI) Total Passing Attempts | Moneyline |
| --- | --- | --- |
| 1005 | Over  35½  Passing Attempts | -120 |
| 1006 | Under  35½  Passing Attempts | -110 |
| Rot | Kyler Murray (ARI) Total Touchdown Passes | Moneyline |
| --- | --- | --- |
| 1007 | Over  1½  TD Passes | -135 |
| 1008 | Under  1½  TD Passes | +105 |
| Rot | Kyler Murray (ARI) Total Interceptions | Moneyline |
| --- | --- | --- |
| 1011 | Over  ½  Interceptions | -125 |
| 1012 | Under  ½  Interceptions | -105 |
| Rot | Kyler Murray (ARI) Longest Completion | Moneyline |
| --- | --- | --- |
| 1013 | Over  37½  Yards | -115 |
| 1014 | Under  37½  Yards | -115 |
| Rot | Kyler Murray (ARI) Total Rushing Yards | Moneyline |
| --- | --- | --- |
| 1015 | Over  42½  Rushing Yards | -110 |
| 1016 | Under  42½  Rushing Yards | -120 |
| Rot | James Conner (ARI) Total Rushing Yards | Moneyline |
| --- | --- | --- |
| 1041 | Over  27½  Rushing Yards | -115 |
| 1042 | Under  27½  Rushing Yards | -115 |
| Rot | Chase Edmonds (ARI) Total Rushing Yards | Moneyline |
| --- | --- | --- |
| 1061 | Over  37½  Rushing Yards | -120 |
| 1062 | Under  37½  Rushing Yards | -110 |
| Rot | DeAndre Hopkins (ARI) Total Receptions | Moneyline |
| --- | --- | --- |
| 1101 | Over  6½  Receptions | -140 |
| 1102 | Under  6½  Receptions | +110 |
| Rot | DeAndre Hopkins (ARI) Total Receiving Yards | Moneyline |
| --- | --- | --- |
| 1103 | Over  85½  Receiving Yards | -115 |
| 1104 | Under  85½  Receiving Yards | -115 |
| Rot | DeAndre Hopkins (ARI) Longest Reception | Moneyline |
| --- | --- | --- |
| 1105 | Over  25½  Yards | -115 |
| 1106 | Under  25½  Yards | -115 |
| Rot | DeAndre Hopkins (ARI) Total Receiving TDs | Moneyline |
| --- | --- | --- |
| 1107 | Over  ½  Receiving TDs | -110 |
| 1108 | Under  ½  Receiving TDs | -120 |
| Rot | Rondale Moore (ARI) Total Receptions | Moneyline |
| --- | --- | --- |
| 1121 | Over  2½  Receptions | -155 |
| 1122 | Under  2½  Receptions | +125 |
| Rot | Rondale Moore (ARI) Total Receiving Yards | Moneyline |
| --- | --- | --- |
| 1123 | Over  32½  Receiving Yards | -120 |
| 1124 | Under  32½  Receiving Yards | -110 |
| Rot | Rondale Moore (ARI) Longest Reception | Moneyline |
| --- | --- | --- |
| 1125 | Over  17½  Yards | -110 |
| 1126 | Under  17½  Yards | -120 |
| Rot | Ryan Tannehill (TEN) Total Passing Yards | Moneyline |
| --- | --- | --- |
| 2001 | Over  254½  Passing Yards | -115 |
| 2002 | Under  254½  Passing Yards | -115 |
| Rot | Ryan Tannehill (TEN) Total Completions | Moneyline |
| --- | --- | --- |
| 2003 | Over  21½  Completions | -125 |
| 2004 | Under  21½  Completions | -105 |
| Rot | Ryan Tannehill (TEN) Total Passing Attempts | Moneyline |
| --- | --- | --- |
| 2005 | Over  32½  Passing Attempts | -110 |
| 2006 | Under  32½  Passing Attempts | -120 |
| Rot | Ryan Tannehill (TEN) Total Touchdown Passes | Moneyline |
| --- | --- | --- |
| 2007 | Over  1½  TD Passes | -160 |
| 2008 | Under  1½  TD Passes | +130 |
| Rot | Ryan Tannehill (TEN) Total Interceptions | Moneyline |
| --- | --- | --- |
| 2011 | Over  ½  Interceptions | +150 |
| 2012 | Under  ½  Interceptions | -180 |
| Rot | Ryan Tannehill (TEN) Longest Completion | Moneyline |
| --- | --- | --- |
| 2013 | Over  36½  Yards | -110 |
| 2014 | Under  36½  Yards | -120 |
| Rot | Derrick Henry (TEN) Total Rushing Yards | Moneyline |
| --- | --- | --- |
| 2041 | Over  100½  Rushing Yards | -110 |
| 2042 | Under  100½  Rushing Yards | -120 |
| Rot | Derrick Henry (TEN) Total Rushing TDs | Moneyline |
| --- | --- | --- |
| 2045 | Over  ½  Rushing TDs | -140 |
| 2046 | Under  ½  Rushing TDs | +110 |
| Rot | A.J. Brown (TEN) Total Receptions | Moneyline |
| --- | --- | --- |
| 2101 | Over  5½  Receptions | -110 |
| 2102 | Under  5½  Receptions | -120 |
| Rot | A.J. Brown (TEN) Total Receiving Yards | Moneyline |
| --- | --- | --- |
| 2103 | Over  67½  Receiving Yards | -120 |
| 2104 | Under  67½  Receiving Yards | -110 |
| Rot | A.J. Brown (TEN) Longest Reception | Moneyline |
| --- | --- | --- |
| 2105 | Over  23½  Yards | -115 |
| 2106 | Under  23½  Yards | -115 |
| Rot | A.J. Brown (TEN) Total Receiving TDs | Moneyline |
| --- | --- | --- |
| 2107 | Over  ½  Receiving TDs | Ev |
| 2108 | Under  ½  Receiving TDs | -130 |
| Rot | Julio Jones (TEN) Total Receptions | Moneyline |
| --- | --- | --- |
| 2121 | Over  5½  Receptions | +110 |
| 2122 | Under  5½  Receptions | -140 |
| Rot | Julio Jones (TEN) Total Receiving Yards | Moneyline |
| --- | --- | --- |
| 2123 | Over  66½  Receiving Yards | -115 |
| 2124 | Under  66½  Receiving Yards | -115 |
| Rot | Julio Jones (TEN) Longest Reception | Moneyline |
| --- | --- | --- |
| 2125 | Over  23½  Yards | -120 |
| 2126 | Under  23½  Yards | -110 |
| Rot | Julio Jones (TEN) Total Receiving TDs | Moneyline |
| --- | --- | --- |
| 2127 | Over  ½  Receiving TDs | +120 |
| 2128 | Under  ½  Receiving TDs | -150 |
| Rot | First To Score | Moneyline |
| --- | --- | --- |
| 3001 | Cardinals     | -110 |
| 3002 | Titans     | -120 |
| Rot | First Score of the Game | Moneyline |
| --- | --- | --- |
| 3005 | TD     | -200 |
| 3006 | Any Other Score     | +165 |
| Rot | First Scoring Play Of The Game | Moneyline |
| --- | --- | --- |
| 3007 | Cardinals TD     | +180 |
| 3008 | Cardinals FG     | +375 |
| 3009 | Cardinals Any Other Score     | +4500 |
| 3010 | Titans TD     | +145 |
| 3011 | Titans FG     | +375 |
| 3012 | Titans Any Other Score     | +4500 |
| Rot | Will there be a Defensive or Special Teams TD | Moneyline |
| --- | --- | --- |
| 3013 | Yes     | +200 |
| 3014 | No     | -250 |
| Rot | Total TDs in the Game | Moneyline |
| --- | --- | --- |
| 3015 | Over  5½  TDs | -150 |
| 3016 | Under  5½  TDs | +120 |
| Rot | Total FGs Scored in the Game | Moneyline |
| --- | --- | --- |
| 3017 | Over  3½  FGs | +120 |
| 3018 | Under  3½  FGs | -150 |
| Rot | Longest TD in the Game | Moneyline |
| --- | --- | --- |
| 3019 | Over  44½  Yards | -115 |
| 3020 | Under  44½  Yards | -115 |
| Rot | Shortest TD in the Game | Moneyline |
| --- | --- | --- |
| 3021 | Over  1½  Yards | -110 |
| 3022 | Under  1½  Yards | -120 |
| Rot | Longest FG Scored in the Game | Moneyline |
| --- | --- | --- |
| 3023 | Over  46½  Yards | -115 |
| 3024 | Under  46½  Yards | -115 |
| Rot | A Team to Score 3 Unanswered Times | Moneyline |
| --- | --- | --- |
| 3025 | Yes     | -250 |
| 3026 | No     | +200 |
| Rot | Team To Score Longest TD | Moneyline |
| --- | --- | --- |
| 3027 | Cardinals     | Ev |
| 3028 | Titans     | -130 |
| Rot | Team To Score Longest FG | Moneyline |
| --- | --- | --- |
| 3029 | Cardinals     | -115 |
| 3030 | Titans     | -115 |
| Rot | Team Scoring 1st Wins Game | Moneyline |
| --- | --- | --- |
| 3031 | Yes     | -155 |
| 3032 | No     | +125 |
| Rot | Team to Call 1st Timeout | Moneyline |
| --- | --- | --- |
| 3033 | Cardinals     | -115 |
| 3034 | Titans     | -115 |
| Rot | Double Result | Moneyline |
| --- | --- | --- |
| 3035 | Cardinals/Cardinals     | +200 |
| 3036 | Cardinals/Tie     | +4000 |
| 3037 | Cardinals/Titans     | +600 |
| 3038 | Tie/Cardinals     | +1600 |
| 3039 | Tie/Tie     | +4500 |
| 3040 | Tie/Titans     | +1400 |
| 3041 | Titans/Cardinals     | +650 |
| 3042 | Titans/Tie     | +4000 |
| 3043 | Titans/Titans     | Ev |
| Rot | Race To 10 Points | Moneyline |
| --- | --- | --- |
| 3045 | Cardinals     | -105 |
| 3046 | Titans     | -140 |
| 3047 | Neither     | +8500 |
| Rot | Race To 15 Points | Moneyline |
| --- | --- | --- |
| 3049 | Cardinals     | -105 |
| 3050 | Titans     | -140 |
| 3051 | Neither     | +2500 |
| Rot | Race To 20 Points | Moneyline |
| --- | --- | --- |
| 3053 | Cardinals     | +120 |
| 3054 | Titans     | -135 |
| 3055 | Neither     | +1000 |
| Rot | Race To 25 Points | Moneyline |
| --- | --- | --- |
| 3057 | Cardinals     | +180 |
| 3058 | Titans     | Ev |
| 3059 | Neither     | +250 |
| Rot | Race To 30 Points | Moneyline |
| --- | --- | --- |
| 3061 | Cardinals     | +260 |
| 3062 | Titans     | +150 |
| 3063 | Neither     | +125 |
| Rot | Race To 35 Points | Moneyline |
| --- | --- | --- |
| 3065 | Cardinals     | +500 |
| 3066 | Titans     | +300 |
| 3067 | Neither     | -210 |
| Rot | Race To 40 Points | Moneyline |
| --- | --- | --- |
| 3069 | Cardinals     | +850 |
| 3070 | Titans     | +500 |
| 3071 | Neither     | -450 |
| Rot | Win Margin 3-Way | Moneyline |
| --- | --- | --- |
| 3073 | Cardinals to Win by 6 or More Pts     | +200 |
| 3074 | Titans to Win by 6 or More Pts     | +110 |
| 3075 | Any Other Result     | +210 |
| Rot | Highest Scoring Half | Moneyline |
| --- | --- | --- |
| 3079 | 1st Half     | -110 |
| 3080 | 2nd Half     | -110 |
| 3081 | Tie     | +2000 |
| Rot | Highest Scoring Quarter | Moneyline |
| --- | --- | --- |
| 3083 | 1st Quarter     | +450 |
| 3084 | 2nd Quarter     | +160 |
| 3085 | 3rd Quarter     | +450 |
| 3086 | 4th Quarter     | +200 |
| 3087 | Tie     | +850 |
| Rot | Winning Margin | Moneyline |
| --- | --- | --- |
| 3089 | Cardinals to win by 1-6 pts     | +350 |
| 3090 | Cardinals to win by 7-12 pts     | +600 |
| 3091 | Cardinals to win by 13-18 pts     | +900 |
| 3092 | Cardinals to win by 19-24 pts     | +1400 |
| 3093 | Cardinals to win by 25-30 pts     | +2600 |
| 3094 | Cardinals to win by 31-36 pts     | +4000 |
| 3095 | Cardinals to win by 37-42 pts     | +6500 |
| 3096 | Cardinals to win by 43 or More pts     | +10000 |
| 3097 | Titans to win by 1-6 pts     | +325 |
| 3098 | Titans to win by 7-12 pts     | +450 |
| 3099 | Titans to win by 13-18 pts     | +650 |
| 3100 | Titans to win by 19-24 pts     | +900 |
| 3101 | Titans to win by 25-30 pts     | +1400 |
| 3102 | Titans to win by 31-36 pts     | +2300 |
| 3103 | Titans to win by 37-42 pts     | +4000 |
| 3104 | Titans to win by 43 or More pts     | +5000 |
| 3105 | Tie     | +6000 |
| Rot | Total Points Scored | Moneyline |
| --- | --- | --- |
| 3107 | 00-20 pts     | +3500 |
| 3108 | 21-30 pts     | +1000 |
| 3109 | 31-40 pts     | +450 |
| 3110 | 41-50 pts     | +240 |
| 3111 | 51-60 pts     | +240 |
| 3112 | 61-70 pts     | +350 |
| 3113 | 71+ pts     | +400 |
| Rot | 1st Half Total TDs Scored | Moneyline |
| --- | --- | --- |
| 3115 | Over  3½  TDs | +125 |
| 3116 | Under  3½  TDs | -155 |
| Rot | 1st Half Total FGs Scored | Moneyline |
| --- | --- | --- |
| 3117 | Over  1½  FGs | -110 |
| 3118 | Under  1½  FGs | -120 |
| Rot | Score in Last 2 min of the 1st Half | Moneyline |
| --- | --- | --- |
| 3119 | Yes     | -375 |
| 3120 | No     | +275 |
| Rot | Will there be a Succesful 2 Point Conversion ? | Moneyline |
| --- | --- | --- |
| 3155 | Yes     | +300 |
| 3156 | No     | -400 |
- Tony Caliente, Gambling911.com