(10) Virginia Tech vs (7) Florida featured a line of PICK'EM.   Jazz Sports (est. 1994) offers live prop bets for this game and a generous welcome bonus (max bonus $1000).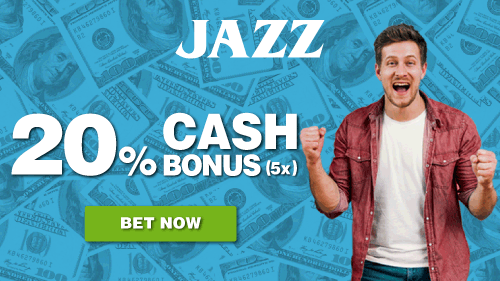 How They Got Here
Virginia Tech is taking on Florida in a NCAA first round game. Florida lost 78-66 to Tennessee on Friday, while Virginia Tech fell 81-73 against North Carolina last week.
Florida's Tre Mann has averaged 15.3 points and 5.4 rebounds while Colin Castleton has put up 11.5 points, 5.6 rebounds and 2.1 blocks.
Keve Aluma has averaged 15.6 points and eight rebounds while Justyn Mutts has put up 9.6 points and 6.5 rebounds.
Virginia Tech pays $6600 with an NCAA Tournament championship win while Florida pays $8000.
Virginia Tech @ Florida Fri, Mar 19, 2021 EST
| Rot | Last To Score | Moneyline |
| --- | --- | --- |
| 2507 | Virginia Tech     | 1.87 |
| 2508 | Florida     | 1.87 |
| Rot | Double Result | Moneyline |
| --- | --- | --- |
| 2510 | Virginia Tech - Virginia Tech     | 2.55 |
| 2511 | Tie - Virginia Tech     | 21.00 |
| 2512 | Florida - Virginia Tech     | 6.50 |
| 2513 | Virginia Tech - Florida     | 6.50 |
| 2514 | Tie - Florida     | 20.00 |
| 2515 | Florida - Florida     | 2.45 |
| Rot | Winning Margin | Moneyline |
| --- | --- | --- |
| 2525 | Virginia Tech to win by 1-2 pts     | 10.00 |
| 2526 | Virginia Tech to win by 3-6 pts     | 6.00 |
| 2527 | Virginia Tech to win by 7-9 pts     | 9.50 |
| 2528 | Virginia Tech to win by 10-13 pts     | 9.00 |
| 2529 | Virginia Tech to win by 14-16 pts     | 16.00 |
| 2530 | Virginia Tech to win by 17-20 pts     | 18.00 |
| 2531 | Virginia Tech to win by 21 or more pts     | 12.00 |
| 2532 | Florida to win by 1-2 pts     | 10.00 |
| 2533 | Florida to win by 3-6 pts     | 5.50 |
| 2534 | Florida to win by 7-9 pts     | 9.00 |
| 2535 | Florida to win by 10-13 pts     | 9.00 |
| 2536 | Florida to win by 14-16 pts     | 16.00 |
| 2537 | Florida to win by 17-20 pts     | 18.00 |
| 2538 | Florida to win by 21 or more pts     | 12.00 |
| Rot | Highest Scoring Half | Moneyline |
| --- | --- | --- |
| 2541 | 1st Half     | 2.45 |
| 2542 | 2nd Half     | 1.43 |
| 2543 | Tie     | 36.00 |
| Rot | Game Total | Moneyline |
| --- | --- | --- |
| 2544 | Odd     | 1.87 |
| 2545 | Even     | 1.87 |
| Rot | 1st Half Winning Margin | Moneyline |
| --- | --- | --- |
| 2546 | Virginia Tech to win by 1-3 pts     | 5.50 |
| 2547 | Virginia Tech to win by 4-6 pts     | 6.50 |
| 2548 | Virginia Tech to win by 7-9 pts     | 8.50 |
| 2549 | Virginia Tech to win by 10-12 pts     | 12.00 |
| 2550 | Virginia Tech to win by 13-15 pts     | 21.00 |
| 2551 | Virginia Tech to win by 16 or more pts     | 21.00 |
| 2552 | Florida to win by 1-3 pts     | 5.25 |
| 2553 | Florida to win by 4-6 pts     | 6.00 |
| 2554 | Florida to win by 7-9 pts     | 8.00 |
| 2555 | Florida to win by 10-12 pts     | 11.00 |
| 2556 | Florida to win by 13-15 pts     | 20.00 |
| 2557 | Florida to win by 16 or more pts     | 20.00 |
| 2558 | Tie     | 12.00 |
- Mary Montgomery, Gambling911.com