The USC vs. Kansas game is a PICK'EM.  We have all your trends on this game below.  Jazz Sports offers a generous welcome bonus on this game.  Privacy matters at Jazz.  They will never report your winnings are request your social security number.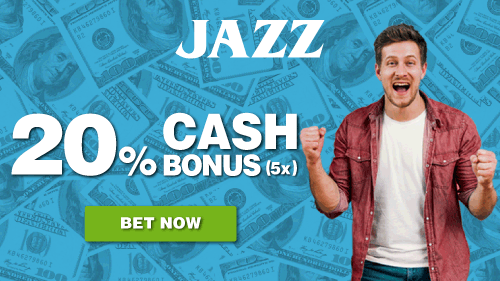 USC Trojans vs. Kansas Jayhawks Preview, Trends
The Mobley Brothers have averaged over 15 rebounds per game for USC.

Evan Mobley (16.8 ppg) was named the Pac 12 Player of the Year.

Tahj Eaddy is also a key contributor, putting up 11.6 points per game.

The Trojans shoot 50% from the field and held Drake to 29.4% in Friday's victory.

Trojans are 0-5 Against The Spread in their last 5 games following a straight up win.

The Jayhawks have been led by Ochai Agbaji, who is averaging 14.4 points.

Agbaji has connected on 38.5 percent of the 200 3-pointers he's attempted and has gone 10 for 23 over his last three games.

David McCormack returned to the team and came off of the bench to provide 22 points in 25 of play against Eastern Washington.

Jayhawks are 14-6 ATS in their last 20 games following a ATS loss.
Prop Bets
USC @ Kansas Mon, Mar 22, 2021 EST
| Rot | Drew Peterson (USC) Total Points | Moneyline |
| --- | --- | --- |
| 801 | Over  10  Points | -115 |
| 802 | Under  10  Points | -115 |
| Rot | Evan Mobley (USC) Total Points | Moneyline |
| --- | --- | --- |
| 803 | Over  16½  Points | -115 |
| 804 | Under  16½  Points | -115 |
| Rot | Isaiah Mobley (USC) Total Points | Moneyline |
| --- | --- | --- |
| 805 | Over  9½  Points | -110 |
| 806 | Under  9½  Points | -120 |
| Rot | Isaiah White (USC) Total Points | Moneyline |
| --- | --- | --- |
| 807 | Over  7  Points | -115 |
| 808 | Under  7  Points | -115 |
| Rot | Tahj Eaddy (USC) Total Points | Moneyline |
| --- | --- | --- |
| 809 | Over  13  Points | -115 |
| 810 | Under  13  Points | -115 |
| Rot | Evan Mobley (USC) Total Rebounds | Moneyline |
| --- | --- | --- |
| 811 | Over  8½  Rebounds | -115 |
| 812 | Under  8½  Rebounds | -115 |
| Rot | Christian Braun (KU) Total Points | Moneyline |
| --- | --- | --- |
| 901 | Over  9  Points | -115 |
| 902 | Under  9  Points | -115 |
| Rot | David McCormack (KU) Total Points | Moneyline |
| --- | --- | --- |
| 903 | Over  17  Points | -115 |
| 904 | Under  17  Points | -115 |
| Rot | Marcus Garrett (KU) Total Points | Moneyline |
| --- | --- | --- |
| 905 | Over  12½  Points | -115 |
| 906 | Under  12½  Points | -115 |
| Rot | Ochai Agbahi (KU) Total Points | Moneyline |
| --- | --- | --- |
| 907 | Over  15½  Points | -115 |
| 908 | Under  15½  Points | -115 |
| Rot | First To Score 10 Points | Moneyline |
| --- | --- | --- |
| 2501 | USC     | -120 |
| 2502 | Kansas     | -110 |
| Rot | First To Score 20 Points | Moneyline |
| --- | --- | --- |
| 2503 | USC     | -120 |
| 2504 | Kansas     | -110 |
| Rot | Last To Score | Moneyline |
| --- | --- | --- |
| 2507 | USC     | -115 |
| 2508 | Kansas     | -115 |
| Rot | Double Result | Moneyline |
| --- | --- | --- |
| 2510 | USC - USC     | +155 |
| 2511 | Tie - USC     | +2000 |
| 2512 | Kansas - USC     | +550 |
| 2513 | USC - Kansas     | +550 |
| 2514 | Tie - Kansas     | +1800 |
| 2515 | Kansas - Kansas     | +145 |
| Rot | Winning Margin | Moneyline |
| --- | --- | --- |
| 2525 | USC to win by 1-2 pts     | +900 |
| 2526 | USC to win by 3-6 pts     | +500 |
| 2527 | USC to win by 7-9 pts     | +800 |
| 2528 | USC to win by 10-13 pts     | +800 |
| 2529 | USC to win by 14-16 pts     | +1500 |
| 2530 | USC to win by 17-20 pts     | +1700 |
| 2531 | USC to win by 21 or more pts     | +1100 |
| 2532 | Kansas to win by 1-2 pts     | +900 |
| 2533 | Kansas to win by 3-6 pts     | +450 |
| 2534 | Kansas to win by 7-9 pts     | +800 |
| 2535 | Kansas to win by 10-13 pts     | +800 |
| 2536 | Kansas to win by 14-16 pts     | +1500 |
| 2537 | Kansas to win by 17-20 pts     | +1700 |
| 2538 | Kansas to win by 21 or more pts     | +1100 |
| Rot | Highest Scoring Half | Moneyline |
| --- | --- | --- |
| 2541 | 1st Half     | +150 |
| 2542 | 2nd Half     | -240 |
| 2543 | Tie     | +3500 |
| Rot | Game Total | Moneyline |
| --- | --- | --- |
| 2544 | Odd     | -115 |
| 2545 | Even     | -115 |
| Rot | 1st Half Winning Margin | Moneyline |
| --- | --- | --- |
| 2546 | USC to win by 1-3 pts     | +450 |
| 2547 | USC to win by 4-6 pts     | +550 |
| 2548 | USC to win by 7-9 pts     | +750 |
| 2549 | USC to win by 10-12 pts     | +1100 |
| 2550 | USC to win by 13-15 pts     | +2000 |
| 2551 | USC to win by 16 or more pts     | +2000 |
| 2552 | Kansas to win by 1-3 pts     | +425 |
| 2553 | Kansas to win by 4-6 pts     | +500 |
| 2554 | Kansas to win by 7-9 pts     | +700 |
| 2555 | Kansas to win by 10-12 pts     | +1000 |
| 2556 | Kansas to win by 13-15 pts     | +1800 |
| 2557 | Kansas to win by 16 or more pts     | +1800 |
| 2558 | Tie     | +1100 |
- Dan Shapiro, Gambling911.com