(11) UCLA vs (11) Michigan St features a line of MSU -2.  Jazz Sports (est. 1994) offers live prop bets for this game and a generous welcome bonus (max bonus $1000).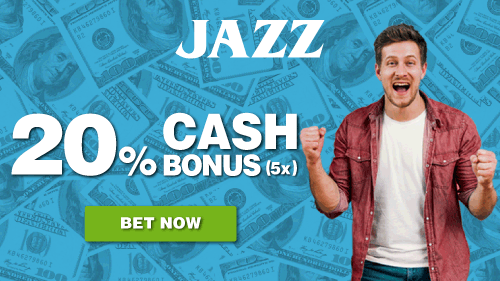 How They Got Here
The Spartans closed the season strong with wins over Illinois, Michigan and Ohio State, while UCLA closed with four straight losses.
Michigan State lost 68-57 to Maryland in its most recent game, while UCLA fell 83-79 in overtime against Oregon State in its last outing.
MSU had the second worst offense in Big Ten Conference play while the Bruins were one of the better offensive teams.
Aaron Henry has averaged 15.3 points and 5.7 rebounds to lead the way for the Spartans. Complementing Henry is Joey Hauser, who is maintaining an average of 9.7 points and 5.7 rebounds per game. The Bruins have been led by Jaime Jaquez Jr., who is averaging 11.7 points and six rebounds.
Henry has either made or assisted on 43 percent of all Michigan State field goals over the last five games.
UCLA has averaged 70.6 points per game over its last five games. The Bruins have given up 72 points per game over that stretch.
Prop Bets
UCLA @ Michigan St Thu, Mar 18, 2021 EST
| Rot | First To Score 20 Points | Moneyline |
| --- | --- | --- |
| 2503 | UCLA     | +105 |
| 2504 | Michigan St     | -135 |
| Rot | Last To Score | Moneyline |
| --- | --- | --- |
| 2507 | UCLA     | -115 |
| 2508 | Michigan St     | -115 |
| Rot | Double Result | Moneyline |
| --- | --- | --- |
| 2510 | UCLA - UCLA     | +185 |
| 2511 | Tie - UCLA     | +2000 |
| 2512 | Michigan St - UCLA     | +550 |
| 2513 | UCLA - Michigan St     | +500 |
| 2514 | Tie - Michigan St     | +1800 |
| 2515 | Michigan St - Michigan St     | +115 |
| Rot | Winning Margin | Moneyline |
| --- | --- | --- |
| 2525 | UCLA to win by 1-2 pts     | +900 |
| 2526 | UCLA to win by 3-6 pts     | +500 |
| 2527 | UCLA to win by 7-9 pts     | +900 |
| 2528 | UCLA to win by 10-13 pts     | +900 |
| 2529 | UCLA to win by 14-16 pts     | +1800 |
| 2530 | UCLA to win by 17-20 pts     | +1800 |
| 2531 | UCLA to win by 21 or more pts     | +1500 |
| 2532 | Michigan St to win by 1-2 pts     | +900 |
| 2533 | Michigan St to win by 3-6 pts     | +450 |
| 2534 | Michigan St to win by 7-9 pts     | +750 |
| 2535 | Michigan St to win by 10-13 pts     | +700 |
| 2536 | Michigan St to win by 14-16 pts     | +1300 |
| 2537 | Michigan St to win by 17-20 pts     | +1300 |
| 2538 | Michigan St to win by 21 or more pts     | +850 |
| Rot | Highest Scoring Half | Moneyline |
| --- | --- | --- |
| 2541 | 1st Half     | +150 |
| 2542 | 2nd Half     | -240 |
| 2543 | Tie     | +3500 |
| Rot | Game Total | Moneyline |
| --- | --- | --- |
| 2544 | Odd     | -115 |
| 2545 | Even     | -115 |
| Rot | 1st Half Winning Margin | Moneyline |
| --- | --- | --- |
| 2546 | UCLA to win by 1-3 pts     | +450 |
| 2547 | UCLA to win by 4-6 pts     | +550 |
| 2548 | UCLA to win by 7-9 pts     | +800 |
| 2549 | UCLA to win by 10-12 pts     | +1300 |
| 2550 | UCLA to win by 13-15 pts     | +2300 |
| 2551 | UCLA to win by 16 or more pts     | +2300 |
| 2552 | Michigan St to win by 1-3 pts     | +425 |
| 2553 | Michigan St to win by 4-6 pts     | +500 |
| 2554 | Michigan St to win by 7-9 pts     | +650 |
| 2555 | Michigan St to win by 10-12 pts     | +900 |
| 2556 | Michigan St to win by 13-15 pts     | +1700 |
| 2557 | Michigan St to win by 16 or more pts     | +1700 |
| 2558 | Tie     | +1100 |
- Ean Lamb, Gambling911.com