The worldwide pandemic has resulted in an increased interest in online slots

YggdrasilCasino.com

has pushed the boundaries as one of the world's leading online slots providers

Valley of the Gods is among the most sought after online slot game heading into 2021 with its land of the the mighty gods like Horus and Anubis who gift you re-spins after every winning spin

Jackpot Raiders is also ranked among the top 5 slot games heading into 2021 and features a 10X multiplier courtesy of the Sunken City

Champions of Rome offers an incredible 77% hit frequency
2021 is finally here and not a day too soon.  Thank God for that!
While the coronavirus pandemic has wreaked havoc throughout the world's economies dating back to last March, online casinos are among the rare success stories along with the likes of Uber Eats and video conferencing.  Because land-based casinos were mostly shuttered, folks resorted to playing online from home in their pajamas.  Even after casinos in Vegas began opening, Covid-19 outbreaks at casinos were evident and ensured more gamblers remained home.  Global shutdowns often translated into boredom and the discovery of Web-based casinos, many of which feature live dealers and an immersive land-based casino environment.
Slot suppliers like YggdrasilCasino.com were quick to capitalize with a focus on superior design and gaming innovations and competitive promotions.
Yggdrasil has long pushed the boundaries when it comes to design. As an example of this, their Jungle Books slots not only features living symbols but an entire world of creatures and characters outside of the reels.
The company was named "Innovator of the Year" at the 2019 International Gaming Awards.
5 Top Online Slot Games for 2021
Valley of the Gods - With up to 3125 ways to win, Valley Of The Gods whisks you away to the land of the the mighty gods like Horus and Anubis who gift you re-spins after every winning spin! Some say these mighty beings of renown came from the stars to unleash enlightenment on humanity. The game features stunning graphics and a cool spiritual soundtrack.  The Maximum Win is 580,000.  Valley of the Gods is mobile compatible.
The key to winning lies with the Win Multiplier and Extra Lives feature where you can get high multipliers resulting in plenty of free spins.
Jackpot Raiders - The object of this game is to catch as many relics in the Treasure Hunt or Treasure Chest bonus games as possible in order to receive more free spins.  Land at least three matching symbols on a payline with betting starting at $0.10 and the biggest wager you can place per spin is $40.
There is the 3x multiplier, which earns you one gem on a reel. 5 gems on a reel will trigger one of the jackpots.  Seeding starts at 40 with a maximum of 15,000 in cash.
The Sunken City results in 10 spins with a 10x multiplier.
Vikings Go Berzerk - The maximum win here is €500,000.
"As the waves crash against the side of the boat and you inch closer to a world of riches, things suddenly take a dark turn. From the depth of the ocean, Sirens attempt to stop you matching three or more symbols and banking prizes worth up to 250X your bet. Fortunately, you've got one thing on your side: Rage. You see, the cornerstone of crazy is its ability to switch in a second. One minute, the sea is calm and you're casually spinning five reels. The next, all hell breaks loose and symbols are flying in all directions. For those that can survive the storm and come out the other side, the rewards are immense."
Set at 96.1%, this game is classed as a medium variance slot with hit frequency of 20.9%.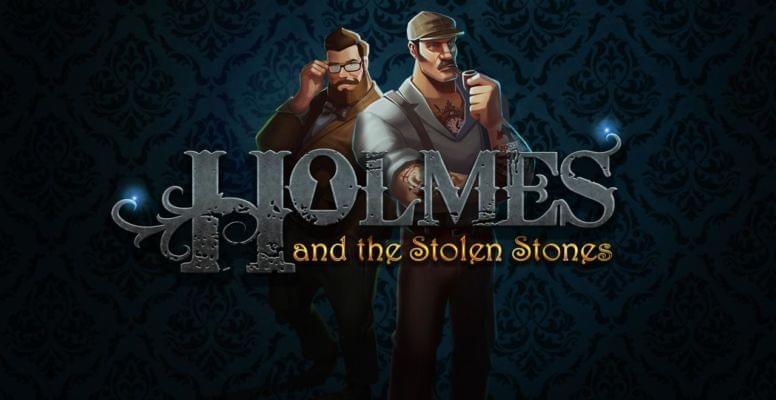 Holmes and the Stolen Stones - The evil forces of bad luck have stolen your riches and there's only one man that can help: Sherlock Holmes. With the famous detective on the case, retrieving the world's most precious stones should be easy.
This one is a "must play" for the hardcore mystery lover.  Search for clues and stumble upon the progressive jackpot that could be worth upwards of €100,000!
Every slot is full of clues with a mere €0.20 to start playing.
"Looking at the specifics, Holmes and the Stolen Stones progressive jackpot is classed as a "local prizepool". In technical terms, this means each Yggdrasil casino site has its own pot of cash that gradually builds up over time. As per the specs, between 0.6% and 0.8% of every bet you make will add to the casino's progressive prizepool."
Champions of Rome - Who doesn't like a good Roman themed slot?
With a maximum win of €268,300 (When playing on default max bet), anyone can enter the theatre of conflict can challenge for the Champions of Rome crown.
"As drums beats pierce the roar of the crowd, you stand in the middle of the Colosseum ready for action. With gladiators, mythical beasts and ornate shields spinning around you, the time has come to fight. As you play to the crowd, only three or more matching symbols stand between you and victory.
"Put simply, this is a battle and the only way to make it out alive is spin. Fortunately, with masses on your side and an arsenal of features at your disposal, anything is possible. Indeed, if you can find the right combinations and stay within your betting limits, you could earn 12,000X payouts and, more importantly, a place alongside the Champions of Rome."
What makes this slot special is the hit frequency.
Playing it straight and passing on the bonus will result in a hit frequency is 44%. Skilled operators can actually see increases up to 77%, a huge theoretical return. 
- Payton O'Brien, Gambling911.com Senior Editor