Texas A&M vs. Colorado prop bets for Week 2 are available below. Bet this one at BetAdrian, which offers a NO DEPOSIT welcome bonus of $20/€20.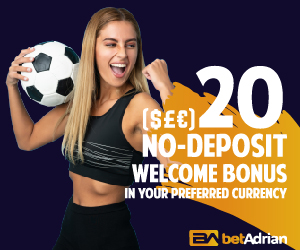 The last time Texas A&M and Colorado met on the football field — year: 2009 — both were still members of the Big 12.
The Aggies are now in the Southeastern Conference, where they're a national title contender. The Buffaloes reside in the Pac-12, where they're searching for national attention.  The Aggies are also a -17 road favorite in this one.
No. 6 Texas A&M routed Kent State in Week 1.
"Give the Aggies some time before you hold them to last season's standard. Haynes King has loads of potential, but the young quarterback needs to figure things out and learn to limit his mistakes. The same can be said for the new-look offensive line, which is breaking in four new starters. If the Aggies find the answers, this team could be onto something with an already stout defense and a talented running game to lean on. With unranked Colorado and New Mexico remaining before SEC play begins, Texas A&M has a few weeks to come together." -- Alex Scarborough
Props
Sat, Sep 11, 2021 EST
| Rot | First To Score | Moneyline |
| --- | --- | --- |
| 2001 | Texas AM     | -200 |
| 2002 | Colorado     | +165 |
| Rot | First Scoring Play of the Game | Moneyline |
| --- | --- | --- |
| 2009 | Texas AM TD     | -125 |
| 2010 | Texas AM FG     | +400 |
| 2011 | Texas AM Any Other Score     | +5000 |
| 2012 | Colorado TD     | +225 |
| 2013 | Colorado FG     | +600 |
| 2014 | Colorado Any Other Score     | +5500 |
| Rot | A Team to Score 3 Unanswered Times | Moneyline |
| --- | --- | --- |
| 2015 | Yes     | -210 |
| 2016 | No     | +170 |
| Rot | Team Scoring 1st Wins Game | Moneyline |
| --- | --- | --- |
| 2017 | Yes     | -210 |
| 2018 | No     | +170 |
| Rot | Winning Margin | Moneyline |
| --- | --- | --- |
| 2019 | Texas AM to win by 1-6 pts     | +450 |
| 2020 | Texas AM to win by 7-12 pts     | +425 |
| 2021 | Texas AM to win by 13-18 pts     | +325 |
| 2022 | Texas AM to win by 19-24 pts     | +375 |
| 2023 | Texas AM to win by 25-30 pts     | +500 |
| 2024 | Texas AM to win by 31-36 pts     | +700 |
| 2025 | Texas AM to win by 37-42 pts     | +1400 |
| 2026 | Texas AM to win by 43 or more pts     | +1600 |
| 2027 | Colorado to win by 1-6 pts     | +900 |
| 2028 | Colorado to win by 7-12 pts     | +2000 |
| 2029 | Colorado to win by 13-18 pts     | +4000 |
| 2030 | Colorado to win by 19-24 pts     | +7500 |
| 2031 | Colorado to win by 25-30 pts     | +9000 |
| 2032 | Colorado to win by 31-36 pts     | +10000 |
| 2033 | Colorado to win by 37-42 pts     | +12500 |
| 2034 | Colorado to win by 43 or more pts     | +14000 |
| Rot | Double Result | Moneyline |
| --- | --- | --- |
| 2035 | Texas AM/Texas AM     | -275 |
| 2036 | Texas AM/Tie     | +4500 |
| 2037 | Texas AM/Colorado     | +1600 |
| 2038 | Tie/Texas AM     | +1000 |
| 2039 | Tie/Tie     | +4000 |
| 2040 | Tie/Colorado     | +3000 |
| 2041 | Colorado/Texas AM     | +500 |
| 2042 | Colorado/Tie     | +4000 |
| 2043 | Colorado/Colorado     | +800 |
| Rot | Winning Margin 3-Way | Moneyline |
| --- | --- | --- |
| 2047 | Texas AM to Win by 6 or More     | -500 |
| 2048 | Colorado to Win by 6 or More     | +900 |
| 2049 | Any Other Result     | +425 |
| Rot | Race to 10 Points | Moneyline |
| --- | --- | --- |
| 2051 | Texas AM     | -400 |
| 2052 | Colorado     | +275 |
| 2053 | Neither     | +10000 |
| Rot | Race to 15 Points | Moneyline |
| --- | --- | --- |
| 2055 | Texas AM     | -650 |
| 2056 | Colorado     | +450 |
| 2057 | Neither     | +2000 |
| Rot | Race to 20 Points | Moneyline |
| --- | --- | --- |
| 2059 | Texas AM     | -700 |
| 2060 | Colorado     | +750 |
| 2061 | Neither     | +900 |
| Rot | Race to 25 Points | Moneyline |
| --- | --- | --- |
| 2063 | Texas AM     | -375 |
| 2064 | Colorado     | +2000 |
| 2065 | Neither     | +300 |
| Rot | Race to 30 Points | Moneyline |
| --- | --- | --- |
| 2067 | Texas AM     | -220 |
| 2068 | Colorado     | +3300 |
| 2069 | Neither     | +160 |
| Rot | Race to 35 Points | Moneyline |
| --- | --- | --- |
| 2071 | Texas AM     | Ev |
| 2072 | Colorado     | +4500 |
| 2073 | Neither     | -120 |
| Rot | Race to 40 Points | Moneyline |
| --- | --- | --- |
| 2075 | Texas AM     | +250 |
| 2076 | Colorado     | +7000 |
| 2077 | Neither     | -350 |
- Mary Montgomery, Gambling911.com