Patrick Leonard and Espen Jørstad have won Event #55: $1,000 Tag Team for $148,067 after topping a field of 913 teams.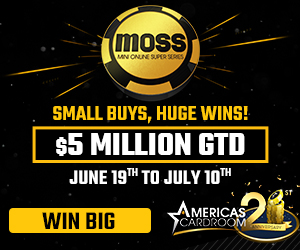 The final four players were all looking for their first bracelets, but it was Leonard and Jørstad who came out on top after overcoming an almost 6:1 heads-up chip advantage.
An Instagram post, of all things, led to the Leonard and Jørstad tag team. 
Jørstad praised his partner following a series of "absurd" plays midway through the tournament.
"He was just making some absurd adjustments," said Jørstad. "Folding tens to a three-bet and the opponent shows aces. Folding jacks and the guy shows queens. Just absurd plays. And I was like 'Ok, we're winning this.'"
England's Leonard has now accumulated just shy of $3 million in live tournament career play while Norway's Jørstad is a relative newcomer.
Upcoming WSOP Events
Thursday June 30
Event #56: $50,000 Poker Players Championship 6-Handed (Ends Thursday)
Event #57: $600 Deepstack Championship No-Limit Hold'em (Ends Thursday)
Event #59: $1,000 SUPER SENIORS No-Limit Hold'em (Ends Friday)
Event #60: $10,000 Short Deck No-Limit Hold'em (Ends Thursday)
Event #61: $1,000 LADIES No-Limit Hold'em Championship (Ends Saturday)
Event #63: $10,000 Pot-Limit Omaha Hi-Lo 8 or Better Championship (8-Handed) (Ends Saturday)
Friday July 1
Event #56: $50,000 Poker Players Championship 6-Handed Results
Event #57: $600 Deepstack Championship No-Limit Hold'em Results
Event #60: $10,000 Short Deck No-Limit Hold'em Results
Event #59: $1,000 SUPER SENIORS No-Limit Hold'em (Ends Friday)
Event #61: $1,000 LADIES No-Limit Hold'em Championship (Ends Saturday)
Event #63: $10,000 Pot-Limit Omaha Hi-Lo 8 or Better Championship (8-Handed) (Ends Saturday)
Event #67: $10,000 Super Turbo Bounty No-Limit Hold'em (freezeout) (Ends Saturday)
Event #66: $1,000 MINI Main Event No-Limit Hold'em (freezeout) (Ends Sunday)
- Ace King, Gambling911.com