Robbery Suspect Shot to Death Outside Notorious Poker Room
Published on:
May/19/2022
Houston Police said they received a call about a shooting at around 3:56 a.m. Wednesday morning in the Legends Poker Room parking lot.  And this is hardly the first time Legends Poker Room has made headlines for all the wrong reasons.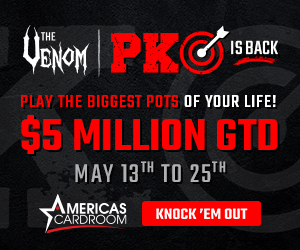 A man carrying an AR-15 was prevented from carrying out an attack there back in January.  He was subdued by a security officer.
And last month a gunman opened fire on the establishment previously co-owned by poker legend Johnny Chan.
Poker pro Sammy Farha was beat up there by a former dealer last year.
The latest incident occurred following an attempted robbery at the Cafe Awtar, a late night Mediterranean restaurant located next store to the poker room. 
Police said the suspect was heard telling a man, who had a new model Chevy Corvette, "Give me your car", according to Houston's ABC 13.
"A couple of witnesses did see the vast majority of what occurred," HPD Det. Jason Campbell said.
The robber was then shot by the man whose car he attempted to steal.
"He felt his life was in danger and was able to return fire and shoot the decedent two or three times," Campbell said.

That's when the suspect jumped onto a car, not connected to the victim or suspect, and fled the scene.

The car stopped in the parking lot of Legends Poker Room, where the suspect fell off and died, according to police.

The victim is cooperating with police, but no names have yet been released.
- Nagesh Rath, Gambling911.com