Penn State vs. Indiana features a line of Nittany Lions -6.5.   Jazz Sports is offering a generous welcome bonus (max bonus $1000).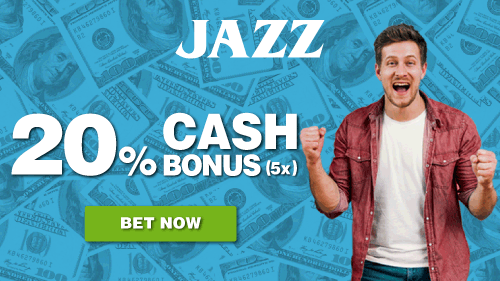 Penn State
No. 8 Penn State football will finally begin its season at 3:30 p.m. this Saturday against Indiana.
What separates the sport's current ruling class from the Penn States of the world? ESPN asked PSU coaches that question this past summer.
Penn State head coach James Franklin's mind went immediately to offense. "The teams that are able to separate themselves consistently are the ones that can score points in a lot of different ways," he said. "In today's football, as good as you can be on defense, there's gonna be a couple of games a year where you're gonna have to outscore people. You're gonna have to score 40-something points in a big-time game to get a W."
From ESPN:
The Nittany Lions haven't been able to get past Ohio State in the years since, going 0-3 against the Buckeyes and 31-5 against everyone else, but from a "first three years, next three years" perspective, the Nittany Lions are awfully close to Clemson's trajectory.
2014-16: 8.3 wins per year, 13.2 average SP+ rating (26.3 average ranking)
2017-19: 10.3 wins per year, 23.1 average SP+ rating (9.0 average ranking)
They begin their 2020 season Saturday eighth in the AP poll and fifth in SP+.
Indiana
"Tom Allen helped Indiana improve a whole lot in his third full season as the Hoosiers' head coach last year. The former defensive coordinator helped make his team a solid contender in the Big Ten and still has a strong crop of talent to work with.
"The Hoosiers didn't beat a ranked team in 2019, but they took care of the teams they were supposed to, including convincing wins over Eastern Illinois, Connecticut, and Northwestern, among others. Their regular season was capped off with a 44-41 win over in-state rival Purdue in a double-overtime thriller.
"While Indiana hasn't beaten the Nittany Lions since 2013, the Hoosiers put together a nice battle last season. Allen's squad hung with Penn State's offense by putting up 27 points, and a late scoring drive was the only thing that kept the Nittany Lions from being upset at home.
"In addition to last year's close call, Penn State has had its fair share of struggles on the road in Bloomington." - OnwardState
Prop Bets
Penn St @ Indiana Sat, Oct 24, 2020 EST
| Rot | First Scoring Play | Moneyline |
| --- | --- | --- |
| 1009 | Penn St TD     | +120 |
| 1010 | Penn St FG     | +450 |
| 1011 | Penn St Any Other Score     | +4500 |
| 1012 | Indiana TD     | +175 |
| 1013 | Indiana FG     | +450 |
| 1014 | Indiana Any Other Score     | +4500 |
| Rot | A Team to Score 3 Unanswered Times | Moneyline |
| --- | --- | --- |
| 1015 | Yes     | -250 |
| 1016 | No     | +200 |
| Rot | Team Scoring 1st Wins Game | Moneyline |
| --- | --- | --- |
| 1017 | Yes     | -180 |
| 1018 | No     | +150 |
| Rot | Winning Margin | Moneyline |
| --- | --- | --- |
| 1019 | Penn St to win by 1-6 pts     | +325 |
| 1020 | Penn St to win by 7-12 pts     | +450 |
| 1021 | Penn St to win by 13-18 pts     | +600 |
| 1022 | Penn St to win by 19-24 pts     | +800 |
| 1023 | Penn St to win by 25-30 pts     | +1200 |
| 1024 | Penn St to win by 31-36 pts     | +1600 |
| 1025 | Penn St to win by 37-42 pts     | +2700 |
| 1026 | Penn St to win by 43 or more pts     | +2700 |
| 1027 | Indiana to win by 1-6 pts     | +425 |
| 1028 | Indiana to win by 7-12 pts     | +750 |
| 1029 | Indiana to win by 13-18 pts     | +1100 |
| 1030 | Indiana to win by 19-24 pts     | +1800 |
| 1031 | Indiana to win by 25-30 pts     | +3500 |
| 1032 | Indiana to win by 31-36 pts     | +4500 |
| 1033 | Indiana to win by 37-42 pts     | +7000 |
| 1034 | Indiana to win by 43 or more pts     | +9000 |
| Rot | Double Result | Moneyline |
| --- | --- | --- |
| 1035 | Penn St/Penn St     | -110 |
| 1036 | Penn St/Tie     | +3500 |
| 1037 | Penn St/Indiana     | +800 |
| 1038 | Tie/Penn St     | +1500 |
| 1039 | Tie/Tie     | +3500 |
| 1040 | Tie/Indiana     | +1800 |
| 1041 | Indiana/Penn St     | +550 |
| 1042 | Indiana/Tie     | +3000 |
| 1043 | Indiana/Indiana     | +240 |
| Rot | Will Game Go to Overtime | Moneyline |
| --- | --- | --- |
| 1044 | Yes     | +850 |
| 1045 |   |   |
- Ean Lamb, Gambling911.com