(12) Oregon St. vs (5) Tennessee featured a line of Tennessee -8.5.  Jazz Sports (est. 1994) offers live prop bets for this game and a generous welcome bonus (max bonus $1000).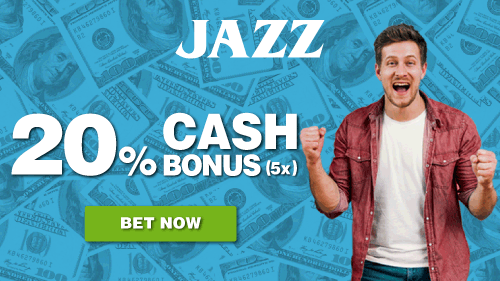 How They Got Here
Maurice Calloo gave Oregon State an unexpected lift with 15 points and the Beavers won their first conference tournament title, holding off No. 23 Colorado 70-68 in the Pac-12 championship game Saturday night.
Herbert Jones had 21 points and No. 6 Alabama rallied from a 15-point deficit in the second half to beat Tennessee 73-68 Saturday in the Southeastern Conference Tournament semifinals.
75% of spread action on Oregon State +8.5.

Line movement encouraging more action on Beavers (+7.5 to +8.5).

This line actually moved as high as +9.

The Volunteers have the fourth-ranked defensive efficiency in the country.

Tennessee also has a deep roster.
Prop Bets
| Rot | First To Score 20 Points | Moneyline |
| --- | --- | --- |
| 2503 | Oregon State     | +210 |
| 2504 | Tennessee     | -260 |
| Rot | Last To Score | Moneyline |
| --- | --- | --- |
| 2507 | Oregon State     | -115 |
| 2508 | Tennessee     | -115 |
| Rot | Double Result | Moneyline |
| --- | --- | --- |
| 2510 | Oregon State - Oregon State     | +450 |
| 2511 | Tie - Oregon State     | +3500 |
| 2512 | Tennessee - Oregon State     | +900 |
| 2513 | Oregon State - Tennessee     | +450 |
| 2514 | Tie - Tennessee     | +1500 |
| 2515 | Tennessee - Tennessee     | -200 |
| Rot | Winning Margin | Moneyline |
| --- | --- | --- |
| 2525 | Oregon State to win by 1-2 pts     | +1300 |
| 2526 | Oregon State to win by 3-6 pts     | +850 |
| 2527 | Oregon State to win by 7-9 pts     | +1900 |
| 2528 | Oregon State to win by 10-13 pts     | +2000 |
| 2529 | Oregon State to win by 14-16 pts     | +3500 |
| 2530 | Oregon State to win by 17-20 pts     | +4500 |
| 2531 | Oregon State to win by 21 or more pts     | +3500 |
| 2532 | Tennessee to win by 1-2 pts     | +900 |
| 2533 | Tennessee to win by 3-6 pts     | +400 |
| 2534 | Tennessee to win by 7-9 pts     | +550 |
| 2535 | Tennessee to win by 10-13 pts     | +425 |
| 2536 | Tennessee to win by 14-16 pts     | +700 |
| 2537 | Tennessee to win by 17-20 pts     | +700 |
| 2538 | Tennessee to win by 21 or more pts     | +500 |
| Rot | Highest Scoring Half | Moneyline |
| --- | --- | --- |
| 2541 | 1st Half     | +140 |
| 2542 | 2nd Half     | -220 |
| 2543 | Tie     | +3500 |
| Rot | Game Total | Moneyline |
| --- | --- | --- |
| 2544 | Odd     | -115 |
| 2545 | Even     | -115 |
| Rot | 1st Half Winning Margin | Moneyline |
| --- | --- | --- |
| 2546 | Oregon State to win by 1-3 pts     | +550 |
| 2547 | Oregon State to win by 4-6 pts     | +850 |
| 2548 | Oregon State to win by 7-9 pts     | +1300 |
| 2549 | Oregon State to win by 10-12 pts     | +2300 |
| 2550 | Oregon State to win by 13-15 pts     | +3500 |
| 2551 | Oregon State to win by 16 or more pts     | +4500 |
| 2552 | Tennessee to win by 1-3 pts     | +425 |
| 2553 | Tennessee to win by 4-6 pts     | +425 |
| 2554 | Tennessee to win by 7-9 pts     | +450 |
| 2555 | Tennessee to win by 10-12 pts     | +650 |
| 2556 | Tennessee to win by 13-15 pts     | +900 |
| 2557 | Tennessee to win by 16 or more pts     | +850 |
| 2558 | Tie     | +1300 |
- Tyrone Black, Gambling911.com