The Oregon Ducks vs. Oregon Beavers game had the Ducks as -13 to -13.5 favorite. Jazz Sports is offering a generous welcome bonus (max bonus $1000).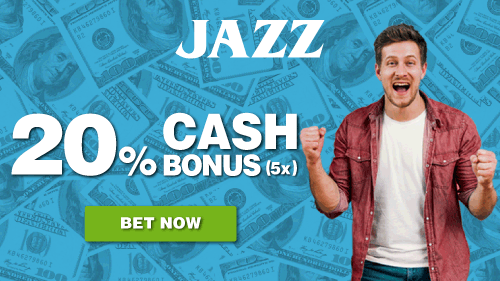 Futures
The Irish now pay $1300 for every $100 bet to win the NCAA College Football Championship.
Before You Bet
Ducks Can't Afford to Lose Here
The Ducks can't afford to stumble against Oregon State (1-2, 1-2 Pac-12).
Oregon is currently the Pac-12's best option per landing a spot in the four-team College Football Playoff. But the Ducks would see any chance evaporate with a loss.
Oregon rolled to solid wins in its first two games -- 35-14 over Stanford, 43-29 at Washington State -- before struggling to post a 38-35 home victory over UCLA last Saturday.
Sagarin Ratings
Not Available
Props
Oregon @ Oregon St Fri, Nov 27, 2020 EST

Place Bets Here
| Rot | First Scoring Play | Moneyline |
| --- | --- | --- |
| 1009 | Oregon TD     | -135 |
| 1010 | Oregon FG     | +750 |
| 1011 | Oregon Any Other Score     | +4500 |
| 1012 | Oregon St TD     | +150 |
| 1013 | Oregon St FG     | +1200 |
| 1014 | Oregon St Any Other Score     | +4500 |
| Rot | A Team to Score 3 Unanswered Times | Moneyline |
| --- | --- | --- |
| 1015 | Yes     | -300 |
| 1016 | No     | +225 |
| Rot | Team Scoring 1st Wins Game | Moneyline |
| --- | --- | --- |
| 1017 | Yes     | -210 |
| 1018 | No     | +170 |
| Rot | Winning Margin | Moneyline |
| --- | --- | --- |
| 1019 | Oregon to win by 1-6 pts     | +450 |
| 1020 | Oregon to win by 7-12 pts     | +425 |
| 1021 | Oregon to win by 13-18 pts     | +400 |
| 1022 | Oregon to win by 19-24 pts     | +500 |
| 1023 | Oregon to win by 25-30 pts     | +800 |
| 1024 | Oregon to win by 31-36 pts     | +1000 |
| 1025 | Oregon to win by 37-42 pts     | +1700 |
| 1026 | Oregon to win by 43 or more pts     | +1500 |
| 1027 | Oregon St to win by 1-6 pts     | +750 |
| 1028 | Oregon St to win by 7-12 pts     | +1200 |
| 1029 | Oregon St to win by 13-18 pts     | +2200 |
| 1030 | Oregon St to win by 19-24 pts     | +4000 |
| 1031 | Oregon St to win by 25-30 pts     | +6000 |
| 1032 | Oregon St to win by 31-36 pts     | +9000 |
| 1033 | Oregon St to win by 37-42 pts     | +10000 |
| 1034 | Oregon St to win by 43 or more pts     | +11000 |
| Rot | Double Result | Moneyline |
| --- | --- | --- |
| 1035 | Oregon/Oregon     | -175 |
| 1036 | Oregon/Tie     | +3000 |
| 1037 | Oregon/Oregon St     | +1200 |
| 1038 | Tie/Oregon     | +900 |
| 1039 | Tie/Tie     | +2500 |
| 1040 | Tie/Oregon St     | +2000 |
| 1041 | Oregon St/Oregon     | +550 |
| 1042 | Oregon St/Tie     | +3000 |
| 1043 | Oregon St/Oregon St     | +500 |
| Rot | Will Game Go to Overtime | Moneyline |
| --- | --- | --- |
| 1044 | Yes     | +800 |
| 1045 | No     | -1800 |