The odds to win NBA2K20 are available for betting now at Jazz Sports, and no coronavirus pandemic is getting in the way of this virtual sport.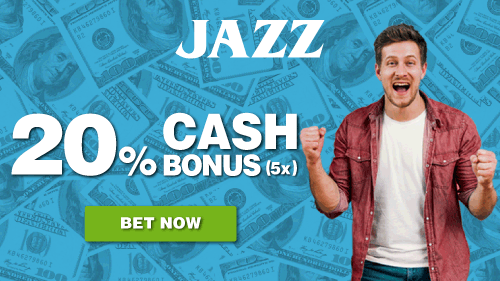 NBA 2K20 is a basketball simulation video game developed by Visual Concepts and published by 2K Sports, based on the National Basketball Association. It is the 21st installment in the NBA 2K franchise and the successor to NBA 2K19.   More details appear by scrolling below
If you are a SPORTS player claim your 100% WELCOME FREE PLAY BONUS (10x) Promotional Code: XMAS100 at Jazz Sports - #AD Get it here ->>> https://t.co/nu55oyG36V @SportsbookJazz pic.twitter.com/qfF7TSTmKp

— gambling911 (@gambling911) December 20, 2019
HAWKS (V) 500/1
CELTICS (V) 18
NETS (V) 22
HORNETS (V) 75
BULLS (V) 250
CAVALIERS (V) 500
MAVERICKS (V) 25
NUGGETS (V) 20
PISTONS (V) 500
WARRIORS (V) 20
ROCKETS (V) 18
PACERS (V) 40
CLIPPERS (V) 5
LAKERS (V) 2/1
GRIZZLIES (V) 100
HEAT (V) 25
BUCKS (V) 2/1
TIMBERWOLVES (V) 500
PELICANS (V) 50
KNICKS (V)  250
THUNDER (V) 50
MAGIC (V) 150
76ERS (V) 25
SUNS (V) 500
TRAILBLAZERS (V) 65
KINGS (V) 250
SPURS (V) 75
RAPTORS (V) 20
JAZZ (V) 15
WIZARDS (V) 125
In view of the recent surge of interest in virtual sports, and the extension of the COVID-19 quarantine measures, online betting powerhouse JAZZ Sports has officially announced the launch of its own NBA2K betting platform, which will include a lineup of daily PC-to-PC matches -streamed directly via Twitch through JAZZSports.ag- and the corresponding assortment of betting odds.
Starting today (4/13/2020) players will be able to find 7-8 NBA2K-simulated games on a daily basis, playout out throughout the day and evening, between all 30 NBA league teams.

JAZZ Sports' NBA2K Betting will feature:
•    7-8 daily matches (PC vs PC), laid out in succession, every 2 hours.
•    A wide array of betting odds, including full-game odds, halves, quarters, and every other type of basketball betting line.
•    Each one of the NBA's 30 teams will play against each other once, and, at the end of the season, the top 4 teams from each conference will move on to the Playoffs, in the hopes of winning the NBA2K title.
•    NBA stars such as Stephen Curry, Klay Thomson, Kevin Duran and Zion Williamson will all be available for play with their respective teams.
Rules and Conditions:
 All NBA2K-held matches will be streamed via Twitch, and will be made available for active users of JAZZ Sports. The lineup of matches can be found under the Simulation Games tab of JAZZ Sports extensive betting board.

Full Realism: each and every NBA2K match will be played realistically, with minute allocations amongst the starting lineups and bench. Players get fatigued, can get fouled or subbed out. 

Each game will be streamed live via JAZZ Sports' Twitch channel. Players will also have access to game replays, or past games within 7 days of game time. 

Each game will be played a total lime lapse of 48 minutes, split into quarter periods of 12 minutes. 
 The matches will feature player injuries; however, any injured player will return in full health for the following match. Our playoffs will matchup the 4 best teams in the West against the 4 best teams in the East in the 1st Round (E1 vs W4, E2 vs W3, E3 vs W2, E4 vs W1), in a Best-of-3 Series format. In the 2nd Round, winners will be reseeded based on regular season records. They will then be matched in a best-of-5 series. The finals will be played between the winners in a best-of-7 series.
- Dan Shapiro, Gambling911.com