Diamondbacks are listed with 50-1 odds of winning the World Series

There is hope in Arizona as a few upgrades were made during offseason

But the bullpen is seen as the Diamondbacks weak link
Coming off a surprising 85-win season and feeling like they have a chance to track down the Dodgers in the NL West, the Arizona Diamondbacks made some serious moves to at least throw a scare into the favorites. It's hard to rebuild without going through the pains, but the Dbacks did that. Over the last few years they parted ways with Paul Goldschmidt and Zack Grienke, adding cheaper and nearly equal talent in the process. The additions of Starling Marte and Madison Bumgarner probably won't get them past the Dodgers, but Arizona is a serious wild card threat.
2020 Arizona Diamondbacks At A Glance
Arizona Diamondbacks World Series Odds +5000
Arizona Diamondbacks NL Pennant Odds +2200
Arizona Diamondbacks NL West Odds +1200
2020 Arizona Diamondbacks Overview
Not much was expected of the Dbacks last season. They traded away franchise icon Goldschmidt and the offense wasn't going to be nearly as productive. Well, they found some gems in David Peralta, Ketel Marte and Christian Walker, all big contributors to team that scored the eighth-most runs in MLB.
It's one thing to play when there are no expectations. It's another to perform when the stakes have been raised. The Dbacks put the target squarely on their back by outkicking their coverage last season. In order to try and keep the momentum rolling the club brought in some veteran leaders who can still play.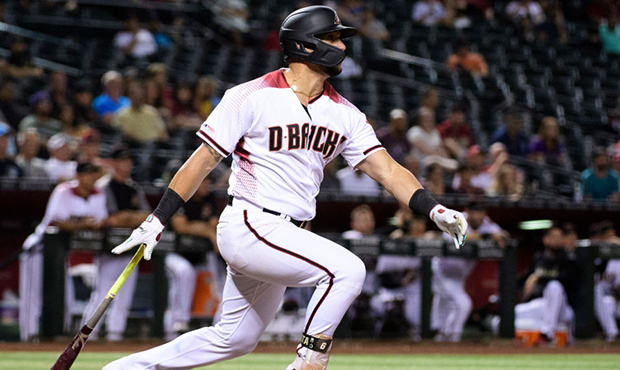 David Peralta came through strong for the Diamondbacks last season
Starling Marte was the Pirates best player and MadBum was the Giants best pitcher. They also upgraded at the corner outfield spot with the addition of Kole Calhoun. There's a lot to like about the Dbacks with a solid lineup and underrated pitching staff. I don't see them topping the Dodgers in the West, but they are a wild card team waiting for bigger things.
Pitching
Losing Patrick Corbin before the start of last season and trading away Greinke in the middle of it, the Dbacks still finished 12th in ERA. Bumgarner not only gives them a workhorse but a seasoned big-time performer. The Dbacks are hoping MadBum gets a chance to deal his postseason magic. He's on the backend of his career, but he's still a solid contributor. Bumgarner was 9-9 with a 3.90 ERA in 207.1 innings last year.
Bumgarner, Robbie Ray and Mike Leake give the rotation three capable veteran arms to work alongside youngsters Zac Gallen and Luke Weaver. In what was a minor league deal at the time, the Dbacks acquired Gallen. In eight starts he posted a 2.89 ERA. He'll get every opportunity to build off the solid start to his career. Weaver was lights out before going on the shelf with an injury. He pitched just 64.1 innings over 12 starts going 4-3 with a 2.94 ERA.
If everything falls into place the bullpen can be good, but it's likely the team's weak link. Hector Rondon and Junior Guerra were added to bolster the group. Archie Bradley became the closer by default and did OK. He saved 18 games and went 4-5 with a 3.52 ERA. Andrew Chaffin saw plenty of action appearing in 77 games. He'll be the primary setup man. There are plenty of arms to work with, but we don't know how effective they'll be.
Hitting
Adding Starling Marte and Calhoun to a lineup that already has some pop makes the Dbacks more dangerous. Ketel Marte, who hit .329 with 32 home runs and got some votes for MVP moves to second making room for the other Marte in center. Starling hit .295 with a career-best 23 homers last year. Calhoun is also coming off a power surge with the Halos. He belted 33 homers, nearly as many as the previous two seasons combined.
Peralta remains in left making up what could be a dominant outfield. A Gold Glover in 2019 he slashed .275/.343/.461. We are basing the season on what players did last year. That can sometimes be a mistake. Ketel Marte had a breakout season with numbers far above his career norm. In the previous four seasons combined he hit 22 homers and hadn't averaged higher than .260 in the previous three. Eduardo Escobar's highest home run tally was 23 before blasting 35 last season. It's easy to get excited about the Dbacks, but there is a possibility the numbers don't add up.
2020 Arizona Diamondbacks Season Pick
We know Bumgarner is the real deal and his presence at the top of the rotation makes the team better. Anything close to last year's production level from the Martes, Calhoun, Escobar, Peralta, Jake Lamb and Christian Walker and the Dbacks will be battling for a playoff spot. Otherwise, they are just trying to stay above .500. I like the makeup of the team, though. There are enough arms on the staff and bats on the bench to put them in the race.
Access live betting lines from your mobile device at BookMaker sportsbook! Real-time spreads, totals, props and money line are all available so start betting with BookMaker today.
- Phil Simon, Gambling911.com