Latest Betting Form For UFC 226 Miocic Vs Cormier
Published on:
Jul/04/2018
On Saturday July 7th in Las Vegas UFC history will be made. This will be the first time that the current UFC Heavyweight Champion and the Light Heavyweight Champion will be squaring off against each other. This will be the first time that a fighter will be able to unify both of the heavyweight belts.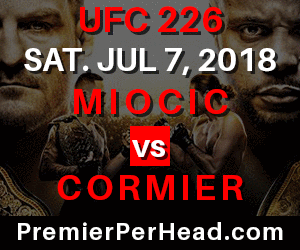 Of course it is Miocic who is putting his belt on the line, as Cormier is in a lower weight class Miocic is the only one that can lose his current belt.
You might think that Miocic on paper being the heavier fighter will wipe the floor with Cormier, however we believe that this could not be further from the truth.
Even though Daniel Cormier is currently in the Light Heavyweight class he has already proved himself in the heavyweight division with a 13 to 0 Win ratio before he stepped down a weight class.
Only once before has a fighter held 2 belts at the same time and this was Conor McGregor who managed to do that back in 2016.
While currently Miocic is the favourite on paper with odds currently at 4/11 for Miocic and 21/10 for Cormier this is causing a great amount of buzz in the betting community because they feel that Cormier actually has a real chance and bets are being heavily placed on both fighters.
At www.premierperhead.com we have seen a lot of our customers massively capitalising on the fight with their customers. We admit it, we love the UFC and we will be live streaming the fight through our twitter feed and you can follow along with us at @premierperhead
The UFC has seen a huge rise in popularity over the last 24 months. Ironically the standard boxing match between Floyd Mayweather and Conor McGregor brought a massive amount of attention to the UFC. These days, it is a great pull for people running their own bookies.
At Premier Pay Per Head we love to help those wanting to start their own bookies get on the ladder and see how easy it is to build an extremely lucrative business.
With the World Cup, Wimbledon and UFC 226 all taking bets in a big way at the moment, now really is the time to start your own bookies. Right now, you can get 4 weeks free and the expert advice you need to get setup and running before UFC 226 so you can start capitalizing on the amazing summer of sport in 2018. Visit our site and get in touch if you want to get started, and don't forget to follow along with our twitter account on the 7th July for the top bill stream of UFC 226.