KT Park, playing in only his second-ever live WSOP event, has won the Event #52: $2,500 Nine-Game Mix 6-Handed.  He takes home his first WSOP bracelet and $219,799.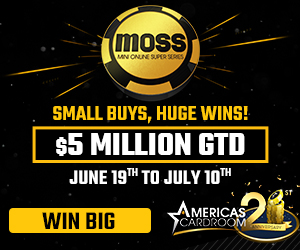 "I play a lot of 8-Game on PokerStars New Jersey, so it paid off I guess."
He intends to play a few more events before the series concludes.
"The plan might be to play more and play the rush. I might just grind every day!"
Park has signed up for the $3,000 H.O.R.S.E. and the $600 Mixed PLO/NLHE event later in the series.
Joao Simao Takes Down Second Bracelet For $686,242 In $5,000 Mixed No-Limit Hold'em/Pot-Limit Omaha
788 took part in the $5000 Mixed No-Limit Hold'em/Pot-Limit Omaha and it concluded with Joao Simao winning $686,242.  This is his second World Series of Poker bracelet win.
"I had some very hard spots at the final table," said the pro shortly after his victory, "some players were better than me in Hold'em, others were better than me in Omaha but I felt that on average I had an edge because I play both well." The man who once said that the Brazilian storm is coming is more confident than ever that poker will continue to be popular in Brazil. "Everytime a Brazilian wins a bracelet, it makes our community grow, more and more, which is good for us and good for the poker world in general."
Upcoming
Tuesday 28
World Series of Poker
Event #51: $400 COLOSSUS No-Limit Hold'em Results
Event #53: $5,000 Mixed No-Limit Hold'em; Pot-Limit Omaha (8-Handed) Results
Event #54: $500 SALUTE to Warriors - No-Limit Hold'em (Ends Tuesday)
Event #55: $1,000 TAG TEAM No-Limit Hold'em (Ends Tuesday)
Event #56: $50,000 Poker Players Championship 6-Handed (Ends Thursday)
Event #57: $600 Deepstack Championship No-Limit Hold'em (Ends Thursday)
Event #58: $1,500 Pot-Limit Omaha Hi-Lo 8 or Better (8-Handed) (Ends Wednesday)
Event #59: $1,000 SUPER SENIORS No-Limit Hold'em (Ends Friday)
Event #60: $10,000 Short Deck No-Limit Hold'em (Ends Thursday)
Wednesday 29
World Series of Poker
Event #54: $500 SALUTE to Warriors - No-Limit Hold'em Results
Event #55: $1,000 TAG TEAM No-Limit Hold'em Results
Event #58: $1,500 Pot-Limit Omaha Hi-Lo 8 or Better (8-Handed) (Ends Wednesday)
Event #56: $50,000 Poker Players Championship 6-Handed (Ends Thursday)
Event #57: $600 Deepstack Championship No-Limit Hold'em (Ends Thursday)
Event #59: $1,000 SUPER SENIORS No-Limit Hold'em (Ends Friday)
Event #60: $10,000 Short Deck No-Limit Hold'em (Ends Thursday)
Event #61: $1,000 LADIES No-Limit Hold'em Championship (Ends Saturday)
Event #63: $10,000 Pot-Limit Omaha Hi-Lo 8 or Better Championship (8-Handed) (Ends Saturday)
Thursday 30
World Series of Poker
Event #58: $1,500 Pot-Limit Omaha Hi-Lo 8 or Better (8-Handed) Results
Event #56: $50,000 Poker Players Championship 6-Handed (Ends Thursday)
Event #57: $600 Deepstack Championship No-Limit Hold'em (Ends Thursday)
Event #59: $1,000 SUPER SENIORS No-Limit Hold'em (Ends Friday)
Event #60: $10,000 Short Deck No-Limit Hold'em (Ends Thursday)
Event #61: $1,000 LADIES No-Limit Hold'em Championship (Ends Saturday)
Event #63: $10,000 Pot-Limit Omaha Hi-Lo 8 or Better Championship (8-Handed) (Ends Saturday)
- Ace King, Gambling911.com