Betting websites continue to shy away from offering odds on high profile court cases.  This needs to change.  Case in point (no pun intended), the defamation lawsuit filed by actor Johnny Depp against his estranged wife Amber Heard has fast become "must see TV".  BREAKING NEWS: BETONLINE WAS OFFERING ODDS ON DEPP VS HEARD TRIAL HERE.  The website is currently taking bets on many celebrity, television and politicals events.  The jury found that Heard defamed Depp and awarded the Pirates of the Caribbean actor $15 million.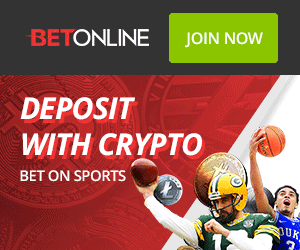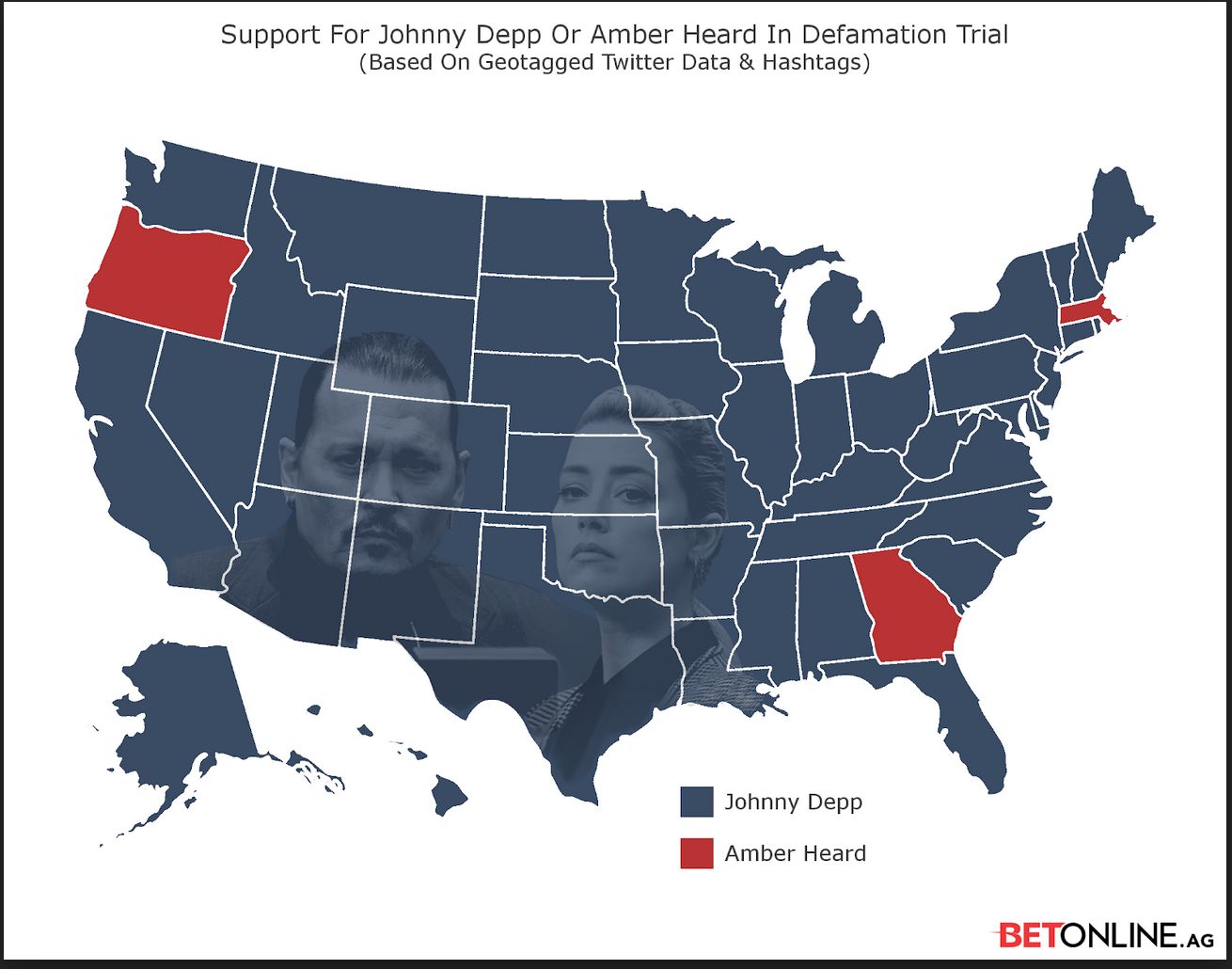 Depp vs. Heard Betting Now Available
Who will court have found to defecate on the bed?
Amber Heard +150
Dog(s) +175
Johnny Depp +300
Security +1000
Will Johnny Depp be cast in next Pirates of Caribbean movie?
Yes +550
No -1000
Will Amber Heard make donation to charity following court case?
Yes -2000
No +700
Keeping a Distance From the Morbid
Ratings for the coverage of this trial are through the roof over at the newly relaunched Court TV.
Despite lacking the same stakes as the O.J. Simpson trial, the network has gone whole hog on the legal proceedings, and it's paid off big time, writes Mike Redmond of Uproxx.
Traditionally, long established online gambling websites like BetOnline, which last week made history by taking the first bet from outer space, have steered clear of all things court dramas and taking bets on morbid outcomes. 
In 2006, the gambling websites Bookmaker and WagerWeb went all-in on hurricane betting following two especially active tropical storm seasons that featured the likes of Katrina and Wilma.  Gambling911.com was approached and filmed a few days prior to Memorial Day by the Miami Herald and its television partner, local CBS affiliate WFOR-TV, discussing the upcoming season and odds on the total number of Category 3 or higher storms the books offered odds on hitting the US.
The segment aired on Memorial Day with most folks away for the holiday.  The Miami Herald piece also came out that same day. It was quiet with nobody around to see or read the stories, or so we thought.
"First thing Tuesday our phone was ringing off the hook," remarked Payton O'Brien, Senior Editor of the Gambling911.com website.  "It seemed as if every media outlet in the Southeast wanted to do a story on this."
And most did!  In fact, there were few that didn't.
But there was also an outcry.  While there were no odds on number of deaths, critics argued that bets were still being placed on other people's misery.  Website operators, and Gambling911.com agreed, offered odds pertaining exclusively to the category number of a storm or storms, and nothing more.
"Folks are riveted to their television sets when a big storm is approaching, but most of us are rooting for it to go out to see," said O'Brien. 
There is an argument to be had that some gamblers might bet big money on big storms hitting the US, potentially resulting in significant damage and loss of lives.  By extension, these individuals are betting on death and despair.
"Perhaps the gambling sites could have taken bets on which letter of the alphabet would be reached in naming storms that season," suggests O'Brien.  "That's a bit more innocuous."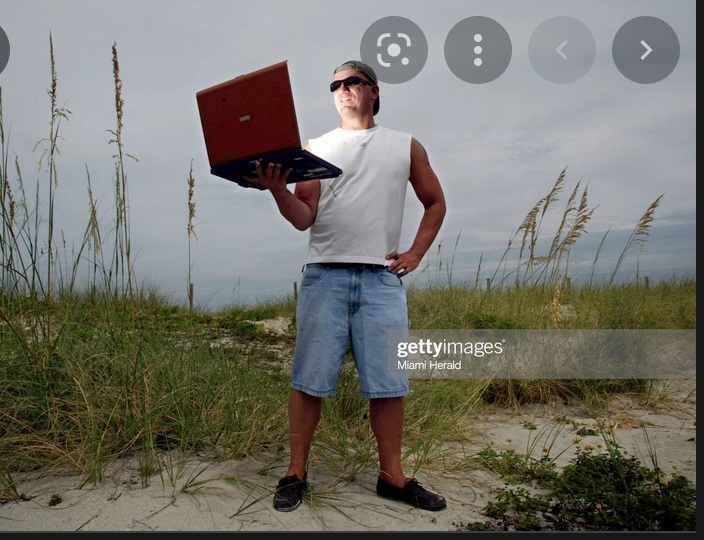 Above: Gambling911.com founder Chris Costigan poses for photo appearing in the Miami Herald front page story
A Case for Trial Betting
There is little doubt that high profile trials would attract a large number of gamblers if odds were offered.  The vast majority, however, involve murders, often brutal murders (think OJ Simpson, Jodi Arias and Casey Anthony).
The Johnny Depp vs. Amber Heard is mostly being described as a "train wreck" but one you can't take your eyes off of.
Depp sued Heard over a December 2018 op-ed she wrote for The Washington Post, in which she had written: "Two years ago, I became a public figure representing domestic abuse", and described herself "seeing, in real time, how institutions protect men accused of abuse".
Because there are elements of spousal abuse, taking bets on such a case may be seen as unseemly.
Gambling911.com lead reporter Thomas Somach thinks otherwise.
"Betting markets are an excellent way to gauge public sentiment," he asserts. "Its simple guilty or not guilty.  Nobody is betting on whether a family member breaks down in court or the over/under number of grizzy photos presented as evidence. 
"As far as celebrating a person being found guilty, that's going to happen regardless of whether there is money placed on the outcome," Somach added. 
Somach's former boss once sued the owner of Gambling911.com, so he speaks from some degree of experience.
"We were taking bets on the outcome of that case at the time and I lost my $50," he quipped.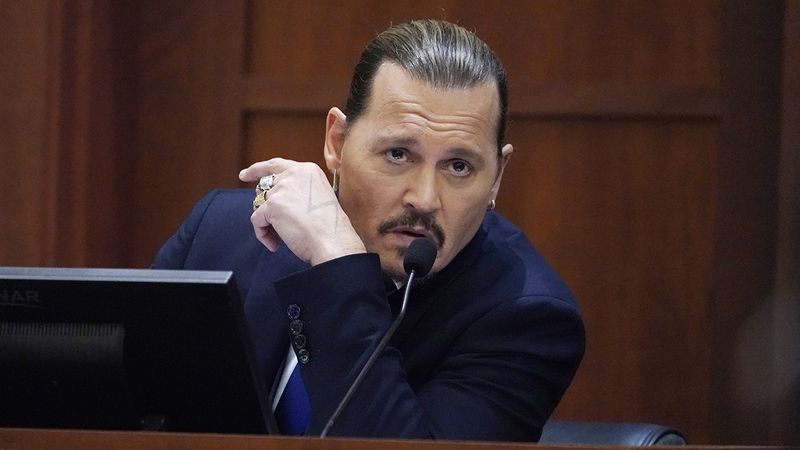 Above: Johnny Depp in court
Throwing a Case a Dumb Argument
There may also be concerns over jury members "fixing" the outcome of a case if bets are involved.  It's a silly argument.
For one, gambling sites cap most novelty wagers at around $100, sometimes less.
Collusion is not going to happen without consequences.  The more people involved in the scheme in an effort to derive more money from a betting site, the more likely someone is going to talk and the badly behaving juror found out.
If money were truly a motivating factor behind how a particular juror is going to decide, we would have wealthy defendants paying off individuals to decide a certain way all the time.  Jury tampering is a serious crime.
In the end, one juror trying to throw a case won't even work as a verdict must be unanimous. 
It's as far fetched as suggesting a single voter can throw an election because that person may have money on a particular candidate.
The Depp vs. Heard case could just be the catalyst to push gambling sites to set odds on court case outcomes, especially in light of the ratings bonanza. 
We're willing to bet this will happen at some point, maybe not now, but in the very near future.
"These books gotta get a pair and stop worrying about offending one or two people," Somach said.  "There are already those who think bookmakers are the devil for taking any bets.  The same people up in arms over this type of stuff probably don't even gamble to begin with.  Who cares what they think."
- Alejandro Botticelli, Gambling911.com