While it may be a stretch to think that the Iona Gaels can beat a very good Alabama Crimson Tide team that ranks 5th in the nation, the fact that Rick Pitino is coaching this Gaels squad does have its merits.  Remember too that this is an Alabama team that nearly lost to both Tennessee and LSU (in the final second) during tournament play.  Then again, they dismantled a Mississippi State team that has had their number, 85-48.  Bet this game at Jazz Sports now, offering tons of prop bets and a generous welcome bonus (max bonus $1000).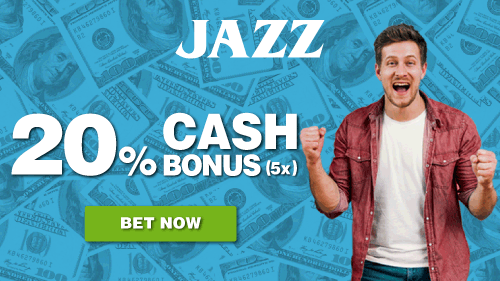 Why Iona Has a Shot at Covering the Spread
Gambling911.com suggests the line on this game is accurate at +17, but this line has actually been trending downward from +17.5 to +16.5.

Iona's recent two losses were within seven points, and that was upon returning from a one month plus absence.

The Gaels have arguably the most talented roster in the MAAC.

Iona managed to find a way to win six straight to close the season and secure the MAAC automatic bid after some early growing pains.
Reasons to Hesitate
Iona has played just one team ranked inside the top 150 in the country in Seton Hall, a game it lost by 22.

Alabama is no Seton Hall, they are ranked 5 in the nation.  They have great 3-point shooters and

own

the second-ranked defense in the country allowing just 86.0 points per every 100 possessions.

Iona is extremely turnover prone.
Early Action
The action on this game has been relatively balanced early on with Alabama seeing closer to 60% on both the spread and money line.
Iona Gaels Prop Bets
Iona @ Alabama Sat, Mar 20, 2021 EST
| Rot | Last To Score | Moneyline |
| --- | --- | --- |
| 2507 | Iona     | -115 |
| 2508 | Alabama     | -115 |
| Rot | Double Result | Moneyline |
| --- | --- | --- |
| 2510 | Iona - Iona     | +1700 |
| 2511 | Tie - Iona     | +6000 |
| 2512 | Alabama - Iona     | +1900 |
| 2513 | Iona - Alabama     | +500 |
| 2514 | Tie - Alabama     | +1700 |
| 2515 | Alabama - Alabama     | -600 |
| Rot | Winning Margin | Moneyline |
| --- | --- | --- |
| 2525 | Iona to win by 1-2 pts     | +3500 |
| 2526 | Iona to win by 3-6 pts     | +2800 |
| 2527 | Iona to win by 7-9 pts     | +4500 |
| 2528 | Iona to win by 10-13 pts     | +6000 |
| 2529 | Iona to win by 14-16 pts     | +9000 |
| 2530 | Iona to win by 17-20 pts     | +11000 |
| 2531 | Iona to win by 21 or more pts     | +9000 |
| 2532 | Alabama to win by 1-2 pts     | +1900 |
| 2533 | Alabama to win by 3-6 pts     | +700 |
| 2534 | Alabama to win by 7-9 pts     | +700 |
| 2535 | Alabama to win by 10-13 pts     | +450 |
| 2536 | Alabama to win by 14-16 pts     | +550 |
| 2537 | Alabama to win by 17-20 pts     | +425 |
| 2538 | Alabama to win by 21 or more pts     | +145 |
| Rot | Highest Scoring Half | Moneyline |
| --- | --- | --- |
| 2541 | 1st Half     | +145 |
| 2542 | 2nd Half     | -230 |
| 2543 | Tie     | +3500 |
| Rot | Game Total | Moneyline |
| --- | --- | --- |
| 2544 | Odd     | -115 |
| 2545 | Even     | -115 |
| Rot | 1st Half Winning Margin | Moneyline |
| --- | --- | --- |
| 2546 | Iona to win by 1-3 pts     | +1100 |
| 2547 | Iona to win by 4-6 pts     | +1900 |
| 2548 | Iona to win by 7-9 pts     | +3500 |
| 2549 | Iona to win by 10-12 pts     | +4500 |
| 2550 | Iona to win by 13-15 pts     | +6000 |
| 2551 | Iona to win by 16 or more pts     | +9000 |
| 2552 | Alabama to win by 1-3 pts     | +700 |
| 2553 | Alabama to win by 4-6 pts     | +500 |
| 2554 | Alabama to win by 7-9 pts     | +450 |
| 2555 | Alabama to win by 10-12 pts     | +450 |
| 2556 | Alabama to win by 13-15 pts     | +500 |
| 2557 | Alabama to win by 16 or more pts     | +225 |
| 2558 | Tie     | +1700 |
- Dan Shapiro, Gambling911.com