The Kansas Chiefs are a -19.5 to -20 favorite over the New York Jets heading into Week 8.  This one opened at -21.5.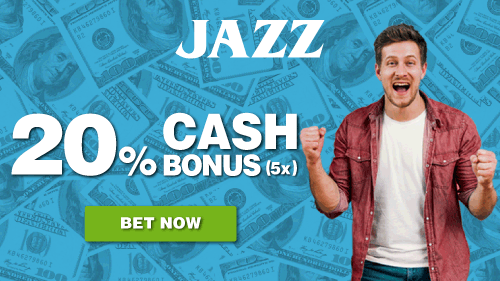 For anyone who thinks a moneyline bet on KC to win outright, you will need to bet $2200 to $3000 just to win $100.
Probably the best bet related to this game is the Chiefs to win the Super Bowl, paying $375 for every $100 bet.
An intriguing storyline for this game is the Chiefs managing to pick up two-time All-Pro running back Le'Veon Bell from none other than the Jets.
There are prop bets available for this game. 
Jets @ Chiefs Sun, Nov 01, 2020 EST
| Rot | First Scoring Play | Moneyline |
| --- | --- | --- |
| 1007 | Jets TD     | +350 |
| 1008 | Jets FG     | +400 |
| 1009 | Jets Any Other Score     | +5000 |
| 1010 | Chiefs TD     | +105 |
| 1011 | Chiefs FG     | +260 |
| 1012 | Chiefs Any Other Score     | +5000 |
| Rot | Will there be a Defensive or Special Teams TD | Moneyline |
| --- | --- | --- |
| 1013 | Yes     | +225 |
| 1014 | No     | -300 |
| Rot | Total TDs in the Game | Moneyline |
| --- | --- | --- |
| 1015 | Over  5½  TDs | Ev |
| 1016 | Under  5½  TDs | -130 |
| Rot | Total FGs Scored in the Game | Moneyline |
| --- | --- | --- |
| 1017 | Over  3½  FGs | -120 |
| 1018 | Under  3½  FGs | -110 |
| Rot | Longest TD in the Game | Moneyline |
| --- | --- | --- |
| 1019 | Over  41½  Yards | -115 |
| 1020 | Under  41½  Yards | -115 |
| Rot | Shortest TD in the Game | Moneyline |
| --- | --- | --- |
| 1021 | Over  1½  Yards | -105 |
| 1022 | Under  1½  Yards | -125 |
| Rot | Longest FG Scored in the Game | Moneyline |
| --- | --- | --- |
| 1023 | Over  47½  Yards | -115 |
| 1024 | Under  47½  Yards | -115 |
| Rot | A Team to Score 3 Unanswered Times | Moneyline |
| --- | --- | --- |
| 1025 | Yes     | -300 |
| 1026 | No     | +225 |
| Rot | Team To Score Longest TD | Moneyline |
| --- | --- | --- |
| 1027 | Jets     | +250 |
| 1028 | Chiefs     | -350 |
| Rot | Team To Score Longest FG | Moneyline |
| --- | --- | --- |
| 1029 | Jets     | +160 |
| 1030 | Chiefs     | -190 |
| Rot | Team Scoring 1st Wins Game | Moneyline |
| --- | --- | --- |
| 1031 | Yes     | -250 |
| 1032 | No     | +200 |
| Rot | Team to Call 1st Timeout | Moneyline |
| --- | --- | --- |
| 1033 | Jets     | -115 |
| 1034 | Chiefs     | -115 |
| Rot | Double Result | Moneyline |
| --- | --- | --- |
| 1035 | Jets/Jets     | +1500 |
| 1036 | Jets/Tie     | +5000 |
| 1037 | Jets/Chiefs     | +550 |
| 1038 | Tie/Jets     | +4000 |
| 1039 | Tie/Tie     | +5000 |
| 1040 | Tie/Chiefs     | +1100 |
| 1041 | Chiefs/Jets     | +2000 |
| 1042 | Chiefs/Tie     | +4500 |
| 1043 | Chiefs/Chiefs     | -475 |
| Rot | Race To 10 Points | Moneyline |
| --- | --- | --- |
| 1044 | Jets     | +325 |
| 1045 | Chiefs     | -600 |
| 1046 | Neither     | +9000 |
| Rot | Highest Scoring Half | Moneyline |
| --- | --- | --- |
| 1049 | 1st Half     | -145 |
| 1050 | 2nd Half     | Ev |
| 1051 | Tie     | +1800 |
| Rot | Highest Scoring Quarter | Moneyline |
| --- | --- | --- |
| 1052 | 1st Quarter     | +500 |
| 1053 | 2nd Quarter     | +165 |
| 1054 | 3rd Quarter     | +425 |
| 1055 | 4th Quarter     | +200 |
| 1056 | Tie     | +800 |
| Rot | Total Points Scored | Moneyline |
| --- | --- | --- |
| 1071 | 00-14 Points     | +6000 |
| 1072 | 15-21 Points     | +2200 |
| 1073 | 22-28 Points     | +900 |
| 1074 | 29-35 Points     | +500 |
| 1075 | 36-42 Points     | +400 |
| 1076 | 43-49 Points     | +350 |
| 1077 | 50-56 Points     | +375 |
| 1078 | 57-63 Points     | +450 |
| 1079 | 64-70 Points     | +750 |
| 1080 | 71-77 Points     | +1300 |
| 1081 | 78 or More Points     | +1600 |
| Rot | 1st Half Total TDs Scored | Moneyline |
| --- | --- | --- |
| 1082 | Over  2½  TDs | -155 |
| 1083 | Under  2½  TDs | +125 |
| Rot | 1st Half Total FGs Scored | Moneyline |
| --- | --- | --- |
| 1084 | Over  1½  FGs | -130 |
| 1085 | Under  1½  FGs | Ev |
| Rot | Score in Last 2 min of the 1st Half | Moneyline |
| --- | --- | --- |
| 1086 | Yes     | -330 |
| 1087 | No     | +240 |
- Dan Shapiro, Gambling911.com