The Houston Cougars promise a payout of $1800 for every $100 bet to win the 2021 NCAA Tournament.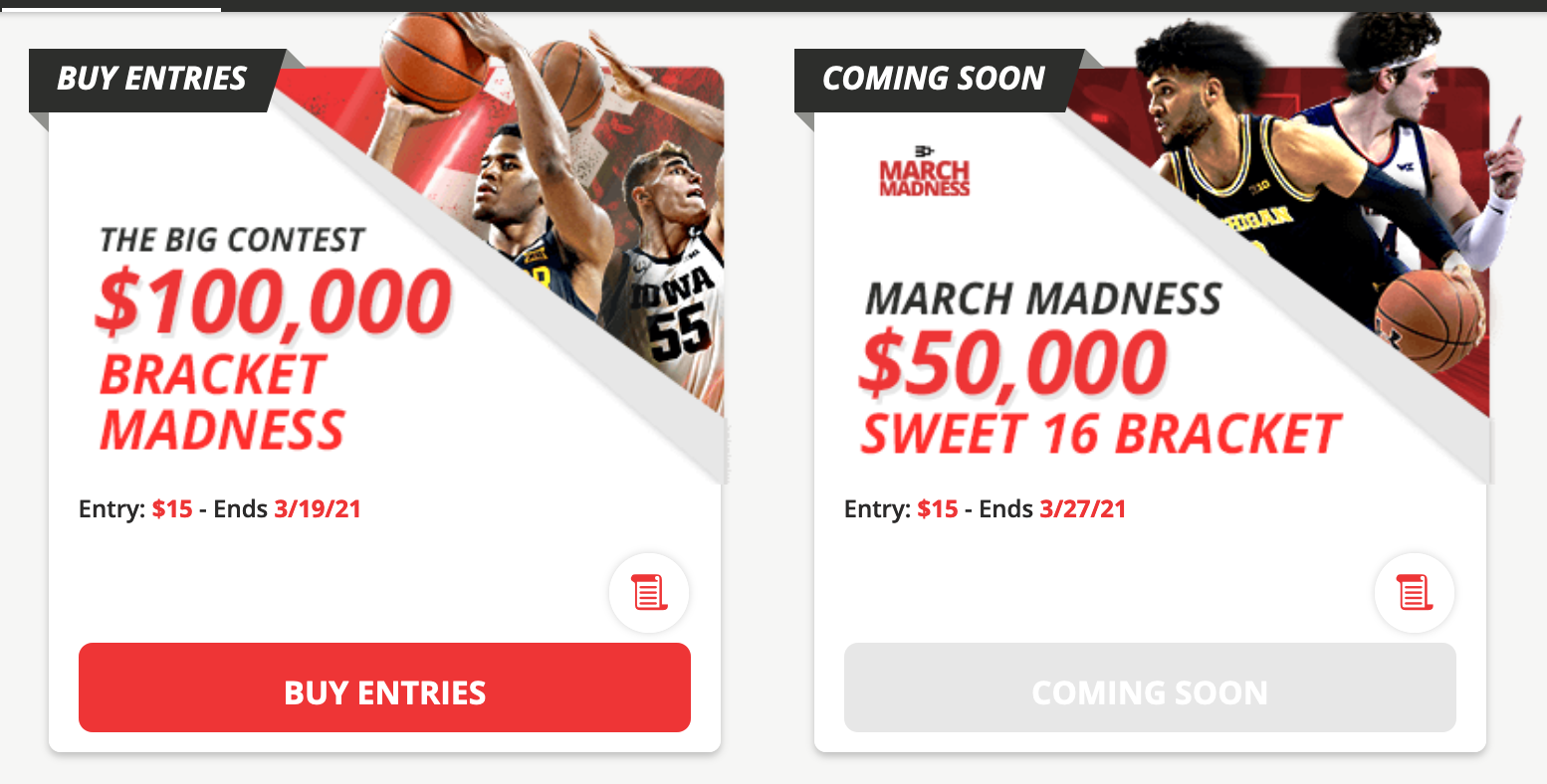 Quentin Grimes scored 21 points with five 3-pointers, Marcus Sasser had 16 points and No. 7 Houston beat Cincinnati 91-54 on Sunday in the third consecutive American Athletic Conference tournament championship game between the two teams.

DraftKings Nation: The strength of this Houston team comes in rebounding the ball where the Cougars are tied for fourth in the country in rebounds per game and second in offensive rebounds per game.

Draftkings Nation: Giving this team second chances could be the difference in a tight game during the tournament.
Odds To Win 2021 National Championship (4/5/21)
| | | |
| --- | --- | --- |
| Team | American | Fractional |
| Gonzaga | +220 | 11/5 |
| Baylor | +400 | 4/1 |
| Michigan | +450 | 9/2 |
| Illinois | +1000 | 10/1 |
| Houston | +1800 | 18/1 |
| Iowa | +1800 | 18/1 |
| Florida State | +2000 | 20/1 |
| West Virginia | +2000 | 20/1 |
| Oklahoma State | +2300 | 23/1 |
| Ohio State | +2500 | 18/1 |
| Creighton | +2600 | 26/1 |
| Alabama | +2700 | 20/1 |
| Texas | +2800 | 28/1 |
| Kansas | +3000 | 30/1 |
| Texas Tech | +3000 | 30/1 |
| Connecticut | +3200 | 55/1 |
| Virginia | +3200 | 28/1 |
| Oklahoma | +3500 | 35/1 |
| Wisconsin | +4000 | 40/1 |
| Villanova | +4400 | 25/1 |
| Tennessee | +4500 | 45/1 |
| Arkansas | +5000 | 50/1 |
| Colorado | +5500 | 55/1 |
| Loyola Chicago | +5500 | 55/1 |
| Oregon | +5500 | 55/1 |
| USC | +5500 | 55/1 |
| Purdue | +6000 | 60/1 |
| San Diego State | +6000 | 60/1 |
| Missouri | +6500 | 65/1 |
| North Carolina | +6500 | 65/1 |
| LSU | +7500 | 75/1 |
| Louisville | +7500 | 75/1 |
| Michigan State | +7500 | 75/1 |
| UCLA | +7500 | 75/1 |
| BYU | +8000 | 80/1 |
| Clemson | +8000 | 80/1 |
| Virginia Tech | +8000 | 80/1 |
| Florida | +9000 | 90/1 |
| Georgia Tech | +9000 | 90/1 |
| Drake | +11000 | 110/1 |
| Stanford | +11000 | 110/1 |
| Utah State | +11000 | 110/1 |
| Virginia Commonwealth | +11000 | 110/1 |
| Boise State | +12000 | 120/1 |
| Kentucky | +12000 | 120/1 |
| Maryland | +12000 | 120/1 |
| Xavier | +12000 | 120/1 |
| Memphis | +13000 | 130/1 |
| SMU | +13000 | 130/1 |
| Wichita State | +13000 | 130/1 |
| Arizona State | +15000 | 150/1 |
| Colgate | +15000 | 150/1 |
| Providence | +15000 | 150/1 |
| Belmont | +18000 | 180/1 |
| Indiana | +18000 | 180/1 |
| Minnesota | +18000 | 180/1 |
| Mississippi | +18000 | 180/1 |
| Penn State | +18000 | 180/1 |
| Saint Louis | +18000 | 180/1 |
| St. John's | +18000 | 180/1 |
| California | +20000 | 200/1 |
| Central Florida | +20000 | 200/1 |
| Cincinnati | +20000 | 200/1 |
| Davidson | +20000 | 200/1 |
| Dayton | +20000 | 200/1 |
| Georgetown | +20000 | 200/1 |
| Georgia | +20000 | 200/1 |
| Mississippi State | +20000 | 200/1 |
| NC State | +20000 | 200/1 |
| Nebraska | +20000 | 200/1 |
| Nevada | +20000 | 200/1 |
| Northern Iowa | +20000 | 200/1 |
| Northwestern | +20000 | 200/1 |
| Rhode Island | +20000 | 200/1 |
| Richmond | +20000 | 200/1 |
| Saint Mary's CA | +20000 | 200/1 |
| Syracuse | +20000 | 200/1 |
| TCU | +20000 | 200/1 |
| Temple | +20000 | 200/1 |
| UNLV | +20000 | 200/1 |
| Utah | +20000 | 200/1 |
| Washington | +20000 | 200/1 |
| Washington State | +20000 | 200/1 |
| Western Kentucky | +20000 | 200/1 |
| Wofford | +20000 | 200/1 |