(16) Hartford vs (1) Baylor featured a line of Loyola Baylor -25.  Jazz Sports (est. 1994) offers live prop bets for this game and a generous welcome bonus (max bonus $1000).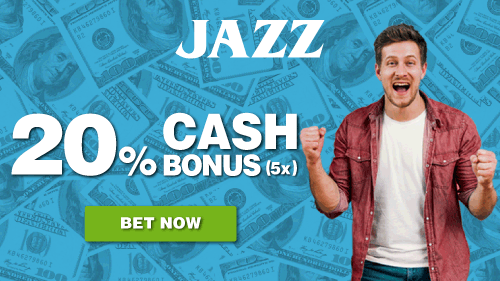 How They Got Here
Austin Williams scored 25 points as Hartford beat Vermont 71-65 in the America East Conference tournament semifinals on Saturday.
MaCio Teague scored 24 points, Davion Mitchell added 23 and second-ranked Baylor held on to beat Kansas State 74-68 on Thursday and avoid what would have been one of the biggest upsets in the history of the Big 12 Tournament.
Prop Bets
Hartford @ Baylor Fri, Mar 19, 2021 EST
| Rot | Last To Score | Moneyline |
| --- | --- | --- |
| 2507 | Hartford     | -115 |
| 2508 | Baylor     | -115 |
| Rot | Double Result | Moneyline |
| --- | --- | --- |
| 2510 | Hartford - Hartford     | +3600 |
| 2511 | Tie - Hartford     | +9000 |
| 2512 | Baylor - Hartford     | +3000 |
| 2513 | Hartford - Baylor     | +1100 |
| 2514 | Tie - Baylor     | +2000 |
| 2515 | Baylor - Baylor     | -1900 |
| Rot | Winning Margin | Moneyline |
| --- | --- | --- |
| 2525 | Hartford to win by 1-2 pts     | +6000 |
| 2526 | Hartford to win by 3-6 pts     | +6000 |
| 2527 | Hartford to win by 7-9 pts     | +8000 |
| 2528 | Hartford to win by 10-13 pts     | +9000 |
| 2529 | Hartford to win by 14-16 pts     | +12000 |
| 2530 | Hartford to win by 17-20 pts     | +15000 |
| 2531 | Hartford to win by 21 or more pts     | +9000 |
| 2532 | Baylor to win by 1-2 pts     | +4500 |
| 2533 | Baylor to win by 3-6 pts     | +2000 |
| 2534 | Baylor to win by 7-9 pts     | +1800 |
| 2535 | Baylor to win by 10-13 pts     | +800 |
| 2536 | Baylor to win by 14-16 pts     | +700 |
| 2537 | Baylor to win by 17-20 pts     | +400 |
| 2538 | Baylor to win by 21 or more pts     | -240 |
| Rot | Highest Scoring Half | Moneyline |
| --- | --- | --- |
| 2541 | 1st Half     | +145 |
| 2542 | 2nd Half     | -230 |
| 2543 | Tie     | +3500 |
| Rot | Game Total | Moneyline |
| --- | --- | --- |
| 2544 | Odd     | -115 |
| 2545 | Even     | -115 |
| Rot | 1st Half Winning Margin | Moneyline |
| --- | --- | --- |
| 2546 | Hartford to win by 1-3 pts     | +3000 |
| 2547 | Hartford to win by 4-6 pts     | +3500 |
| 2548 | Hartford to win by 7-9 pts     | +6000 |
| 2549 | Hartford to win by 10-12 pts     | +9000 |
| 2550 | Hartford to win by 13-15 pts     | +11000 |
| 2551 | Hartford to win by 16 or more pts     | +14000 |
| 2552 | Baylor to win by 1-3 pts     | +1500 |
| 2553 | Baylor to win by 4-6 pts     | +900 |
| 2554 | Baylor to win by 7-9 pts     | +600 |
| 2555 | Baylor to win by 10-12 pts     | +450 |
| 2556 | Baylor to win by 13-15 pts     | +425 |
| 2557 | Baylor to win by 16 or more pts     | -120 |
| 2558 | Tie     | +2000 |
- Dan Shapiro, Gambling911.com