(9) Georgia Tech vs (8) Loyola-Chicago featured a line of Loyola-Illinois -5.5.  Jazz Sports (est. 1994) offers live prop bets for this game and a generous welcome bonus (max bonus $1000).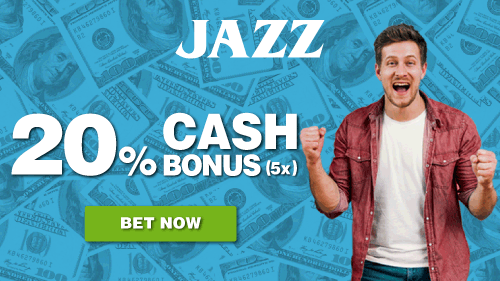 How They Got Here
Michael Devoe scored 20 points and Georgia Tech shot 52% after halftime to beat No. 15 Florida State 80-75 in Saturday night's Atlantic Coast Conference Tournament championship game.
ACC player of the year Moses Wright will miss Georgia Tech's first-round game in the NCAA tournament and likely the second round if the Yellow Jackets advance, sources said.
Cameron Krutwig had 18 points and 11 rebounds, and No. 22 Loyola Chicago beat Indiana State 65-49 on Saturday to advance to the Missouri Valley Conference tournament final.
Prop Bets
Georgia Tech @ Loyola Chicago Fri, Mar 19, 2021 EST
| Rot | First To Score 20 Points | Moneyline |
| --- | --- | --- |
| 2503 | Georgia Tech     | +160 |
| 2504 | Loyola Chicago     | -190 |
| Rot | Last To Score | Moneyline |
| --- | --- | --- |
| 2507 | Georgia Tech     | -115 |
| 2508 | Loyola Chicago     | -115 |
| Rot | Double Result | Moneyline |
| --- | --- | --- |
| 2510 | Georgia Tech - Georgia Tech     | +200 |
| 2511 | Tie - Georgia Tech     | +2000 |
| 2512 | Loyola Chicago - Georgia Tech     | +550 |
| 2513 | Georgia Tech - Loyola Chicago     | +550 |
| 2514 | Tie - Loyola Chicago     | +1800 |
| 2515 | Loyola Chicago - Loyola Chicago     | +105 |
| Rot | Winning Margin | Moneyline |
| --- | --- | --- |
| 2525 | Georgia Tech to win by 1-2 pts     | +900 |
| 2526 | Georgia Tech to win by 3-6 pts     | +550 |
| 2527 | Georgia Tech to win by 7-9 pts     | +900 |
| 2528 | Georgia Tech to win by 10-13 pts     | +1000 |
| 2529 | Georgia Tech to win by 14-16 pts     | +1800 |
| 2530 | Georgia Tech to win by 17-20 pts     | +2000 |
| 2531 | Georgia Tech to win by 21 or more pts     | +1700 |
| 2532 | Loyola Chicago to win by 1-2 pts     | +900 |
| 2533 | Loyola Chicago to win by 3-6 pts     | +450 |
| 2534 | Loyola Chicago to win by 7-9 pts     | +700 |
| 2535 | Loyola Chicago to win by 10-13 pts     | +650 |
| 2536 | Loyola Chicago to win by 14-16 pts     | +1100 |
| 2537 | Loyola Chicago to win by 17-20 pts     | +1300 |
| 2538 | Loyola Chicago to win by 21 or more pts     | +800 |
| Rot | Highest Scoring Half | Moneyline |
| --- | --- | --- |
| 2541 | 1st Half     | +150 |
| 2542 | 2nd Half     | -245 |
| 2543 | Tie     | +3600 |
| Rot | Game Total | Moneyline |
| --- | --- | --- |
| 2544 | Odd     | -115 |
| 2545 | Even     | -115 |
| Rot | 1st Half Winning Margin | Moneyline |
| --- | --- | --- |
| 2546 | Georgia Tech to win by 1-3 pts     | +450 |
| 2547 | Georgia Tech to win by 4-6 pts     | +600 |
| 2548 | Georgia Tech to win by 7-9 pts     | +900 |
| 2549 | Georgia Tech to win by 10-12 pts     | +1500 |
| 2550 | Georgia Tech to win by 13-15 pts     | +2800 |
| 2551 | Georgia Tech to win by 16 or more pts     | +3000 |
| 2552 | Loyola Chicago to win by 1-3 pts     | +425 |
| 2553 | Loyola Chicago to win by 4-6 pts     | +450 |
| 2554 | Loyola Chicago to win by 7-9 pts     | +600 |
| 2555 | Loyola Chicago to win by 10-12 pts     | +900 |
| 2556 | Loyola Chicago to win by 13-15 pts     | +1500 |
| 2557 | Loyola Chicago to win by 16 or more pts     | +1700 |
| 2558 | Tie     | +1100 |
- Dan Shapiro, Gambling911.com