Jazz Sports welcomes those from the Land of Lincoln to place bets on Sunday's big NCAA Tournament game between Loyola-Chicago and Illinois. They also offer a generous welcome bonus (max bonus $1000).  In business since 1994, Jazz has been running land-based casinos throughout Latin America and features a live dealer casino on its site.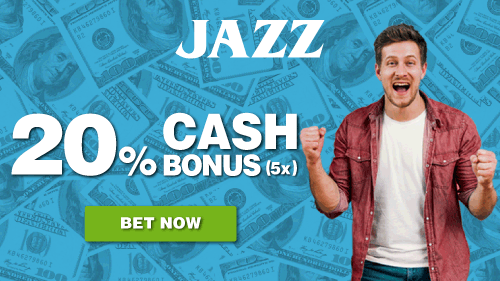 Loyola-Chicago, a number eight seed, was able to beat a Georgia Tech team that was without one of its better players, ACC player of the year Moses Wright.
Lucas Williamson scored 21 points, Buddy Norris added 16 points and All-America forward Cameron Krutwig had 10 as the Ramblers (25-4) beat Georgia Tech 71-60 to advance to the next round where they will face No. 1 seed Illinois on Sunday.
"It is an unusual tournament," said Williamson, a freshman on that last NCAA tourney team, "but I will say everything is unusual about it until you get on the floor. We had some fans in the building, they were in here hyping it up. Once you're on the court, you're just playing basketball."
Loyola-Chicago was a big public favorite and also manage to cover what had become a -5.5 line after they initially opened as the -2.5 favorite.
There wasn't much of a game between Illinois and Drexel.
Kofi Cockburn muscled his way to 18 points and Illinois cruised to a 78-49 victory.
The Illini are back in the NCAAs for the first time since 2013 with a team full of first-timers.
The Illini are 12-3 all-time against in-state rival Loyola, but they last played the Ramblers in 2011.
Odds to Win 2021 NCAA Men's College Basketball Tournament -

Lock Your Price in Here
| | | |
| --- | --- | --- |
| Team | American | Fractional |
| Gonzaga | +200 | 2/1 |
| Baylor | +500 | 5/1 |
| Illinois | +500 | 5/1 |
| Michigan | +600 | 6/1 |
| Alabama | +1600 | 16/1 |
| Houston | +1600 | 16/1 |
| Iowa | +1600 | 16/1 |
| Florida State | +2000 | 20/1 |
| Oklahoma State | +2000 | 20/1 |
| Texas | +2000 | 20/1 |
| West Virginia | +2000 | 20/1 |
| Creighton | +2500 | 25/1 |
| Kansas | +2500 | 25/1 |
| Texas Tech | +2500 | 25/1 |
| Connecticut | +3300 | 33/1 |
| Arkansas | +3500 | 35/1 |
| Oklahoma | +3500 | 35/1 |
| USC | +3500 | 35/1 |
| Loyola Chicago | +4000 | 40/1 |
| Villanova | +4000 | 40/1 |
| Wisconsin | +4000 | 40/1 |
| LSU | +5000 | 50/1 |
| Oregon | +5000 | 50/1 |
| Virginia | +5000 | 50/1 |
| Colorado | +6600 | 66/1 |
| Florida | +6600 | 66/1 |
| Missouri | +6600 | 66/1 |
| Rutgers | +6600 | 66/1 |
| Syracuse | +6600 | 66/1 |
| BYU | +8000 | 80/1 |
| Drake | +10000 | 100/1 |
| Georgetown | +10000 | 100/1 |
| Maryland | +10000 | 100/1 |
| Oregon State | +10000 | 100/1 |
| St. Bonaventure | +10000 | 100/1 |
| Virginia Commonwealth | +10000 | 100/1 |
| UCLA | +12500 | 125/1 |
| North Texas | +15000 | 150/1 |
| NC Greensboro | +15000 | 150/1 |
| Oral Roberts | +15000 | 150/1 |
| Ohio | +20000 | 200/1 |
| UC Santa Barbara | +25000 | 250/1 |
| Eastern Washington | +75000 | 750/1 |
| Grand Canyon | +75000 | 750/1 |
| Abilene Christian | +100000 | 1000/1 |
| Iona | +200000 | 2000/1 |
| Norfolk State | +200000 | 2000/1 |
| Texas Southern | +200000 | 2000/1 |
- Tyrone Black, Gambling911.com