There are plenty of prop bets on today's Norfolk State vs. Gonzaga game featured below and available for betting here.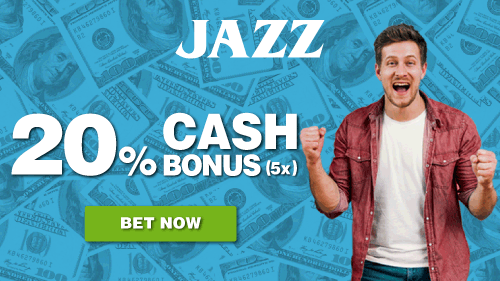 Among the prop bets offered, whether Andrew Nembhard has Over or Under 11 points, Corey Kispert  Over or Under 19 points and Drew Timme Over or Under 18 points.
Margin of Victory bets are also availabale and tend to pay out quite well.
Gonzaga up by 16 or more points to end the first half has a decent price at -250.
Gonzaga's Drew Timme has averaged 18.7 points and 7.1 rebounds while Corey Kispert has put up 19.2 points and 4.9 rebounds. For the Spartans, Devante Carter has averaged 15 points, 5.2 rebounds and four assists while Joe Bryant Jr. has put up 11 points and 4.1 rebounds.
Norfolk State @ Gonzaga Sat, Mar 20, 2021 EST
| Rot | Andrew Nembhard (GONZ) Total Points | Moneyline |
| --- | --- | --- |
| 901 | Over  11  Points | -115 |
| 902 | Under  11  Points | -115 |
| Rot | Corey Kispert (GONZ) Total Points | Moneyline |
| --- | --- | --- |
| 903 | Over  19  Points | -125 |
| 904 | Under  19  Points | -105 |
| Rot | Drew Timme (GONZ) Total Points | Moneyline |
| --- | --- | --- |
| 905 | Over  18  Points | -130 |
| 906 | Under  18  Points | Ev |
| Rot | Jalen Suggs (GONZ) Total Points | Moneyline |
| --- | --- | --- |
| 907 | Over  16  Points | -125 |
| 908 | Under  16  Points | -105 |
| Rot | Joel Ayayi (GONZ) Total Points | Moneyline |
| --- | --- | --- |
| 909 | Over  13  Points | -115 |
| 910 | Under  13  Points | -115 |
| Rot | First To Score 10 Points | Moneyline |
| --- | --- | --- |
| 2501 | Norfolk State     | +450 |
| 2502 | Gonzaga     | -700 |
| Rot | Last To Score | Moneyline |
| --- | --- | --- |
| 2507 | Norfolk State     | -115 |
| 2508 | Gonzaga     | -115 |
| Rot | Double Result | Moneyline |
| --- | --- | --- |
| 2510 | Norfolk State - Norfolk State     | +7500 |
| 2511 | Tie - Norfolk State     | +7500 |
| 2512 | Gonzaga - Norfolk State     | +9000 |
| 2513 | Norfolk State - Gonzaga     | +1300 |
| 2514 | Tie - Gonzaga     | +2300 |
| 2515 | Gonzaga - Gonzaga     | -2300 |
| Rot | Winning Margin | Moneyline |
| --- | --- | --- |
| 2525 | Norfolk State to win by 1-2 pts     | +11000 |
| 2526 | Norfolk State to win by 3-6 pts     | +12500 |
| 2527 | Norfolk State to win by 7-9 pts     | +18000 |
| 2528 | Norfolk State to win by 10-13 pts     | +20000 |
| 2529 | Norfolk State to win by 14-16 pts     | +25000 |
| 2530 | Norfolk State to win by 17-20 pts     | +30000 |
| 2531 | Norfolk State to win by 21 or more pts     | +9000 |
| 2532 | Gonzaga to win by 1-2 pts     | +9000 |
| 2533 | Gonzaga to win by 3-6 pts     | +5500 |
| 2534 | Gonzaga to win by 7-9 pts     | +3500 |
| 2535 | Gonzaga to win by 10-13 pts     | +1800 |
| 2536 | Gonzaga to win by 14-16 pts     | +1600 |
| 2537 | Gonzaga to win by 17-20 pts     | +700 |
| 2538 | Gonzaga to win by 21 or more pts     | -950 |
| Rot | Highest Scoring Half | Moneyline |
| --- | --- | --- |
| 2541 | 1st Half     | +110 |
| 2542 | 2nd Half     | -180 |
| 2543 | Tie     | +3500 |
| Rot | Game Total | Moneyline |
| --- | --- | --- |
| 2544 | Odd     | -115 |
| 2545 | Even     | -115 |
| Rot | 1st Half Winning Margin | Moneyline |
| --- | --- | --- |
| 2546 | Norfolk State to win by 1-3 pts     | +3500 |
| 2547 | Norfolk State to win by 4-6 pts     | +6000 |
| 2548 | Norfolk State to win by 7-9 pts     | +9000 |
| 2549 | Norfolk State to win by 10-12 pts     | +11000 |
| 2550 | Norfolk State to win by 13-15 pts     | +12500 |
| 2551 | Norfolk State to win by 16 or more pts     | +18000 |
| 2552 | Gonzaga to win by 1-3 pts     | +2300 |
| 2553 | Gonzaga to win by 4-6 pts     | +1500 |
| 2554 | Gonzaga to win by 7-9 pts     | +950 |
| 2555 | Gonzaga to win by 10-12 pts     | +650 |
| 2556 | Gonzaga to win by 13-15 pts     | +500 |
| 2557 | Gonzaga to win by 16 or more pts     | -250 |
| 2558 | Tie     | +2200 |
tt