Find Player, Team Prop Bets on the Bengals vs. Steelers Game Week 3
Published on:
Sep/25/2021
The Bengals-Steelers Week 3 game line was coming in at Pittsburgh -3 after opening at -7. BetAdrian is offering a NO DEPOSIT welcome bonus of $20/€20.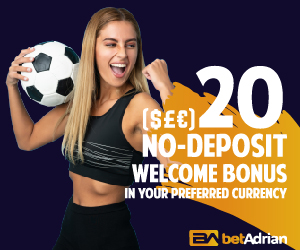 The Steelers are last in the NFL in rushing through two weeks and face a Bengals defense allowing just 3.4 yards per carry.  And Steelers quarterback Ben Roethlisberger is all banged up coming into this game.
Both teams lost last week following impressive Week 1 victories. 
Joe Burrow never threw more than one interception in his first 11 outings as a pro, and his high in 38 games for Ohio State and LSU was two. He threw three in this one.
The 2019 Heisman Trophy winner was 19 of 30 for 207 yards and two TDs, after setting career highs in passer rating (128.8) and yards per attempt (9.67) in an overtime win over Minnesota.
"That's just me trying to force the ball trying to get something going," he said. "You learned a lesson today that when your defense is playing as good as they are, you don't have to force those balls. You kind of just let the game come to you."
Bengals @ Steelers Sun, Sep 26, 2021 EST
| Rot | Player to score the first touchdown in the Game | Moneyline |
| --- | --- | --- |
| 801 | Joe Mixon (CIN)     | +700 |
| 802 | Ja'Marr Chase (CIN)     | +1000 |
| 803 | Tee Higgins (CIN)     | +1000 |
| 804 | Tyler Boyd (CIN)     | +1200 |
| 805 | C.J. Uzomah (CIN)     | +1400 |
| 806 | Joe Burrow (CIN)     | +2000 |
| 807 | Najee Harris (PIT)     | +700 |
| 808 | Chase Claypool (PIT)     | +900 |
| 809 | JuJu Smith-Schuster (PIT)     | +1000 |
| 810 | James Washington (PIT)     | +1000 |
| 811 | Pat Freiermuth (PIT)     | +1400 |
| 812 | Eric Ebron (PIT)     | +1600 |
| 813 | Field     | +700 |
| Rot | Joe Burrow (CIN) Total Passing Yards | Moneyline |
| --- | --- | --- |
| 1001 | Over  249½  Passing Yards | -115 |
| 1002 | Under  249½  Passing Yards | -115 |
| Rot | Joe Burrow (CIN) Total Completions | Moneyline |
| --- | --- | --- |
| 1003 | Over  21½  Completions | -125 |
| 1004 | Under  21½  Completions | -105 |
| Rot | Joe Burrow (CIN) Total Touchdown Passes | Moneyline |
| --- | --- | --- |
| 1007 | Over  1½  TD Passes | +105 |
| 1008 | Under  1½  TD Passes | -135 |
| Rot | Joe Burrow (CIN) Total Interceptions | Moneyline |
| --- | --- | --- |
| 1011 | Over  ½  Interceptions | -115 |
| 1012 | Under  ½  Interceptions | -115 |
| Rot | Joe Mixon (CIN) Total Rushing Yards | Moneyline |
| --- | --- | --- |
| 1041 | Over  68½  Rushing Yards | -115 |
| 1042 | Under  68½  Rushing Yards | -115 |
| Rot | Joe Mixon (CIN) Total Rushing TDs | Moneyline |
| --- | --- | --- |
| 1045 | Over  ½  Rushing TDs | +160 |
| 1046 | Under  ½  Rushing TDs | -230 |
| Rot | Joe Mixon (CIN) Total Receptions | Moneyline |
| --- | --- | --- |
| 1049 | Over  3½  Receptions | +110 |
| 1050 | Under  3½  Receptions | -150 |
| Rot | Joe Mixon (CIN) Total Receiving Yards | Moneyline |
| --- | --- | --- |
| 1051 | Over  22½  Receiving Yards | -115 |
| 1052 | Under  22½  Receiving Yards | -115 |
| Rot | Joe Mixon (CIN) Total Rushing+Receiving Yards | Moneyline |
| --- | --- | --- |
| 1055 | Over  92½  Rush+Receiving Yards | -115 |
| 1056 | Under  92½  Rush+Receiving Yards | -115 |
| Rot | Ja'Marr Chase (CIN) Total Receptions | Moneyline |
| --- | --- | --- |
| 1121 | Over  4½  Receptions | -150 |
| 1122 | Under  4½  Receptions | +120 |
| Rot | Ja'Marr Chase (CIN) Total Receiving Yards | Moneyline |
| --- | --- | --- |
| 1123 | Over  63½  Receiving Yards | -115 |
| 1124 | Under  63½  Receiving Yards | -115 |
| Rot | Ja'Marr Chase (CIN) Total Receiving TDs | Moneyline |
| --- | --- | --- |
| 1127 | Over  ½  Receiving TDs | +155 |
| 1128 | Under  ½  Receiving TDs | -220 |
| Rot | Tyler Boyd (CIN) Total Receptions | Moneyline |
| --- | --- | --- |
| 1141 | Over  4½  Receptions | -150 |
| 1142 | Under  4½  Receptions | +120 |
| Rot | Tyler Boyd (CIN) Total Receiving Yards | Moneyline |
| --- | --- | --- |
| 1143 | Over  56½  Receiving Yards | -115 |
| 1144 | Under  56½  Receiving Yards | -115 |
| Rot | Tyler Boyd (CIN) Total Receiving TDs | Moneyline |
| --- | --- | --- |
| 1147 | Over  ½  Receiving TDs | +170 |
| 1148 | Under  ½  Receiving TDs | -250 |
| Rot | Ben Roethlisberger (PIT) Total Passing Yards | Moneyline |
| --- | --- | --- |
| 2001 | Over  264½  Passing Yards | -115 |
| 2002 | Under  264½  Passing Yards | -115 |
| Rot | Ben Roethlisberger (PIT) Total Completions | Moneyline |
| --- | --- | --- |
| 2003 | Over  24½  Completions | -105 |
| 2004 | Under  24½  Completions | -125 |
| Rot | Ben Roethlisberger (PIT) Total Touchdown Passes | Moneyline |
| --- | --- | --- |
| 2007 | Over  1½  TD Passes | -145 |
| 2008 | Under  1½  TD Passes | +105 |
| Rot | Ben Roethlisberger (PIT) Total Interceptions | Moneyline |
| --- | --- | --- |
| 2011 | Over  ½  Interceptions | -140 |
| 2012 | Under  ½  Interceptions | Ev |
| Rot | Najee Harris (PIT) Total Rushing Yards | Moneyline |
| --- | --- | --- |
| 2041 | Over  67½  Rushing Yards | -115 |
| 2042 | Under  67½  Rushing Yards | -115 |
| Rot | Najee Harris (PIT) Total Rushing TDs | Moneyline |
| --- | --- | --- |
| 2045 | Over  ½  Rushing TDs | +160 |
| 2046 | Under  ½  Rushing TDs | -230 |
| Rot | Najee Harris (PIT) Total Receptions | Moneyline |
| --- | --- | --- |
| 2049 | Over  3½  Receptions | -150 |
| 2050 | Under  3½  Receptions | +120 |
| Rot | Najee Harris (PIT) Total Receiving Yards | Moneyline |
| --- | --- | --- |
| 2051 | Over  27½  Receiving Yards | -115 |
| 2052 | Under  27½  Receiving Yards | -115 |
| Rot | Najee Harris (PIT) Total Rushing+Receiving Yards | Moneyline |
| --- | --- | --- |
| 2055 | Over  96½  Rush+Receiving Yards | -115 |
| 2056 | Under  96½  Rush+Receiving Yards | -115 |
| Rot | JuJu Smith-Schuster (PIT) Total Receiving Yards | Moneyline |
| --- | --- | --- |
| 2123 | Over  56½  Receiving Yards | -115 |
| 2124 | Under  56½  Receiving Yards | -115 |
| Rot | JuJu Smith-Schuster (PIT) Total Receiving TDs | Moneyline |
| --- | --- | --- |
| 2127 | Over  ½  Receiving TDs | +165 |
| 2128 | Under  ½  Receiving TDs | -240 |
| Rot | Chase Claypool (PIT) Total Receptions | Moneyline |
| --- | --- | --- |
| 2141 | Over  5½  Receptions | +105 |
| 2142 | Under  5½  Receptions | -135 |
| Rot | Chase Claypool (PIT) Total Receiving Yards | Moneyline |
| --- | --- | --- |
| 2143 | Over  64½  Receiving Yards | -115 |
| 2144 | Under  64½  Receiving Yards | -115 |
| Rot | Chase Claypool (PIT) Total Receiving TDs | Moneyline |
| --- | --- | --- |
| 2147 | Over  ½  Receiving TDs | +140 |
| 2148 | Under  ½  Receiving TDs | -180 |
| Rot | First To Score | Moneyline |
| --- | --- | --- |
| 3001 | Bengals     | -105 |
| 3002 | Steelers     | -125 |
| Rot | Score in 1st 6½ min | Moneyline |
| --- | --- | --- |
| 3003 | Yes     | -125 |
| 3004 | No     | -105 |
| Rot | First Score of the Game | Moneyline |
| --- | --- | --- |
| 3005 | TD     | -170 |
| 3006 | Any Other Score     | +140 |
| Rot | First Scoring Play Of The Game | Moneyline |
| --- | --- | --- |
| 3007 | Bengals TD     | +220 |
| 3008 | Bengals FG     | +350 |
| 3009 | Bengals Any Other Score     | +5500 |
| 3010 | Steelers TD     | +160 |
| 3011 | Steelers FG     | +350 |
| 3012 | Steelers Any Other Score     | +5500 |
| Rot | Will there be a Defensive or Special Teams TD | Moneyline |
| --- | --- | --- |
| 3013 | Yes     | +220 |
| 3014 | No     | -280 |
| Rot | Total TDs in the Game | Moneyline |
| --- | --- | --- |
| 3015 | Over  4½  TDs | -135 |
| 3016 | Under  4½  TDs | +105 |
| Rot | Total FGs Scored in the Game | Moneyline |
| --- | --- | --- |
| 3017 | Over  3½  FGs | +130 |
| 3018 | Under  3½  FGs | -160 |
| Rot | Longest TD in the Game | Moneyline |
| --- | --- | --- |
| 3019 | Over  39½  Yards | -115 |
| 3020 | Under  39½  Yards | -115 |
| Rot | Shortest TD in the Game | Moneyline |
| --- | --- | --- |
| 3021 | Over  1½  Yards | -110 |
| 3022 | Under  1½  Yards | -120 |
| Rot | Longest FG Scored in the Game | Moneyline |
| --- | --- | --- |
| 3023 | Over  46½  Yards | -120 |
| 3024 | Under  46½  Yards | -110 |
| Rot | A Team to Score 3 Unanswered Times | Moneyline |
| --- | --- | --- |
| 3025 | Yes     | -210 |
| 3026 | No     | +170 |
| Rot | Team To Score Longest TD | Moneyline |
| --- | --- | --- |
| 3027 | Bengals     | +110 |
| 3028 | Steelers     | -140 |
| Rot | Team To Score Longest FG | Moneyline |
| --- | --- | --- |
| 3029 | Bengals     | -120 |
| 3030 | Steelers     | -110 |
| Rot | Team Scoring 1st Wins Game | Moneyline |
| --- | --- | --- |
| 3031 | Yes     | -180 |
| 3032 | No     | +150 |
| Rot | Double Result | Moneyline |
| --- | --- | --- |
| 3035 | Bengals/Bengals     | +240 |
| 3036 | Bengals/Tie     | +4000 |
| 3037 | Bengals/Steelers     | +600 |
| 3038 | Tie/Bengals     | +1600 |
| 3039 | Tie/Tie     | +4000 |
| 3040 | Tie/Steelers     | +1400 |
| 3041 | Steelers/Bengals     | +750 |
| 3042 | Steelers/Tie     | +3500 |
| 3043 | Steelers/Steelers     | +110 |
| Rot | Race To 10 Points | Moneyline |
| --- | --- | --- |
| 3045 | Bengals     | +110 |
| 3046 | Steelers     | -145 |
| 3047 | Neither     | +5500 |
| Rot | Race To 15 Points | Moneyline |
| --- | --- | --- |
| 3049 | Bengals     | +130 |
| 3050 | Steelers     | -135 |
| 3051 | Neither     | +1000 |
| Rot | Race To 20 Points | Moneyline |
| --- | --- | --- |
| 3053 | Bengals     | +175 |
| 3054 | Steelers     | -110 |
| 3055 | Neither     | +400 |
| Rot | Race To 25 Points | Moneyline |
| --- | --- | --- |
| 3057 | Bengals     | +320 |
| 3058 | Steelers     | +160 |
| 3059 | Neither     | +115 |
| Rot | Race To 30 Points | Moneyline |
| --- | --- | --- |
| 3061 | Bengals     | +500 |
| 3062 | Steelers     | +210 |
| 3063 | Neither     | -190 |
| Rot | Race To 35 Points | Moneyline |
| --- | --- | --- |
| 3065 | Bengals     | +1000 |
| 3066 | Steelers     | +500 |
| 3067 | Neither     | -500 |
| Rot | Race To 40 Points | Moneyline |
| --- | --- | --- |
| 3069 | Bengals     | +1600 |
| 3070 | Steelers     | +800 |
| 3071 | Neither     | -1100 |
| Rot | Win Margin 3-Way | Moneyline |
| --- | --- | --- |
| 3073 | Bengals to Win by 6 or More Pts     | +235 |
| 3074 | Steelers to Win by 6 or More Pts     | +120 |
| 3075 | Any Other Result     | +190 |
| Rot | Highest Scoring Half | Moneyline |
| --- | --- | --- |
| 3079 | 1st Half     | -110 |
| 3080 | 2nd Half     | -110 |
| 3081 | Tie     | +1800 |
| Rot | Highest Scoring Quarter | Moneyline |
| --- | --- | --- |
| 3083 | 1st Quarter     | +550 |
| 3084 | 2nd Quarter     | +180 |
| 3085 | 3rd Quarter     | +400 |
| 3086 | 4th Quarter     | +250 |
| 3087 | Tie     | +750 |
| Rot | Winning Margin | Moneyline |
| --- | --- | --- |
| 3089 | Bengals to win by 1-6 pts     | +375 |
| 3090 | Bengals to win by 7-12 pts     | +650 |
| 3091 | Bengals to win by 13-18 pts     | +1100 |
| 3092 | Bengals to win by 19-24 pts     | +2000 |
| 3093 | Bengals to win by 25-30 pts     | +4000 |
| 3094 | Bengals to win by 31-36 pts     | +5500 |
| 3095 | Bengals to win by 37-42 pts     | +10000 |
| 3096 | Bengals to win by 43 or More pts     | +11000 |
| 3097 | Steelers to win by 1-6 pts     | +320 |
| 3098 | Steelers to win by 7-12 pts     | +475 |
| 3099 | Steelers to win by 13-18 pts     | +650 |
| 3100 | Steelers to win by 19-24 pts     | +1100 |
| 3101 | Steelers to win by 25-30 pts     | +2000 |
| 3102 | Steelers to win by 31-36 pts     | +3000 |
| 3103 | Steelers to win by 37-42 pts     | +5000 |
| 3104 | Steelers to win by 43 or More pts     | +7000 |
| 3105 | Tie     | +5000 |
| Rot | Total Points Scored | Moneyline |
| --- | --- | --- |
| 3107 | 00-20 pts     | +1800 |
| 3108 | 21-30 pts     | +500 |
| 3109 | 31-40 pts     | +240 |
| 3110 | 41-50 pts     | +230 |
| 3111 | 51-60 pts     | +375 |
| 3112 | 61-70 pts     | +800 |
| 3113 | 71+ pts     | +1400 |
| Rot | Score in Last 2 min of the 1st Half | Moneyline |
| --- | --- | --- |
| 3119 | Yes     | -270 |
| 3120 | No     | +215 |
- Ean Lamb, Gambling911.com