The Pittsburgh Panthers opened as a -2 favorite on the road against Tennessee but that line has moved to -3 at BetAdrian, which offers a NO DEPOSIT welcome bonus of $20/€20.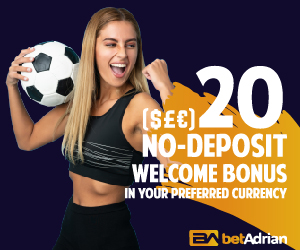 Expert Picks
Winners and Whiners: "The Vols didn't turn any heads with their forgettable 38-6 victory over Bowling Green in the season opener."

"Both teams had 37-plus points to cover last week, and the Panthers are the only team that took care of business."

"The problems (vs. Pittsburgh) will become even more apparent against a Panthers defense that has the ability to cause havoc in the offensive backfield. I could see the first few screen passes working at the start, but the Panthers will settle in and put a stop to the short yardage plays."

Athlon Sports: "Pitt will likely load the box in an effort to slow the Tennessee run game and make Joe Milton III beat the Panthers' press-man coverage with his arm."

"Milton's accuracy issues against a bad Bowling Green defense were glaring, and that is not going to be easily corrected in 11 days. Additionally, Milton won't have nearly as much time to survey the field and identify open targets against this aggressive Pitt pass rush."

ESPN: "Pittsburgh is 20-10-2 ATS in road games under head coach Pat Narduzzi (since 2015), tied for the fourth-best such cover percentage among Power 5 schools over that span (Purdue)."
Prop Bets
Pittsburgh @ Tennessee Sat, Sep 11, 2021 EST
| Rot | First To Score | Moneyline |
| --- | --- | --- |
| 2001 | Pittsburgh     | -120 |
| 2002 | Tennessee     | -110 |
| Rot | First Scoring Play of the Game | Moneyline |
| --- | --- | --- |
| 2009 | Pittsburgh TD     | +125 |
| 2010 | Pittsburgh FG     | +400 |
| 2011 | Pittsburgh Any Other Score     | +5500 |
| 2012 | Tennessee TD     | +145 |
| 2013 | Tennessee FG     | +500 |
| 2014 | Tennessee Any Other Score     | +5500 |
| Rot | A Team to Score 3 Unanswered Times | Moneyline |
| --- | --- | --- |
| 2015 | Yes     | -300 |
| 2016 | No     | +225 |
| Rot | Team Scoring 1st Wins Game | Moneyline |
| --- | --- | --- |
| 2017 | Yes     | -165 |
| 2018 | No     | +135 |
| Rot | Winning Margin | Moneyline |
| --- | --- | --- |
| 2019 | Pittsburgh to win by 1-6 pts     | +325 |
| 2020 | Pittsburgh to win by 7-12 pts     | +450 |
| 2021 | Pittsburgh to win by 13-18 pts     | +600 |
| 2022 | Pittsburgh to win by 19-24 pts     | +900 |
| 2023 | Pittsburgh to win by 25-30 pts     | +1400 |
| 2024 | Pittsburgh to win by 31-36 pts     | +2000 |
| 2025 | Pittsburgh to win by 37-42 pts     | +3500 |
| 2026 | Pittsburgh to win by 43 or more pts     | +4000 |
| 2027 | Tennessee to win by 1-6 pts     | +300 |
| 2028 | Tennessee to win by 7-12 pts     | +550 |
| 2029 | Tennessee to win by 13-18 pts     | +900 |
| 2030 | Tennessee to win by 19-24 pts     | +1400 |
| 2031 | Tennessee to win by 25-30 pts     | +2300 |
| 2032 | Tennessee to win by 31-36 pts     | +3500 |
| 2033 | Tennessee to win by 37-42 pts     | +5000 |
| 2034 | Tennessee to win by 43 or more pts     | +7000 |
| Rot | Double Result | Moneyline |
| --- | --- | --- |
| 2035 | Pittsburgh/Pittsburgh     | +110 |
| 2036 | Pittsburgh/Tie     | +4000 |
| 2037 | Pittsburgh/Tennessee     | +650 |
| 2038 | Tie/Pittsburgh     | +1400 |
| 2039 | Tie/Tie     | +4000 |
| 2040 | Tie/Tennessee     | +1800 |
| 2041 | Tennessee/Pittsburgh     | +550 |
| 2042 | Tennessee/Tie     | +4000 |
| 2043 | Tennessee/Tennessee     | +175 |
| Rot | Winning Margin 3-Way | Moneyline |
| --- | --- | --- |
| 2047 | Pittsburgh to Win by 6 or More     | +110 |
| 2048 | Tennessee to Win by 6 or More     | +175 |
| 2049 | Any Other Result     | +240 |
| Rot | Race to 10 Points | Moneyline |
| --- | --- | --- |
| 2051 | Pittsburgh     | -150 |
| 2052 | Tennessee     | Ev |
| 2053 | Neither     | +10000 |
| Rot | Race to 15 Points | Moneyline |
| --- | --- | --- |
| 2055 | Pittsburgh     | -160 |
| 2056 | Tennessee     | +110 |
| 2057 | Neither     | +3500 |
| Rot | Race to 20 Points | Moneyline |
| --- | --- | --- |
| 2059 | Pittsburgh     | -150 |
| 2060 | Tennessee     | +125 |
| 2061 | Neither     | +1400 |
| Rot | Race to 25 Points | Moneyline |
| --- | --- | --- |
| 2063 | Pittsburgh     | -115 |
| 2064 | Tennessee     | +160 |
| 2065 | Neither     | +375 |
| Rot | Race to 30 Points | Moneyline |
| --- | --- | --- |
| 2067 | Pittsburgh     | +120 |
| 2068 | Tennessee     | +210 |
| 2069 | Neither     | +185 |
| Rot | Race to 35 Points | Moneyline |
| --- | --- | --- |
| 2071 | Pittsburgh     | +225 |
| 2072 | Tennessee     | +400 |
| 2073 | Neither     | -140 |
| Rot | Race to 40 Points | Moneyline |
| --- | --- | --- |
| 2075 | Pittsburgh     | +375 |
| 2076 | Tennessee     | +650 |
| 2077 | Neither     | -300 |
- Don Shapiro, Gambling911.com