(16) Drexel vs (1) Illinois featured a line of Fighting Illini -22.5.   Jazz Sports (est. 1994) offers live prop bets for this game and a generous welcome bonus (max bonus $1000).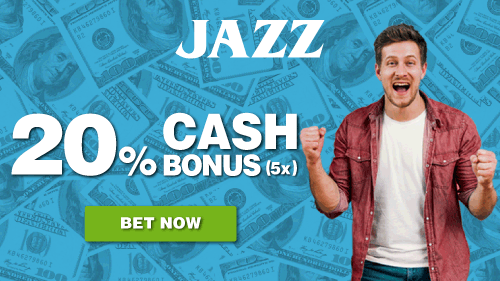 How They Got Here
Mate Okros scored 14 points with four 3-pointers and sixth-seeded Drexel is headed to the NCAA Tournament for the first time in 25 years after defeating eighth-seeded Elon 63-56 in the championship game of the Colonial Athletic Association.
Kofi Cockburn and Ayo Dosunmu both scored 16 points, both grabbed nine rebounds and both made key plays in overtime to give No. 3 Illinois a 91-88 victory over No. 9 Ohio State on Sunday for its first Big Ten Tournament title since 2005.
Prop Bets
| Rot | Last To Score | Moneyline |
| --- | --- | --- |
| 2507 | Drexel     | -115 |
| 2508 | Illinois     | -115 |
| Rot | Double Result | Moneyline |
| --- | --- | --- |
| 2510 | Drexel - Drexel     | +3600 |
| 2511 | Tie - Drexel     | +9000 |
| 2512 | Illinois - Drexel     | +3000 |
| 2513 | Drexel - Illinois     | +750 |
| 2514 | Tie - Illinois     | +1800 |
| 2515 | Illinois - Illinois     | -1100 |
| Rot | Winning Margin | Moneyline |
| --- | --- | --- |
| 2525 | Drexel to win by 1-2 pts     | +6000 |
| 2526 | Drexel to win by 3-6 pts     | +6000 |
| 2527 | Drexel to win by 7-9 pts     | +9000 |
| 2528 | Drexel to win by 10-13 pts     | +12000 |
| 2529 | Drexel to win by 14-16 pts     | +14000 |
| 2530 | Drexel to win by 17-20 pts     | +18000 |
| 2531 | Drexel to win by 21 or more pts     | +9000 |
| 2532 | Illinois to win by 1-2 pts     | +3500 |
| 2533 | Illinois to win by 3-6 pts     | +1800 |
| 2534 | Illinois to win by 7-9 pts     | +1500 |
| 2535 | Illinois to win by 10-13 pts     | +650 |
| 2536 | Illinois to win by 14-16 pts     | +650 |
| 2537 | Illinois to win by 17-20 pts     | +425 |
| 2538 | Illinois to win by 21 or more pts     | -185 |
| Rot | Highest Scoring Half | Moneyline |
| --- | --- | --- |
| 2541 | 1st Half     | +140 |
| 2542 | 2nd Half     | -220 |
| 2543 | Tie     | +3600 |
| Rot | Game Total | Moneyline |
| --- | --- | --- |
| 2544 | Odd     | -115 |
| 2545 | Even     | -115 |
| Rot | 1st Half Winning Margin | Moneyline |
| --- | --- | --- |
| 2546 | Drexel to win by 1-3 pts     | +2000 |
| 2547 | Drexel to win by 4-6 pts     | +3600 |
| 2548 | Drexel to win by 7-9 pts     | +4500 |
| 2549 | Drexel to win by 10-12 pts     | +7000 |
| 2550 | Drexel to win by 13-15 pts     | +9000 |
| 2551 | Drexel to win by 16 or more pts     | +11000 |
| 2552 | Illinois to win by 1-3 pts     | +1000 |
| 2553 | Illinois to win by 4-6 pts     | +700 |
| 2554 | Illinois to win by 7-9 pts     | +500 |
| 2555 | Illinois to win by 10-12 pts     | +425 |
| 2556 | Illinois to win by 13-15 pts     | +425 |
| 2557 | Illinois to win by 16 or more pts     | +125 |
| 2558 | Tie     | +1900 |
- Dan Shapiro, Gambling911.com