While Bovada is currently acessible to Virginia residents, Gambling911-endorsed Jazz Sports offers more generous cash bonuses with payouts often in hours (through BTC and BCH).  They have also been in business since 1996.  Open your betting account with $100, get a Free $50 CASH.  Open your betting account with $500, get a Free $250 CASH (Mastercard Accepted - But 10% Max Bonus Applies) - USE BONUS CODE: G911 - Betting Limits range from $10 to $5000+.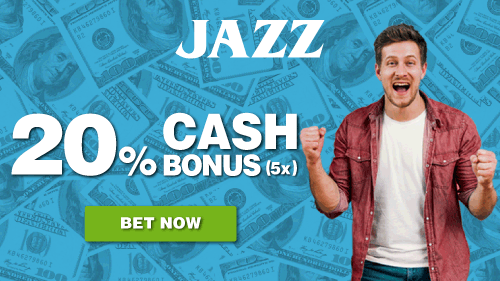 Virginia is attempting to pass legislation that would allow sports books to operate in-state.  Currently sites accessible to those living in and visiting Virginia are licensed by other jurisdictions.  Sites like Bovada and Jazz Sports do not report taxes or ask for a social security number.
VA HB896 passed the House 69-29. This bill would allow 4-12 online sports betting permits, any "major league sports franchise" could get a license for a retail sportsbook, 20% tax, requires official data, among other things.
SB384 passed the Senate. Would allow 6-10 online sports betting permits, either an MLB, NBA NFL, or NHL team could apply for a retail sportsbook, 15% tax, requires official data.
Among the teams vying for a sports betting license in Virginia is the Washington Redskins. Though the team plays in Landover, Maryland, its headquarters are located in Ashburn, Virginia.  Cryptic language contained in the bill seems to indicate a new stadium would be constructed in Virginia for a team like the Redskins.
From LegalSportsReport:
If most politics is local, a likely source for this update is Washington Redskins owner Daniel Snyder. The team's headquarters sits in Ashburn, Va., and Washington hosts a training camp in Richmond, Va.
The divisive owner reportedly met privately last month with Maryland legislators to push for the ability to offer legal wagering at FedEx Field in Andover, the team's gameday home.
The discussion of a new stadium for Washington's NFL franchise heated up in 2019. Washington's lease at FedEx Field expires in 2027.
The team reportedly will explore sites throughout the region, according to the Baltimore Sun:
...Talks are ongoing with Virginia, Maryland and the District of Columbia on a new stadium that would replace FedEx Field when its lease expires in 2027. Sites near Dulles International Airport in Virginia, National Harbor in Maryland and RFK Stadium in D.C. are the leading candidates …
On the surface, Virginia may not seem like a hot spot for sports betting as it is the most populous US state without a major professional sports league franchise playing within its borders though the Redskins and NHL's Washington Capitals each have practice facilities and operational headquarters located here as well as a significant fan base for both teams.
Virginia is also home to a number of successful college sports programs in both Football and Basketball including the University of Virginia Cavaliers, one of the NCAA Men's Basketball's elite teams, and the Virginia Tech Hokies, a team that has prospered in College Football over the past decade (more recently 10-4 in 2016 and 11-3 in 2011 and losing just two games combined during the 1999 and 2000 regular seasons).
SUMMARY AS INTRODUCED:
Virginia Lottery; repeal prohibition against sale of lottery tickets over the Internet; sports betting; Problem Gambling Treatment and Support Fund; Sports Betting Operations Fund; penalties. Directs the Virginia Lottery to regulate sports betting. Before administering a sports betting operation, an entity is required to apply for a three-year permit and pay an application fee of $250,000. Permit holders must apply for renewal of a permit every three years, which includes a renewal fee of $200,000. The Director may issue up to 10 permits at one time but is directed to issue an amount of permits that would maximize tax revenue collected pursuant to the bill.
Under the provisions of the bill, betting on an athletic event with a participant under age 18 is prohibited unless such event is a college or professional event. The bill prohibits betting by Lottery employees, permit holders and certain related persons, participants in athletic events on which the bet is placed, and persons under age 21. The penalty for engaging in prohibited betting is a Class 1 misdemeanor.
The bill directs the Lottery to establish a voluntary exclusion program, which would allow individuals to request that the Lottery exclude them from buying lottery tickets or participating in sports betting. The bill directs the Lottery to implement consumer protection measures.
The bill allows the governing body of a sports league to request that the Lottery (i) limit or prohibit people from betting on events of the league that it governs and (ii) restrict the information sources used to resolve bets that are placed after a sports event has begun.
The bill imposes a 20 percent tax on a permit holder's adjusted gross revenue, defined in the bill. The Lottery would retain 2.5 percent of the tax revenue to defray its costs of administering the program.
The bill creates the Problem Gambling Treatment and Support Fund, administered by the Department of Behavioral Health and Developmental Services. The Fund would be used to provide counseling to compulsive gamblers, implement problem gambling treatment and prevention programs, and provide grants to organizations that assist problem gamblers. The Fund would be funded by 2.5 percent of the revenue generated from sports betting. The remaining 95 percent of tax revenue generated from sports betting accrues to the Revenue Reserve Fund.
The bill authorizes the Lottery to sell tickets over the Internet. Under current law, it is prohibited from doing so.
- Chris Costigan, Gambling911.com Publisher