Can I Bet on Bovada From Iowa?
Published on:
Apr/04/2022
Bovada? From Iowa? Of course!  While Bovada is certainly reputable and has been around for quite a number of years, there are much better options, so let's compare, shall we.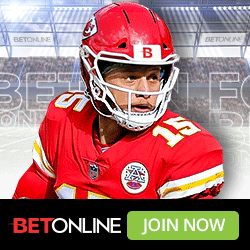 The Bonus
Bovada does offer a generous $250 signup bonus.  As with all bonus offers, restrictions do apply.  Our friends at BetOnline, endorsed by Gambling911.com, offer a signup bonus up to $1000.  That is 50% of your initial deposit.  Both Bovada and BetOnline require Iowa residents to post up prior to betting.  Neither extends credit.
BetOnline also offers bonuses based on your preferences such as 8% rebate on horse losses and 35% reload bonus funding with cryptocurrencies such as Bitcoin or Litecoin.
Better Lines
Nothing distinguishes BetOnline from the rest of the competition than their line offerings, especially in Major League Baseball. 
Case in point, a game featuring the Padres vs. Giants had San Diego as a -135 favorite at BetOnline.  Bovada had the Padres at -141.  This may not seem like a big difference, but if you are betting a lot of Baseball, that really adds up.  
BetOnline had the Angels at -213 in one game while Bovada had them at -235.
Typically the Bovada line is anywhere from 10 cents to 20 cents more than BetOnline.  By season's end you will have saved hundreds, if not thousands betting Baseball at BetOnline.  
Early Lines
Dave Mason at BetOnline typically has a game line out for the next college football or NFL game before all of the day's games have finished playing.  Bovada is a "square" book.  They focus exclusively on recreational bettors.  That's not a bad thing, it's just that BetOnline is a lot more creative and accommodating to all types of customers.
Payouts
Both books pay!  This is something you won't have to worry about with either BetOnline or Bovada.  It's just that BetOnline tends to pay much faster.  While they offer more ways of getting paid, the preferred method of Bitcoin will often take just a few hours.
Innovation
This is an area where both books excel at.  BetOnline and Bovada are always looking for some good free press by taking bets on all kinds of crazy political, entertainment and sports props. 
Communication
BetOnline offers us the beloved @DaveMasonBOL on Twitter who is there to answer your every question and concern while tweeting all the latest happenings at his books.
Iowa In-State Apps
There are a number of good in-state licensed apps in Iowa and the good news is you no longer have to register in person to join these websites.
Gambling winnings are taxable at both the federal and state levels in Iowa, and these websites will report your winnings.  Sites like Bovada and BetOnline do not.  This money is subject to the standard 24% tax. Winnings that exceed $600 must be reported to the state and taxed at 5%.
One of the downsides to playing with these apps is that they are prohibited from offering college props, NFL Draft betting or eSports wagering.
- Steve Cooper, Gambling911.com