Give credit where credit is due, Bovada is one of the best in the online casino space when it comes to search engine optimization (SEO).  In fact, Gambling911.com search monitoring indicates the brand ranks right up there with the likes of FanDuel and Draftkings when it comes to regional searches.


*Only an email needed to open your anonymous betting account
*Operates land-based casinos throughout Latin America
*More than 400 casino games offered
*$10 free cash signup bonus with a 1X rollover (bet) requirement
*20% cash signup bonus with just a 5X rollover (bet) requirement
*Payouts often in minutes
*100 percent mobile compatible
*Live streaming of many top events including international football and UFC
*In business since 1994
PLACE YOUR BETS HERE
Upon researching the growing online sports betting landscape in Iowa, we were shocked to learn of a casino in Des Moines G911 never knew existed.
The Bovada Online Casino.
It even has a Des Moines area code.
Scroll Down For More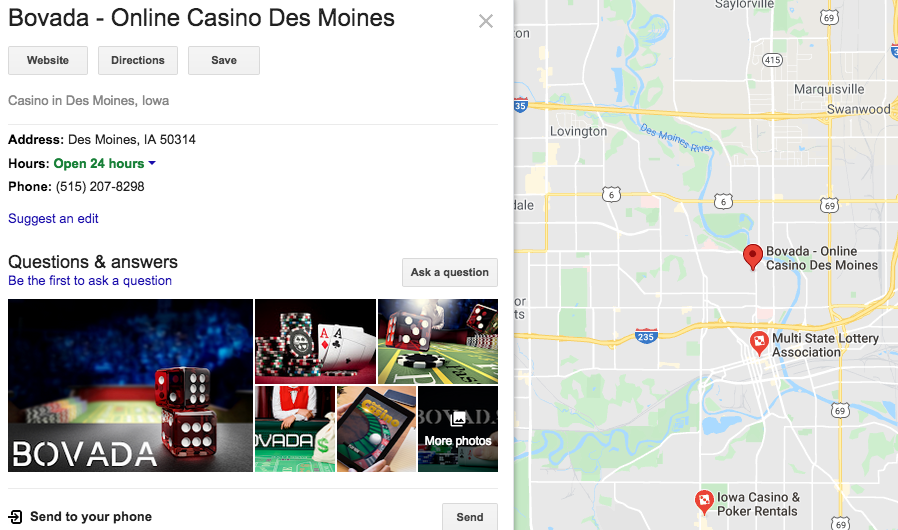 We landed at the Bovada Online Casino Des Moines by simply searching for "Des Moines Casino".
Now for the fun part.
The pin indicates where the Bovada Online Casino Des Moines is located.
The address, mind you, is simply Des Moines, IA 50314.
It's in a residential neighborhood on Washington Avenue in the River Bend section of town, one of the most crime ridden. 
The overall crime rate in River Bend is 190% higher than the national average. For every 100,000 people, there are 20.5 daily crimes that occur in River Bend. River Bend is safer than 6% of the cities in the Iowa. In River Bend you have a 1 in 14 chance of becoming a victim of any crime.  Or, in layman's terms, if you attempt to visit the Bovada Online Casino Des Moines, your chances of getting held up, robbed or worse are pretty good.
Of course real casinos do exist in Iowa, 22 to be exact.   The Bovada Online Casine Des Moines is not one of them but you can still access the Bovada site.  Better still, you can access the Jazz Casino from the comfort of your livingroom.  They are our beloved ad partner and in business since 1999. 
It should be noted that none of Iowa's 22 land-based casino venues operate online casinos at this time.
- Jagajeet Chiba, Gambling911.com