Bet the Red Sox vs. Blue Jays Series - Hot Betting Trends
Published on:
May/21/2019
Gambling911.com takes a look at the Blue Jays vs. Red Sox Series hot trends for the period beginning May 20, 2019.  For even more recent trends on each game, please scroll down.

*Find matchup consensus plays and side percentages
*All of the day's matchup previews and trends
*Top handicapper picks
*Latest odds
*Latest line movements


LEARN MORE HERE
Remember to always focus first on the starting pitchers before taking into account any other aspects of this series historical trends as well as recent team trends.
Historical Blue Jays vs. Red Sox Head to Head Trends (Heading into May 20)
Six of the last eight games in this series resulted in nine or more runs scored (edge: OVER)

Boston is 28-10 in the last 38 meetings (edge: Boston)

Red Sox are 21-8 in the last 29 meetings in Toronto (edge: Boston)

The OVER is 10-4 in the last 15 meetings (edge: OVER)
Despite the edge going to the OVER in two head-to-head total trends, there is an argument to be made for the UNDER in this series.
Red Sox Heading Into This Series (Heading into May 20)
The Red Sox will come into this game having won seven of their last ten overall.
On Sunday May 19, the Red Sox snapped the Astros ten-game win streak. 
Mookie Betts scored three runs for Boston. Michael Chavis homered, Xander Bogaerts hit a tiebreaking double in the seventh inning and the Boston Red Sox avoided a three-game sweep by Houston with a 4-3 victory.
Boston has scored 6 or more runs in half of their last ten games.
Boston has scored 3 or fewer in three of their last ten games.
Boston has allowed 5 or more runs in half of their last ten games.
Blue Jays Heading Into This Series (Heading into May 20)
The Blue Jays rack up 3 homers in a win against the White Sox on Sunday.  Billy McKinney, Vlad Guerrero Jr. and Danny Jansen all helped push the Blue Jays past the White Sox 5.
Toronto has scored 7 and 10 runs in two of their last ten.  In seve of their last ten they scored three or fewer.
Toronto has allowed no more than four runs in their last six games overall.

*100% signup bonus all deposits up to $1500
*Fastest payouts
*Credit cards, gift cards, bitcoin, bank wires all accepted
*Accessible all states
*Build your own sportsbook option
LEARN MORE HERE
Tuesday May 20
Marcus Stroman Last Three Starts - (1-6 , 2.95 ERA )
May 17, 2019, 12:40 AM ET - Marcus Stroman allowed two runs (one earned) in six innings and did not get a decision against the White Sox on Thursday.
He surrendered seven hits and a walk while fanning six in the strong outing. An error by Freddy Galvis let in an unearned run in the first inning. Stroman gave up an earned run on an infield single by Ryan Cordell in the fourth. Stroman has just one win and six losses despite an excellent 2.95 ERA after 10 starts. He is not a huge strikeout guy but finds a way to keep the ball on the ground and out of the bleachers -- he's allowed just three dingers in 58 innings pitched. Among all qualified starters, only three have given up fewer homers than Stroman.
May 11, 2019, 6:56 PM ET - Marcus Stroman was tagged for eight hits and four runs, three of them earned, over 6 1 /3 innings Saturday in Toronto's loss to the White Sox.
He finished the afternoon with four strikeouts and no walks over 97 pitches. Stroman also committed an error, one of three on the day for the Blue Jays, in the losing effort. Of the eight hits allowed by Stroman, only one—a solo blast from Yolmer Sanchez in the third inning—went for extra bases. The right-hander pitched well for most of the day but ran out of juice in the seventh, yielding singles to three of the four hitters he encountered before getting the hook from manager Charlie Montoyo. Stroman has seen his ERA rise steadily from 1.43 to 3.12 over his last three starts. Now just 1-6 on the season, Stroman will face the Pale Hose again when he takes the mound Thursday at Guaranteed Rate Field on the south side of Chicago.
In his previous start, Stroman dropped to a 1-5 after giving up six runs -- five earned -- in 4 2/3 innings against the Twins.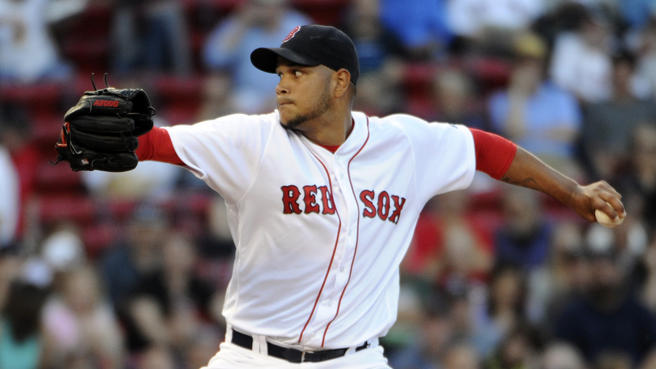 Eduardo Rodriguez Last Three Starts ( 4-2 , 4.89 ERA )
From Rotoworld: May 15, 2019, 11:19 PM ET - Eduardo Rodriguez was charged with five runs in six-plus innings Wednesday in a no-decision against the Rockies.
It was two runs through six innings, but manager Alex Cora decided to send him back out for the seventh. A single, double and a HBP followed, and all three runners came around to score off Matt Barnes after Rodriguez was pulled. It cost Rodriguez the chance at a win in what had been a 5-2 game and wiped out what had been an encouraging night. Rodriguez finished with 10 strikeouts and just one walk.
May 10, 2019, 10:27 PM ET - Eduardo Rodriguez was outstanding in Friday's victory over the Mariners, scattering five hits and a walk over seven scoreless frames.
The Red Sox' southpaw struck out five on the evening. It's the first time this season that Rodriguez has worked seven innings, throwing 68 of his 103 pitches for strikes along the way. Now 4-2 on the season, he'll look to further improve upon his 4.53 ERA and 1.40 WHIP when he does battle against the Rockies on Wednesday.
In the prior game Rodriguez a run in six innings on six hits, winning against the Chicago White Sox.
Bullpens Review
More reason to consider the UNDER throughout this series based on the posted total and expected starters.
Toronto now has the 5th best bullpen with a combined ERA of 3.27.
Boston has the 7th best bullpen with a combined ERA of 3.74.
What to Watch for on Tuesday May 21
Pay special attention to a total that is dropping a half run to one full run or more. Books moving the total up indicates they could be anticipating an OVER, so be careful there.  It is highly doubtful the public will be on the UNDER.  Stroman is in desperate need of a win while Rodriguez has pitched well and is coming off a bad outing. 
Toronto has not scored many runs in their last ten games and, as mentioned above, they have not permitted more than four runs in their last ten.
With Stroman and Rodriguez confirmed as the starters and the line dropping from 9 to 8.5, we will be on the UNDER 8.5.
Our Record
2019 MLB Record: 12-6-1 (66.7%) - No Plays Over -160
2018-19 College Basketball Record: 12-9 (57.1%)
2018-19 NBA Record: 7-4 (63.4%)
2018 MLB Record: 45-35 (56.2%)
2018 NBA Record: 12-4-1 (75%)
Monday's Results May 20
David Price returned to the Boston Red Sox with another outstanding performance against Toronto Blue Jays.
The 33-year-old left-hander did not allow any earned runs over five innings in a 12-2 rout Monday that improved his record against the Blue Jays to 22-3, including 13-1 in 18 starts at Toronto.
"I enjoy this mound," he said. "It feels close to home plate, so it's just one of the places I enjoy throwing."
This one went OVER the 8.5 total.
- Tony Caliente, Gambling911.com