Any Sportsbooks That Do Not Cap Winnings in Tennessee
Published on:
Nov/08/2021
While Tennessee offers a wealth of online sports betting opportunities, the one downside is that in-state licensed books cap winnings.  There are sportsbooks like BetAdrian that are licensed out of state and are accessible from within Tennessee that do NOT cap winnings.  They even offer a FREE NO DEPOSIT $20 and a chance for more free money up to $2500 once a deposit is made, based on how big that deposit is.  Something else BetAdrian does NOT do is report winnings.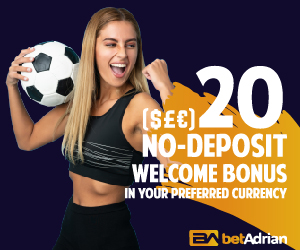 The state Lottery, which oversees sports betting in the Volunteer State, requires online gambling companies to keep 10% of the betting handle in effort to ensure more revenue for the state.  Put another way, gamblers only get to keep 90% of their winnings.
So even if you're offered tempting welcome bonus, that money pretty much only makes one or two winning bets whole.  Ultimately gamblers lose money over time when compared to betting at other sportsbooks that are not Tennessee-regulated.
Members of Tennessee's Sports Wagering Advisory Council was set to discuss this matter in a Tuesday session.  None are for the cap.
The rule is the brainchild of the Tennessee Education Lottery.  The cap on winnings has failed to deliver the desired results of more revenue as gamblers feel duped.
"Reaching the 10% number required by regulation is only achievable at the detriment of Tennessee residents," wrote Lou Fracogna, senior counsel, corporate compliance officer for Churchill Downs' TwinSpires digital platform. "Those that choose to engage in legalized sports wagering will see reduced offerings in lower hold markets and/or worsened odds across the board. Meanwhile, illegal operators will be able to offer more markets and better odds. Without a capped payout, the State of Tennessee benefits from a legal and competitive product with robust responsible gaming and anti-fraud tools."
Cory Fox on behalf of FanDuel contends that no other U.S. jurisdiction has launched "a regime with such an onerous restriction on payout" while a representative from Caesars called the cap "profoundly anti-consumer".
It's certainly not working out well for Tennessee.  They rank number 10 in the nation for handle taken in at $1.7B.  Compare that to New Jersey at $18.992B.  While it's true New Jersey has a bigger population and got a jump start on sports wagering well ahead of Tennessee, Indiana has a lower population and took in $4.65B.  Nevada, with half the population of Tennessee, brought in $17.57B.  The Silver State does not even permit remote registrations.
- Aaron Goldstein, Gambling911.com