Want to win your $2,650 seat to our $5 Million Venom PKO?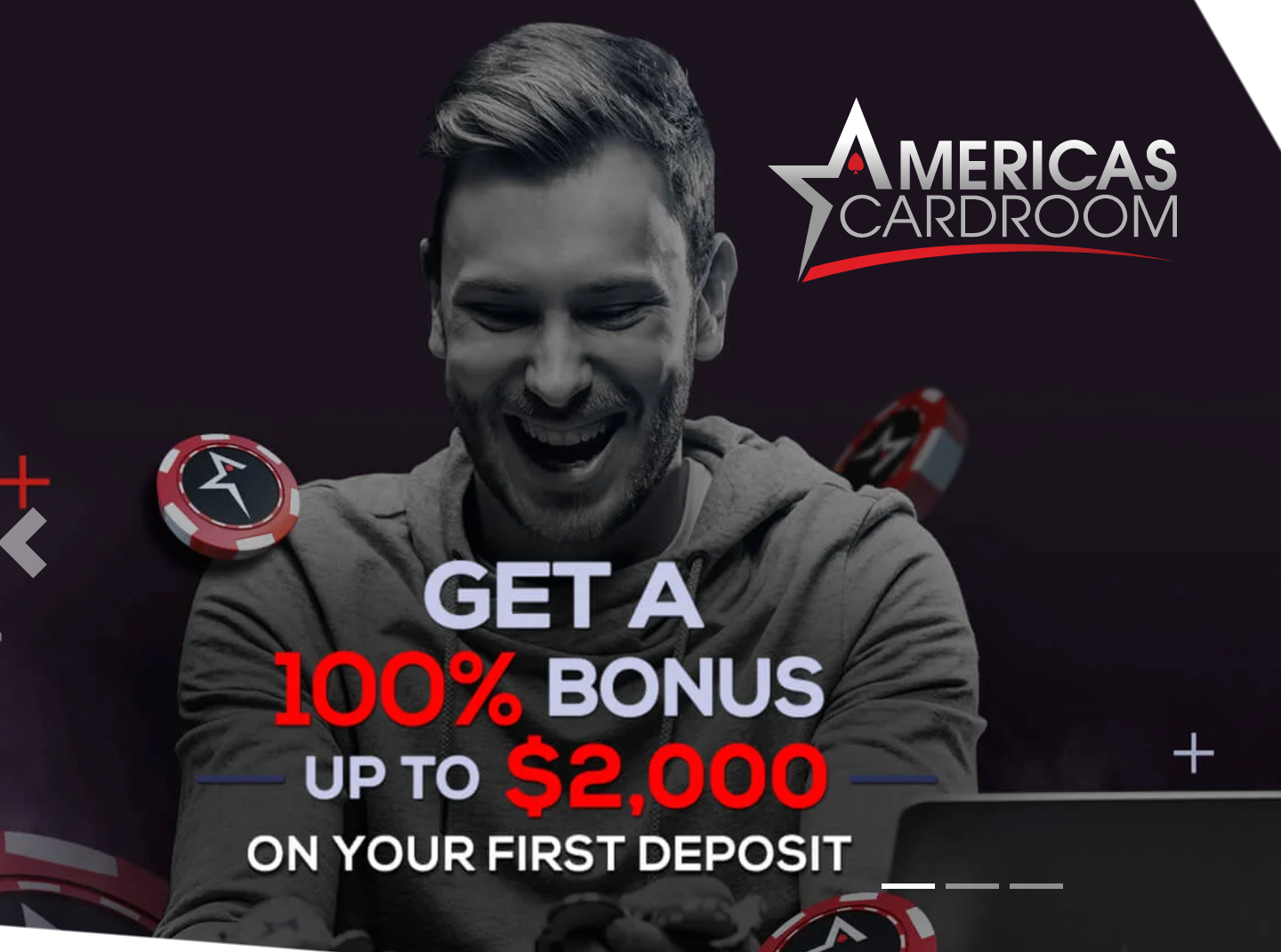 Americas Cardroom has hundreds of seats up for grabs via our Venom PKO Fever satellites which start Friday, April 9th.
The $5 Million GTD Venom PKO is the biggest progressive knock out tourney in online poker.
"This is our second Venom PKO edition and as this tourney plays out, the bounty sizes will be legendary, with up to tens of thousands of dollars on the line for eliminating a single player!," the popular online poker site announced.
Americas Cardroom is available to those in the USA and across the globe.
There are 658 guaranteed seats up for grabs to the $5,000,000 GTD Venom PKO tournament (Day 1A on Friday, April 30th).
The Venom Fever satellite extravaganza runs from Friday, April 9th to Sunday, May 9th (Day 1D of the $5,000,000 GTD Venom PKO tournament).
Don't miss your chance to pick up your $2,650 seat to the biggest Progressive Knockout Event in online poker. Satellites start at just $32!
The full schedule appears below.
- Ace King, Gambling911.com
VenomPKO FEVER
| Date | Time (ET) | Tournament | BuyIn | Fee | Detail |
| --- | --- | --- | --- | --- | --- |
| Friday, April 9 | 2:05 PM | VenomPKO Fever - 2 Tickets GTD | $30 | $2 | 3hr LR - 12m Levels - 5k SS |
|   | 5:00 PM | VenomPKO Fever - 2 Tickets GTD | $200 | $15 | 2hr LR - 10m Levels - 8k SS |
|   | 7:15 PM | VenomPKO Fever - 2 Tickets GTD | $90 | $5 | 2hr LR - 10m Levels - 8k SS |
|   | 9:35 PM | VenomPKO Fever - 1 Ticket GTD | $50 | $5 | 90m LR - 5m Levels - 10k SS |
| Saturday, April 10 | 12:15 PM | VenomPKO Fever - 1 Ticket GTD | $30 | $2 | 2hr LR - 5m Levels - 25k SS |
|   | 2:45 PM | VenomPKO Fever - 2 Tickets GTD | $50 | $5 | 3hr LR - 12m Levels - 5k SS |
|   | 5:45 PM | VenomPKO Fever - 2 Tickets GTD | $100 | $9 | 2hr LR - 10m Levels - 8k SS |
|   | 8:00 PM | VenomPKO Fever - 1 Ticket GTD | $90 | $5 | 90m LR - 5m Levels - 10k SS |
| Sunday, April 11 | 12:45 PM | VenomPKO Fever - 1 Ticket GTD | $30 | $2 | 2hr LR - 5m Levels - 25k SS |
|   | 1:25 PM | VenomPKO Fever - 5 Tickets GTD | $280 | $10 | 2hr LR - 10m Levels - 8k SS |
|   | 3:15 PM | VenomPKO Fever - 3 Tickets GTD | $50 | $5 | 3hr LR - 12m Levels - 5k SS |
|   | 6:00 PM | Beast & SnC - VENOM PKO MEGA - 20 Tickets GTD | $90 | $5 | 3h LR - 12m Levels - 5kSS |
|   | 9:05 PM | VenomPKO Fever - 2 Tickets GTD | $90 | $5 | 90m LR - 5m Levels - 10k SS |
|   |   |   |   |   |   |
| Monday, April 12 | 2:15 PM | VenomPKO Fever - 2 Tickets GTD | $30 | $2 | 3hr LR - 12m Levels - 5k SS |
|   | 4:30 PM | VenomPKO Fever - 2 Tickets GTD | $90 | $5 | 2hr LR - 5m Levels - 25k SS |
|   | 6:45 PM | VenomPKO Fever - 1 Ticket GTD | $50 | $5 | 2hr LR - 10m Levels - 8k SS |
|   | 9:00 PM | VenomPKO Fever - 2 Tickets GTD | $100 | $9 | 2hr LR - 10m Levels - 8k SS |
| Tuesday, April 13 | 1:45 PM | VenomPKO Fever - 3 Tickets GTD | $280 | $10 | 2hr LR - 10m Levels - 8k SS |
|   | 3:45 PM | VenomPKO Fever - 1 Ticket GTD | $30 | $2 | 2hr LR - 5m Levels - 25k SS |
|   | 5:15 PM | VenomPKO Fever - 1 Ticket GTD | $100 | $9 | 90m LR - 5m Levels - 10k SS |
|   | 6:45 PM | VenomPKO Fever - 3 Tickets GTD | $50 | $5 | 3hr LR - 12m Levels - 5k SS |
|   | 9:25 PM | VenomPKO Fever - 3 Tickets GTD | $200 | $15 | 2hr LR - 10m Levels - 8k SS |
| Wednesday, April 14 | 1:15 PM | VenomPKO Fever - 1 Ticket GTD | $50 | $5 | 2hr LR - 5m Levels - 25k SS |
|   | 3:30 PM | VenomPKO Fever - 3 Tickets GTD | $100 | $9 | 2hr LR - 10m Levels - 8k SS |
|   | 6:00 PM | VenomPKO Fever MEGA - 5 Tickets GTD | $90 | $5 | 3h LR - 12m Levels - 5kSS |
|   | 7:15 PM | VenomPKO Fever - 2 Tickets GTD | $30 | $2 | 3hr LR - 12m Levels - 5k SS |
|   | 10:05 PM | VenomPKO Fever - 1 Ticket GTD | $90 | $5 | 90m LR - 5m Levels - 10k SS |
| Thursday, April 15 | 12:45 PM | VenomPKO Fever - 1 Ticket GTD | $30 | $2 | 2hr LR - 5m Levels - 25k SS |
|   | 3:05 PM | VenomPKO Fever - 2 Tickets GTD | $90 | $5 | 90m LR - 5m Levels - 10k SS |
|   | 4:45 PM | VenomPKO Fever - 3 Tickets GTD | $50 | $5 | 3h LR - 12m Levels - 5kSS |
|   | 7:15 PM | VenomPKO Fever - 3 Tickets GTD | $280 | $10 | 2hr LR - 10m Levels - 8k SS |
|   | 7:15 PM | VenomPKO Fever - 1 Ticket GTD | $30 | $2 | 2hr LR - 5m Levels - 25k SS |
|   | 9:45 PM | VenomPKO Fever - 1 Ticket GTD | $100 | $9 | 90m LR - 5m Levels - 10k SS |
| Friday, April 16 | 2:05 PM | VenomPKO Fever - 2 Tickets GTD | $30 | $2 | 3hr LR - 12m Levels - 5k SS |
|   | 4:00 PM | VenomPKO Fever - 2 Tickets GTD | $90 | $5 | 90m LR - 5m Levels - 10k SS |
|   | 6:00 PM | VenomPKO Fever MEGA - 5 Tickets GTD | $90 | $5 | 3h LR - 12m Levels - 5kSS |
|   | 7:30 PM | VenomPKO Fever - 1 Ticket GTD | $30 | $2 | 2hr LR - 5m Levels - 25k SS |
|   | 7:45 PM | VenomPKO Fever - 2 Tickets GTD | $280 | $10 | 2hr LR - 10m Levels - 8k SS |
|   | 9:15 PM | VenomPKO Fever - 1 Ticket GTD | $50 | $5 | 2hr LR - 10m Levels - 8k SS |
| Saturday, April 17 | 12:15 PM | VenomPKO Fever - 1 Ticket GTD | $30 | $2 | 2hr LR - 5m Levels - 25k SS |
|   | 2:45 PM | VenomPKO Fever - 3 Tickets GTD | $50 | $5 | 3hr LR - 12m Levels - 5k SS |
|   | 6:05 PM | VenomPKO Fever - 2 Tickets GTD | $100 | $9 | 90m LR - 5m Levels - 10k SS |
|   | 8:15 PM | VenomPKO Fever - 1 Ticket GTD | $30 | $2 | 2hr LR - 5m Levels - 25k SS |
|   | 8:15 PM | VenomPKO Fever - 1 Ticket GTD | $90 | $5 | 2hr LR - 10m Levels - 8k SS |
|   | 10:45 PM | VenomPKO Fever - 2 Tickets GTD | $100 | $9 | 2hr LR - 5m Levels - 25k SS |
| Sunday, April 18 | 11:30 AM | VenomPKO Fever - 2 Tickets GTD | $50 | $5 | 2hr LR - 5m Levels - 25k SS |
|   | 12:45 PM | VenomPKO Fever - 5 Tickets GTD | $280 | $10 | 2hr LR - 10m Levels - 8k SS |
|   | 1:45 PM | VenomPKO Fever - 3 Tickets GTD | $30 | $2 | 3hr LR - 12m Levels - 5k SS |
|   | 3:30 PM | VenomPKO Fever - 4 Tickets GTD | $200 | $15 | 2hr LR - 10m Levels - 8k SS |
|   | 5:15 PM | VenomPKO Fever - 1 Ticket GTD | $30 | $2 | 2hr LR - 5m Levels - 25k SS |
|   | 6:00 PM | Beast & SnC - VENOM PKO MEGA - 20 Tickets GTD | $90 | $5 | 3hr LR - 12m Levels - 5k SS |
|   | 8:30 PM | VenomPKO Fever - 1 Ticket GTD | $30 | $2 | 2hr LR - 5m Levels - 25k SS |
|   | 9:15 PM | VenomPKO Fever - 3 Tickets GTD | $100 | $9 | 2hr LR - 10m Levels - 8k SS |
|   |   |   |   |   |   |
| Monday, April 19 | 9:15 AM | VenomPKO Fever - 1 Ticket GTD | $30 | $2 | 2hr LR - 5m Levels - 25k SS |
|   | 11:30 AM | VenomPKO Fever - 1 Ticket GTD | $90 | $5 | 2hr LR - 10m Levels - 8k SS |
|   | 1:45 PM | VenomPKO Fever - 2 Tickets GTD | $50 | $5 | 2hr LR - 5m Levels - 25k SS |
|   | 4:05 PM | VenomPKO Fever - 3 Tickets GTD | $30 | $2 | 3h LR - 12m Levels - 5kSS |
|   | 7:45 PM | VenomPKO Fever - 2 Tickets GTD | $100 | $9 | 2hr LR - 10m Levels - 8k SS |
|   | 8:00 PM | VenomPKO Fever - 1 Ticket GTD | $30 | $2 | 2hr LR - 5m Levels - 25k SS |
| Tuesday, April 20 | 9:00 AM | VenomPKO Fever - 1 Ticket GTD | $30 | $2 | 2hr LR - 5m Levels - 25k SS |
|   | 12:35 PM | VenomPKO Fever - 3 Tickets GTD | $280 | $10 | 2hr LR - 10m Levels - 8k SS |
|   | 3:05 PM | VenomPKO Fever - 1 Ticket GTD | $50 | $5 | 2hr LR - 5m Levels - 25k SS |
|   | 4:45 PM | VenomPKO Fever - 3 Tickets GTD | $200 | $15 | 2hr LR - 10m Levels - 8k SS |
|   | 7:05 PM | VenomPKO Fever - 2 Tickets GTD | $280 | $10 | 90m LR - 5m Levels - 10k SS |
|   | 7:45 PM | VenomPKO Fever - 3 Tickets GTD | $30 | $2 | 3h LR - 12m Levels - 5kSS |
|   | 10:05 PM | VenomPKO Fever - 1 Ticket GTD | $100 | $9 | 2hr LR - 10m Levels - 8k SS |
| Wednesday, April 21 | 12:45 PM | VenomPKO Fever - 1 Ticket GTD | $30 | $2 | 2hr LR - 10m Levels - 8k SS |
|   | 2:45 PM | VenomPKO Fever - 2 Tickets GTD | $50 | $5 | 3h LR - 12m Levels - 5kSS |
|   | 6:00 PM | VenomPKO Fever MEGA - 5 Tickets GTD | $90 | $5 | 3h LR - 12m Levels - 5kSS |
|   | 8:15 PM | VenomPKO Fever - 1 Ticket GTD | $30 | $2 | 2hr LR - 5m Levels - 25k SS |
|   | 9:15 PM | VenomPKO Fever - 2 Tickets GTD | $100 | $9 | 2hr LR - 5m Levels - 25k SS |
| Thursday, April 22 | 12:30 PM | VenomPKO Fever - 1 Ticket GTD | $50 | $5 | 2hr LR - 5m Levels - 25k SS |
|   | 3:05 PM | VenomPKO Fever - 2 Tickets GTD | $90 | $5 | 90m LR - 5m Levels - 10k SS |
|   | 4:45 PM | VenomPKO Fever - 3 Tickets GTD | $280 | $10 | 2hr LR - 10m Levels - 8k SS |
|   | 7:05 PM | VenomPKO Fever - 3 Tickets GTD | $30 | $2 | 3h LR - 12m Levels - 5kSS |
|   | 8:45 PM | VenomPKO Fever - 3 Tickets GTD | $200 | $15 | 2hr LR - 10m Levels - 8k SS |
|   | 11:00 PM | VenomPKO Fever - 1 Ticket GTD | $30 | $2 | 2hr LR - 5m Levels - 25k SS |
| Friday, April 23 | 12:05 PM | VenomPKO Fever - 2 Tickets GTD | $90 | $5 | 2hr LR - 5m Levels - 25k SS |
|   | 2:00 PM | VenomPKO Fever - 2 Tickets GTD | $30 | $2 | 3h LR - 12m Levels - 5kSS |
|   | 4:15 PM | VenomPKO Fever - 3 Tickets GTD | $280 | $10 | 2hr LR - 10m Levels - 8k SS |
|   | 6:00 PM | VenomPKO Fever MEGA - 5 Tickets GTD | $90 | $5 | 3h LR - 12m Levels - 5kSS |
|   | 9:15 PM | VenomPKO Fever - 2 Tickets GTD | $50 | $5 | 3h LR - 12m Levels - 5kSS |
| Saturday, April 24 | 11:15 AM | VenomPKO Fever - 1 Ticket GTD | $30 | $2 | 2hr LR - 5m Levels - 25k SS |
|   | 2:15 PM | VenomPKO Fever - 3 Tickets GTD | $50 | $5 | 3hr LR - 12m Levels - 5k SS |
|   | 5:30 PM | VenomPKO Fever - 1 Ticket GTD | $30 | $2 | 2hr LR - 5m Levels - 25k SS |
|   | 6:35 PM | VenomPKO Fever - 2 Tickets GTD | $100 | $9 | 2hr LR - 10m Levels - 8k SS |
|   | 9:05 PM | VenomPKO Fever - 1 Ticket GTD | $90 | $5 | 90m LR - 5m Levels - 10k SS |
|   | 9:05 PM | VenomPKO Fever - 1 Ticket GTD | $30 | $2 | 2hr LR - 5m Levels - 25k SS |
| Sunday, April 25 | 8:30 AM | VenomPKO Fever - 1 Ticket GTD | $30 | $2 | 2hr LR - 5m Levels - 25k SS |
|   | 11:30 AM | VenomPKO Fever - 2 Tickets GTD | $50 | $5 | 2hr LR - 5m Levels - 25k SS |
|   | 12:45 PM | VenomPKO Fever - 5 Tickets GTD | $280 | $10 | 2hr LR - 10m Levels - 8k SS |
|   | 1:45 PM | VenomPKO Fever - 3 Tickets GTD | $30 | $2 | 3hr LR - 12m Levels - 5k SS |
|   | 3:30 PM | VenomPKO Fever - 5 Tickets GTD | $600 | $30 | 2hr LR - 10m Levels - 8k SS |
|   | 6:00 PM | Beast & SnC - VENOM PKO MEGA - 20 Tickets GTD | $90 | $5 | 3h LR - 12m Levels - 5kSS |
|   | 6:45 PM | VenomPKO Fever - 1 Ticket GTD | $30 | $2 | 2hr LR - 5m Levels - 25k SS |
|   | 9:45 PM | VenomPKO Fever - 3 Tickets GTD | $100 | $9 | 2hr LR - 5m Levels - 25k SS |
|   | 9:45 PM | VenomPKO Fever - 1 Ticket GTD | $30 | $2 | 2hr LR - 5m Levels - 25k SS |
|   |   |   |   |   |   |
| Monday, April 26 | 12:15 PM | VenomPKO Fever - 1 Ticket GTD | $50 | $5 | 2hr LR - 10m Levels - 8k SS |
|   | 1:15 PM | VenomPKO Fever - 3 Tickets GTD | $280 | $10 | 3h LR - 12m Levels - 5kSS |
|   | 4:30 PM | VenomPKO Fever - 3 Tickets GTD | $200 | $15 | 2hr LR - 5m Levels - 25k SS |
|   | 7:05 PM | VenomPKO Fever - 2 Tickets GTD | $30 | $2 | 3h LR - 12m Levels - 5kSS |
|   | 9:45 PM | VenomPKO Fever - 2 Tickets GTD | $100 | $9 | 2hr LR - 10m Levels - 8k SS |
| Tuesday, April 27 | 1:00 PM | VenomPKO Fever - 1 Ticket GTD | $30 | $2 | 2hr LR - 5m Levels - 25k SS |
|   | 1:45 PM | VenomPKO Fever - 3 Tickets GTD | $280 | $10 | 2hr LR - 10m Levels - 8k SS |
|   | 3:15 PM | VenomPKO Fever - 2 Tickets GTD | $50 | $5 | 2hr LR - 5m Levels - 25k SS |
|   | 5:15 PM | VenomPKO Fever - 3 Tickets GTD | $200 | $15 | 2hr LR - 10m Levels - 8k SS |
|   | 7:30 PM | VenomPKO Fever - 3 Tickets GTD | $30 | $2 | 3h LR - 12m Levels - 5kSS |
|   | 10:45 PM | VenomPKO Fever - 1 Ticket GTD | $30 | $2 | 2hr LR - 5m Levels - 25k SS |
|   | 10:45 PM | VenomPKO Fever - 1 Ticket GTD | $100 | $9 | 90m LR - 5m Levels - 10k SS |
| Wednesday, April 28 | 1:15 PM | VenomPKO Fever - 1 Ticket GTD | $30 | $2 | 2hr LR - 10m Levels - 8k SS |
|   | 3:30 PM | VenomPKO Fever - 3 Tickets GTD | $100 | $9 | 2hr LR - 5m Levels - 25k SS |
|   | 6:00 PM | VenomPKO Fever MEGA - 5 Tickets GTD | $90 | $5 | 3h LR - 12m Levels - 5kSS |
|   | 8:05 PM | VenomPKO Fever - 2 Tickets GTD | $280 | $10 | 90m LR - 5m Levels - 10k SS |
|   | 9:15 PM | VenomPKO Fever - 1 Ticket GTD | $30 | $2 | 2hr LR - 5m Levels - 25k SS |
|   | 9:35 PM | VenomPKO Fever - 2 Tickets GTD | $100 | $9 | 2hr LR - 10m Levels - 8k SS |
| Thursday, April 29 | 1:30 PM | VenomPKO Fever - 1 Ticket GTD | $30 | $2 | 2hr LR - 5m Levels - 25k SS |
|   | 3:25 PM | VenomPKO Fever - 2 Tickets GTD | $90 | $5 | 90m LR - 5m Levels - 10k SS |
|   | 5:15 PM | VenomPKO Fever - 2 Tickets GTD | $100 | $9 | 2hr LR - 10m Levels - 8k SS |
|   | 7:05 PM | VenomPKO Fever - 3 Tickets GTD | $30 | $2 | 3h LR - 12m Levels - 5kSS |
|   | 9:35 PM | VenomPKO Fever - 3 Tickets GTD | $280 | $10 | 2hr LR - 10m Levels - 8k SS |
|   | 10:30 PM | VenomPKO Fever - 1 Ticket GTD | $30 | $2 | 2hr LR - 5m Levels - 25k SS |
| Friday, April 30 | 7:00 AM | VenomPKO Fever - 1 Ticket GTD | $30 | $2 | 2hr LR - 5m Levels - 25k SS |
|   | 9:30 AM | VenomPKO Fever - 1 Ticket GTD | $30 | $2 | 2hr LR - 5m Levels - 25k SS |
|   | 11:45 AM | VenomPKO Fever - 2 Tickets GTD | $90 | $5 | 90m LR - 5m Levels - 10k SS |
|   | 12:30 PM | VenomPKO Fever - 3 Tickets GTD | $30 | $2 | 3h LR - 12m Levels - 5kSS |
|   | 1:00 PM | The Venom PKO - $5,000,000 GTD - Day 1A | $2,500 | $150 | 6hr LR - 20m Levels - 300k SS |
|   | 1:00 PM | VenomPKO Fever - 5 Tickets GTD | $280 | $10 | 2hr LR - 10m Levels - 8k SS |
|   | 2:00 PM | VenomPKO Fever - 3 Tickets GTD | $50 | $5 | 2hr LR - 5m Levels - 25k SS |
|   | 2:35 PM | VenomPKO Fever - 4 Tickets GTD | $600 | $30 | 2hr LR - 10m Levels - 8k SS |
|   | 3:15 PM | VenomPKO Fever - 3 Tickets GTD | $100 | $9 | 90m LR - 5m Levels - 10k SS |
|   | 5:05 PM | VenomPKO Fever - 2 Tickets GTD | $200 | $7.50 | 45m LR - 5m Levels - 1500SS |
|   | 6:00 PM | VenomPKO Fever MEGA - 10 Tickets GTD | $90 | $5 | 3h LR - 12m Levels - 5kSS |
|   | 6:15 PM | VenomPKO Fever - 1 Ticket GTD | $200 | $7.50 | 15m LR - 3m Levels - 800SS |
|   | 9:05 PM | VenomPKO Fever - 2 Tickets GTD | $50 | $5 | 90m LR - 5m Levels - 10k SS |
|   | 10:15 PM | VenomPKO Fever - 1 Ticket GTD | $30 | $2 | 2hr LR - 10m Levels - 8k SS |
| Saturday, May 1 | 11:45 AM | VenomPKO Fever - 3 Tickets GTD | $30 | $2 | 3h LR - 12m Levels - 5kSS |
|   | 2:45 PM | VenomPKO Fever - 3 Tickets GTD | $100 | $9 | 2hr LR - 5m Levels - 25k SS |
|   | 4:45 PM | VenomPKO Fever - 3 Tickets GTD | $280 | $10 | 2hr LR - 10m Levels - 8k SS |
|   | 5:15 PM | VenomPKO Fever - 5 Tickets GTD | $90 | $5 | 3h LR - 12m Levels - 5kSS |
|   | 7:15 PM | VenomPKO Fever - 1 Tickets GTD | $30 | $2 | 2hr LR - 10m Levels - 8k SS |
|   | 9:15 PM | VenomPKO Fever - 2 Tickets GTD | $90 | $5 | 2hr LR - 10m Levels - 8k SS |
| Sunday, May 2 | 6:30 AM | VenomPKO Fever - 2 Tickets GTD | $100 | $9 | 2hr LR - 10m Levels - 8k SS |
|   | 7:45 AM | VenomPKO Fever - 2 Tickets GTD | $100 | $9 | 2hr LR - 10m Levels - 8k SS |
|   | 9:05 AM | VenomPKO Fever - 2 Tickets GTD | $30 | $2 | 3h LR - 12m Levels - 5kSS |
|   | 10:45 AM | VenomPKO Fever - 5 Tickets GTD | $90 | $5 | 3h LR - 12m Levels - 5kSS |
|   | 12:05 PM | VenomPKO Fever - 3 Tickets GTD | $100 | $9 | 2hr LR - 5m Levels - 25k SS |
|   | 1:00 PM | The Venom PKO - $5,000,000 GTD - Day 1B | $2,500 | $150 | 6hr LR - 20m Levels - 300k SS |
|   | 1:05 PM | VenomPKO Fever - 3 Tickets GTD | $50 | $5 | 2hr LR - 5m Levels - 25k SS |
|   | 1:45 PM | VenomPKO Fever - 5 Tickets GTD | $600 | $30 | 2hr LR - 10m Levels - 8k SS |
|   | 2:15 PM | VenomPKO Fever - 5 Tickets GTD | $280 | $10 | 90m LR - 5m Levels - 10k SS |
|   | 3:05 PM | VenomPKO Fever - 2 Tickets GTD | $100 | $9 | 2hr LR - 10m Levels - 8k SS |
|   | 5:15 PM | VenomPKO Fever - 1 Ticket GTD | $90 | $5 | 45m LR - 5m Levels - 1500SS |
|   | 6:00 PM | Beast & SnC - VENOM PKO MEGA - 20 Tickets GTD | $90 | $5 | 3h LR - 12m Levels - 5kSS |
|   | 6:05 PM | VenomPKO Fever - 2 Tickets GTD | $200 | $7.50 | 45m LR - 5m Levels - 1500SS |
|   | 9:15 PM | VenomPKO Fever - 3 Tickets GTD | $100 | $9 | 2hr LR - 5m Levels - 25k SS |
|   | 10:45 PM | VenomPKO Fever - 1 Ticket GTD | $30 | $2 | 2hr LR - 5m Levels - 25k SS |
|   |   |   |   |   |   |
| Monday, May 3 | 1:45 PM | VenomPKO Fever - 2 Tickets GTD | $30 | $2 | 3h LR - 12m Levels - 5kSS |
|   | 4:45 PM | VenomPKO Fever - 2 Tickets GTD | $100 | $9 | 2hr LR - 10m Levels - 8k SS |
|   | 5:45 PM | VenomPKO Fever - 1 Ticket GTD | $30 | $2 | 2hr LR - 5m Levels - 25k SS |
|   | 8:05 PM | VenomPKO Fever - 3 Tickets GTD | $90 | $5 | 3h LR - 12m Levels - 5kSS |
|   | 10:45 PM | VenomPKO Fever - 2 Tickets GTD | $50 | $5 | 2hr LR - 5m Levels - 25k SS |
| Tuesday, May 4 | 1:45 PM | VenomPKO Fever - 3 Tickets GTD | $280 | $10 | 2hr LR - 10m Levels - 8k SS |
|   | 3:30 PM | VenomPKO Fever - 1 Ticket GTD | $50 | $5 | 90m LR - 5m Levels - 10k SS |
|   | 5:15 PM | VenomPKO Fever - 3 Tickets GTD | $200 | $15 | 2hr LR - 10m Levels - 8k SS |
|   | 7:30 PM | VenomPKO Fever - 3 Tickets GTD | $30 | $2 | 3h LR - 12m Levels - 5kSS |
|   | 10:45 PM | VenomPKO Fever - 1 Ticket GTD | $100 | $9 | 90m LR - 5m Levels - 10k SS |
|   | 10:45 PM | VenomPKO Fever - 1 Ticket GTD | $30 | $2 | 90m LR - 5m Levels - 10k SS |
| Wednesday, May 5 | 1:15 PM | VenomPKO Fever - 1 Ticket GTD | $30 | $2 | 2hr LR - 10m Levels - 8k SS |
|   | 3:30 PM | VenomPKO Fever - 3 Tickets GTD | $100 | $9 | 2hr LR - 10m Levels - 8k SS |
|   | 5:15 PM | VenomPKO Fever - 3 Tickets GTD | $280 | $10 | 2hr LR - 5m Levels - 25k SS |
|   | 6:00 PM | VenomPKO Fever MEGA - 10 Tickets GTD | $90 | $5 | 3h LR - 12m Levels - 5kSS |
|   | 9:45 PM | VenomPKO Fever - 1 Ticket GTD | $50 | $5 | 90m LR - 5m Levels - 10k SS |
| Thursday, May 6 | 10:15 AM | VenomPKO Fever - 2 Tickets GTD | $50 | $5 | 3h LR - 12m Levels - 5kSS |
|   | 12:05 PM | VenomPKO Fever - 3 Tickets GTD | $200 | $15 | 2hr LR - 10m Levels - 8k SS |
|   | 1:30 PM | VenomPKO Fever - 1 Ticket GTD | $30 | $2 | 2hr LR - 5m Levels - 25k SS |
|   | 3:25 PM | VenomPKO Fever - 4 Tickets GTD | $90 | $5 | 3h LR - 12m Levels - 5kSS |
|   | 6:15 PM | VenomPKO Fever - 2 Tickets GTD | $200 | $15 | 2hr LR - 10m Levels - 8k SS |
|   | 7:35 PM | VenomPKO Fever - 3 Tickets GTD | $30 | $2 | 3h LR - 12m Levels - 5kSS |
|   | 10:05 PM | VenomPKO Fever - 3 Tickets GTD | $280 | $10 | 90m LR - 5m Levels - 10k SS |
|   | 10:45 PM | VenomPKO Fever - 1 Ticket GTD | $30 | $2 | 90m LR - 5m Levels - 10k SS |
| Friday, May 7 | 7:00 AM | VenomPKO Fever - 1 Ticket GTD | $30 | $2 | 2hr LR - 5m Levels - 25k SS |
|   | 9:15 AM | VenomPKO Fever - 1 Ticket GTD | $30 | $2 | 2hr LR - 5m Levels - 25k SS |
|   | 11:25 AM | VenomPKO Fever - 2 Tickets GTD | $90 | $5 | 90m LR - 5m Levels - 10k SS |
|   | 12:30 PM | VenomPKO Fever - 3 Tickets GTD | $50 | $5 | 3h LR - 12m Levels - 5kSS |
|   | 1:00 PM | The Venom PKO - $5,000,000 GTD - Day 1C | $2,500 | $150 | 6hr LR - 20m Levels - 300k SS |
|   | 1:05 PM | VenomPKO Fever - 5 Tickets GTD | $280 | $10 | 2hr LR - 10m Levels - 8k SS |
|   | 2:00 PM | VenomPKO Fever - 3 Tickets GTD | $30 | $2 | 2hr LR - 5m Levels - 25k SS |
|   | 2:25 PM | VenomPKO Fever - 4 Tickets GTD | $600 | $30 | 2hr LR - 10m Levels - 8k SS |
|   | 3:15 PM | VenomPKO Fever - 3 Tickets GTD | $100 | $9 | 90m LR - 5m Levels - 10k SS |
|   | 5:25 PM | VenomPKO Fever - 2 Tickets GTD | $200 | $7.50 | 45m LR - 5m Levels - 1500SS |
|   | 6:00 PM | VenomPKO Fever MEGA - 10 Tickets GTD | $90 | $5 | 3h LR - 12m Levels - 5kSS |
|   | 6:25 PM | VenomPKO Fever - 1 Ticket GTD | $280 | $10 | 15m LR - 3m Levels - 800SS |
|   | 7:00 PM | VenomPKO Fever - 3 Tickets GTD | $30 | $2 | 3h LR - 12m Levels - 5kSS |
|   | 9:45 PM | VenomPKO Fever - 2 Tickets GTD | $50 | $5 | 2hr LR - 10m Levels - 8k SS |
|   | 11:05 PM | VenomPKO Fever - 1 Ticket GTD | $30 | $2 | 90m LR - 5m Levels - 10k SS |
| Saturday, May 8 | 12:30 PM | VenomPKO Fever - 3 Tickets GTD | $30 | $2 | 3h LR - 12m Levels - 5kSS |
|   | 2:45 PM | VenomPKO Fever - 3 Tickets GTD | $100 | $9 | 2hr LR - 5m Levels - 25k SS |
|   | 4:45 PM | VenomPKO Fever - 3 Tickets GTD | $280 | $10 | 2hr LR - 10m Levels - 8k SS |
|   | 5:15 PM | VenomPKO Fever - 10 Tickets GTD | $90 | $5 | 3hr LR - 12m Levels - 5k SS |
|   | 7:15 PM | VenomPKO Fever - 3 Tickets GTD | $30 | $2 | 3h LR - 12m Levels - 5kSS |
|   | 9:15 PM | VenomPKO Fever - 2 Tickets GTD | $90 | $5 | 2hr LR - 5m Levels - 25k SS |
| Sunday, May 9 | 12:05 AM | VenomPKO Fever - 1 Ticket GTD | $50 | $5 | 90m LR - 5m Levels - 10k SS |
|   | 7:45 AM | VenomPKO Fever - 2 Tickets GTD | $100 | $9 | 2hr LR - 10m Levels - 8k SS |
|   | 8:45 AM | VenomPKO Fever - 2 Tickets GTD | $30 | $2 | 3h LR - 12m Levels - 5kSS |
|   | 10:45 AM | VenomPKO Fever - 5 Tickets GTD | $90 | $5 | 3h LR - 12m Levels - 5kSS |
|   | 12:05 PM | VenomPKO Fever - 2 Tickets GTD | $100 | $9 | 90m LR - 5m Levels - 10k SS |
|   | 1:00 PM | The Venom PKO - $5,000,000 GTD - Day 1D | $2,500 | $150 | 6hr LR - 20m Levels - 300k SS |
|   | 1:05 PM | VenomPKO Fever - 3 Tickets GTD | $50 | $5 | 2hr LR - 5m Levels - 25k SS |
|   | 1:45 PM | VenomPKO Fever - 5 Tickets GTD | $600 | $30 | 2hr LR - 10m Levels - 8k SS |
|   | 2:15 PM | VenomPKO Fever - 4 Tickets GTD | $280 | $10 | 2hr LR - 10m Levels - 8k SS |
|   | 3:30 PM | VenomPKO Fever - 2 Tickets GTD | $100 | $9 | 90m LR - 5m Levels - 10k SS |
|   | 5:25 PM | VenomPKO Fever - 2 Tickets GTD | $200 | $7.50 | 45m LR - 5m Levels - 1500SS |
|   | 5:45 PM | VenomPKO Fever - 1 Ticket GTD | $280 | $10 | 15m LR - 3m Levels - 800SS |