The final table of Event #66: $1,000 Mini-Main No-Limit Hold'em at Bally's and Paris in Las Vegas Nevada came to a close after 60 minutes Sunday afternoon.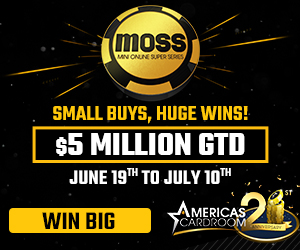 And the winner is.... Young Sik.
Fresh off a career best score of $203,949, the Mini Main event yielded him $594,189 and his first WSOP bracelet.
"I came into today with a 10 big blind stack," the new champion said. "I wasn't expecting too much out of it, but it turned out great." The California resident prior to this victory, possessed $716,460 in career tournament earnings. He will now see his earnings climb to over $1,000,000 on Hendon Mob, cracking the top 200 on the California all time money list. "I liked it better being on the short stack," he said about his play. "When there is a shorter stack, you feel more ICM pressure, but when you are the shortest, you can just play." Sik ended by saying he will play the main event this year.
Sik currently resides in Los Angeles.
July
Monday 4
Event #70: $10,000 MAIN EVENT No-Limit Hold'em World Championship (Ends Saturday July 16)
Event #66: $1,000 MINI Main Event No-Limit Hold'em (freezeout) Results
Event #69: $10,000 Pot-Limit Omaha 8-Handed Championship  (Ends Tuesday)
Event #68: $1,000 Million Dollar Bounty No-Limit Hold'em (Ends Wednesday)
Tuesday 5
Event #70: $10,000 MAIN EVENT No-Limit Hold'em World Championship (Ends Saturday July 16)
Event #69: $10,000 Pot-Limit Omaha 8-Handed Championship  (Ends Tuesday) Results
Event #68: $1,000 Million Dollar Bounty No-Limit Hold'em (Ends Wednesday)
Wednesday 6
Event #70: $10,000 MAIN EVENT No-Limit Hold'em World Championship (Ends Saturday July 16)
Event #68: $1,000 Million Dollar Bounty No-Limit Hold'em (Ends Wednesday) Results
Thursday 7
Event #70: $10,000 MAIN EVENT No-Limit Hold'em World Championship (Ends Saturday July 16)
Event #71: $1,111 One More for One Drop No-Limit Hold'em - (Ends Monday)
Event #72: $1,500 Mixed: Pot-Limit Omaha Hi-Lo 8 or Better; Omaha Hi Lo 8 or Better; 'Big O' (Ends Saturday)
Friday 8
Event #70: $10,000 MAIN EVENT No-Limit Hold'em World Championship (Ends Saturday July 16)
Event #71: $1,111 One More for One Drop No-Limit Hold'em - (Ends Monday)
Event #72: $1,500 Mixed: Pot-Limit Omaha Hi-Lo 8 or Better; Omaha Hi Lo 8 or Better; 'Big O' (Ends Saturday)
Event #73: $1,500 Razz (Ends Sunday)
Saturday 9
Event #70: $10,000 MAIN EVENT No-Limit Hold'em World Championship (Ends Saturday July 16)
Event #71: $1,111 One More for One Drop No-Limit Hold'em - (Ends Monday)
Event #72: $1,500 Mixed: Pot-Limit Omaha Hi-Lo 8 or Better; Omaha Hi Lo 8 or Better; 'Big O' (Results)
Event #73: $1,500 Razz (Ends Sunday)
Event #74: $1,500 BOUNTY Pot-Limit Omaha 8-Handed (Ends Monday)
Sunday 10
Event #70: $10,000 MAIN EVENT No-Limit Hold'em World Championship (Ends Saturday July 16)
Event #71: $1,111 One More for One Drop No-Limit Hold'em - (Ends Monday)
Event #73: $1,500 Razz (Ends Sunday) Results
Event #74: $1,500 BOUNTY Pot-Limit Omaha 8-Handed (Ends Monday)
Event #75: $777 Lucky 7's No-Limit Hold'em 7-Handed - (Ends Thursday)
Event #76: $1,979 Poker Hall of Fame Bounty No-Limit Hold'em (Ends Monday)
- Ace King, Gambling911.com