Everybody's doing it.  Love him, hate him, or something in between, betting on the former US President Donald Trump is on fire these days.  One would be surprised to find there aren't a whole lot of political betting sites out there.  BetOnline has pretty much cornered the market.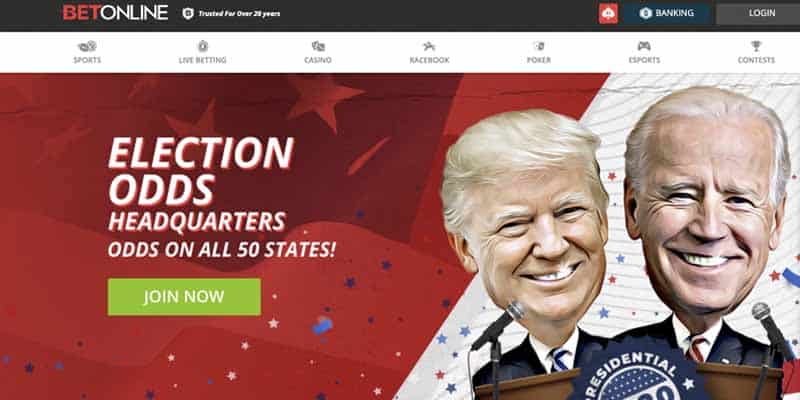 Bet on Trump Being the GOP Presidential Nominee in 2024
Ahead of the March 30 news that a grand jury had voted to indict Trump, he was a slight favorite to be the 2024 Republican nominee and the prices hadn't changed 12 hours after the news broke.  Trump was a -120 favorite and Florida Governor Ron DeSantis had a price of +150.
Manhattan District Attorney Alvin Bragg's decision to convene the grand jury early this year led to the first criminal charge against a former U.S. president and follows years of investigations into his personal, political and business dealings.
The exact nature of the charges was unclear Friday because the indictment remained under seal.
A Manhattan grand jury voted to indict the former President. 
A spokesman for the Manhattan district attorney's office confirmed the indictment and said prosecutors had reached out to Trump's defense team to coordinate a surrender. Tacopina said Trump is "likely" to turn himself in on Tuesday.
Trump indictment markets at @betonline_ag

Total states/feds to indict
Over/Under 2.5, both -120

To serve jail time before end 2024
Yes +800, No -2500

To move to Russia
Yes +700, No -2000

To cut a plea deal before end 2024
Yes +300, No -500https://t.co/DBWj6RyTgK

— Political Gambler (@paulmotty) March 31, 2023
Bet on Trump Being Elected President Again in 2024
There is some interesting conflict here as BetOnline has the Republicans as the winning party at -120 but current Democratic President Joe Biden is the odds-on favorite to win over both Trump and DeSantis.
It's a three-way race, and a tight one at that.  Biden was coming in at +185, Trump +250, DeSantis +325.
The Over, Under Number of Indictments
It became abundantly clear that Trump would be indicted as telltale signals suggested the Manhattan DA's was coming to a close.
At the time BetOnline pulled their Trump indictment odds, the number was set at -500.
Currently they offer odds on the total number of indictments, with the number set at 2.5.  Prior to the March 30 news, BetOnline had the UNDER priced at -250.  Immediately following the news, they had the price set at -120 on both the OVER and UNDER.
Trump Non-Extradition Country
There are other probes into the 45th President.  This has some folks believing Trump might wish to purchase a one-way ticket to another country.  That appears to be what Brazil's former President, Jair Bolsonaro, has done.  He's now living in the US.
The potential exists that Trump could be charged federally with Espionage Act violations.  He'd almost certainly land behind bars if that ever came to fruition.
Not every country has an extradition treaty with the US.  BetOnline was offering betting on which non-extradition country Trump would flee to.
Originally BetOnline had Russia as the -200 favorite.  This was prior to the Russian-Ukrainian war however.
United Arab Emirates +250 and Qatar +300 had the next shortest odds. 
Other country odds included the following:
Morocco +500
Brunei +700
Montenegro +800
Ukraine +800
Saudi Arabia +1000
Mongolia +1500
Indonesia +1500
Jordan +2000
Lebanon +2000
Cambodia +3000
Georgia +3000
Vietnam +5000
Vatican City +5000
Libya +7500
China +10000
- Jagajeet Chiba, Gambling911.com