Real Life Underbelly NRL Style
Published on:
Feb/05/2011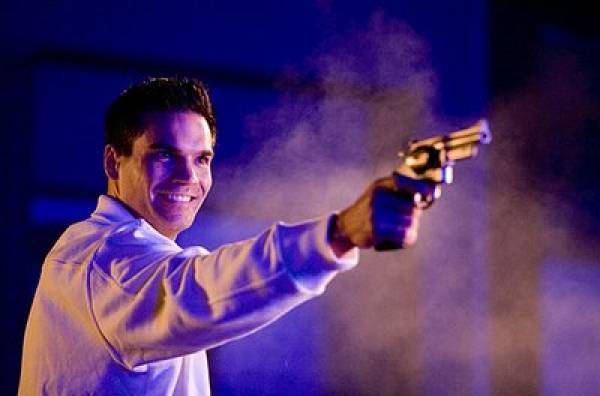 G'day punters, journos, sports nuts, high rollers - casino whales, gambling millionaires and billionaires, media tycoons, politicians, insiders, outsiders, law enforcement agencies, legal eagles ... one and all. You know who you are. This is Real Life Underbelly - NRL style!... Media Man http://www.mediamanint.com and Gambling911 go beneath the underbelly of Australia's National Rugby League, where the real news is...
Australian Police Swoop On NRL Bet Scandal; Blow By Blow Account...
It's goes like this...early Tuesday, coppers with search warrants, hone in simultaneously on the shacks of Doggies star play Ryan Tandy, player agent big wig Sam Ayoub and former NRL great John Elias. Tandy is in bed at eastern suburbs Bronte. Ayoub is getting ready to go to work in the Strathfield home he shares with former Roosters and now Parramatta Eels player Brad Murray. Elias, who recently penned a tale about his involvement in various crimes and time in the clink, lives with mum at  Punchbowl in Sydney's south west.
Police search for any breakthrough evidence in the NRL betting scandal from the highly suspicious Cowboys-Bulldogs game late last season. Officers raid the homes, confiscate mobile phones, search cars, seize computers... you get the idea.. Ayoub quizzed by the press over the past few days refuses comment, having denied any illegal activity. Yep, he's a cleanskin.
"I don't know who is telling you things," Ayoub said. "I'm with people...I've got to go," he added, before hanging up.
Ayoub is Tandy's manager, the player who gave away the controversial penalty which sparked the Racing NSW stewards inquiry that was later passed over to police. Ayoub, who shares a house with Murray, was captured on CCTV footage placing substantial wagers on the option of Cowboys scoring first points from a penalty goal. Ayoub has confirmed he placed a bet on a Cowboys penalty goal as the first score but says it's an option he often takes when gambling on NRL games.
Elias said he was shocked when police knocked on his door, although he was aware of the rumours that he bet heavily on the game in question and the penalty goal option under investigation. "Is there now a law against having a bet?" Elias said. "I have done absolutely nothing wrong. People know I like to have a bet on the footy, but so do a lot of other fans." News Limited understands police showed Elias photos of a punter placing bets at the Rozelle and Haberfield TAB outlets and asked if it was him. He confirmed it in fact was. The raids follow over 4 months of investigations by coppers, involving interviews with dozens of NRL players, officials and managers.
A massive amount of resources are being throw at the case. It's a secret what cops found in the search. The dees confirmed they seized relevant documentation and mobile phones, while one leak be prepared for more to come out at the Crime Commission this week." Ayoub, Murray and Tandy all appeared before the NSW Crime Commission within the last week before dees raided their homes. No findings of wrongdoing were made against them. Tandy was recalled and later charged for allegedly providing false evidence to a law enforcement agency during an investigation. At a presser later, Detective Superintendent Arthur Katsogiannis claimed the information Tandy provided to police was far more serious than "a white lie". "This is the type of lie that carries very serious ramifications," he alleged. He refused to comment on how many other players would be charged in relation to the investigation. "It's not a game - this is real life, and police will continue with their investigations in an endeavour to uncover the truth and ensure justice is done," Katsogiannis said. "Detectives will continue to use every available resource to uncover the truth and complete their investigation.  "If anyone has been involved with, or has information about criminal activity regarding betting allegations, we urge them to come forward and assist police while they have the opportunity."
Players And Agents Part Of Real Life Underbelly?...
An underworld type has been seriously implicated in the NRL's latest scandal. Police investigating match-fixing claims executed search warrants at a Punchbowl home early on Tuesday morning. In the home lives mum Susan, John Elias, 3 times a jailbird and a self-confessed match fixer, race rigger and stand-over man, whose knows the who is who of the underworld. In the 80s and 90's Elias was a huge star.
When not playing footy he would sometimes engage in robberies and other criminal behavior. He had very close ties to crime figure Danny Karam. Karam was murdered by gunshot in 1998 by his partner Michael "Doc" Kanaan. Elias's "Kings Cross family" is understood to be headed by friend John Ibrahim. "'John is now arguably the most influential man of his kind in Sydney, a Lebanese immigrant like myself but with infinitely more connections" wrote Elias in his autobiography Sin Bin, which hit the shelves in 2010. When in jail he got to build more connections with crims, as you would expect, even with murderer and drug trafficker Neddy Smith. Smith, was a key part of the puzzle that saw Elias put $1 million with illegal bookies on the infamous game between Wests and Elias's then-team Souths circa 1994. Smith gave Elias money to pay 4 Souths players $25,000 each to play poorly, while 4 Wests players were bucks to play their guts out! That was that the the games' outcome almost a lock.
Elias placed $1 million with illegal bookies on Wests to win. The fix had some similarities to the alleged Cowboys-Bulldogs case of last year, where there was a plunge for the Cowboys to score first by way of a penalty goal. In both cases, it was the pre-game betting that set of the warning a fix might be up. Due to the 1994 plunge, the media speculated a fix was on. The fix was called off at the last moment the story goes, but not all are totally convinced. "While there's no such thing as a certainty in gambling, there were ways to stack the odds in your favour," writes Elias in his book. While betting scams were one thing, his also loved putting the fix on the trots. "So where do I go from here?" pens Elias in his book. "Now that you know my life's story, I'm hoping you can be the judge.". The tainted anti hero is expect to get strong book sales and numerous media opportunities, but not all will be positive, however some will be balanced. He will be back in the news.
NRL In Bed With Gambling; A Safe Bet Or Not?...
Ryan Tandy's recent arrest is the closest anyone, player, agent or other, has come to being charged following an investigation into betting on the NRL. Despite criticism of the growing ties with the NRL and its clubs have with bookies via betting and sponsorship, it is those lines of communication that helped NSW chief racing steward Ray Murrihy decide that the matter should be handed over to the coppers, our friend - the Boys In Blue.
The NRL insists that betting agencies associated with the game sign agreements that insist on co-operation. It was those integrity agreements that Murrihy, who was called in by the NRL as a consultant, was able to work out the level of betting activity on the first scoring option in last August's Cowboys-Bulldogs match at Dairy Farmers Stadium, and where the wagers were placed. He then decided there was enough solid evidence to warrant the involvement of the NSW Police Casino and Racing Unit, which then organised hearings before the New South Wales Crime Commission.
Recent developments such as Penrith renaming their home ground to CentreBet Stadium, Manly entering a sponsorship agreement with CentreBet, and South Sydney wearing the Star City casino logo on the front of their jersey have lifted concerns about the growing involvement of gambling firms in the footy. Crown Casino is now confirmed as the Melbourne Storm's new major sponsor. Gambling on sport is big business, in Australia and around the globe, and punters will bet money on matches regardless of whether the NRL and clubs are officially involved or not. The game wants to profit, which is fair enough, as betting on sport, events and such is hear to stay, well entrenched in Australian culture. Let it be known to all...the police charges against the Doggies front-rower for giving false evidence. They are not directly related to the betting on the game as such, but often where there is smoke, there is fire.
The probe has also revealed that Parramatta halfback Brad Murray placed a bet on the Cowboys-Bulldogs game, which is contrary to NRL rules and likely to lead to sanctions against Murray...although there is no suggestion he did anything illegal. Back in 1994, the game was subjected to similar rumours and allegations, involving players from the South Sydney Rabbitohs and Magpies that were never conclusively probed. Tainted ex footy NRL legend ... the anti hero - Elias surged up the best-sellers with his book in which goes on to tell how he had tried to fix a match, the last of the season. Elias, who was playing for The Bunnies at the time, claimed to have been offered $50,000 for himself and another $100,000 to buy off teammates to ensure Wests won. He explained in detail how he organised the sting, and then called it the evening before the game. Four Souths players including Sinclair, who passed away last year sued for defamation. There have been rumours and allegations of other betting rorts in between but no wrongdoing has ever been proved. Betting and the NRL is a curious mix, but is it a case of better the devil you know, than the one you don't? If the NRL teams do deals with the gaming and betting sector, one would think they can better keep a finger on the pulse of the situation, but would they be fooling themselves? Time will tell... maybe!
Don't change your dial punters. We will be back soon with more of the saga that is Real Life Underbelly NRL style.
Take the time to research and learn games before placing down money
Media Man http://www.mediamanint.com Casino News Media and Gambling911 are website portals. Not casinos as such, however are recognised as world leading websites that cover the sector and act as central points to games, news, reviews and more.
Readers... er, punters, how did you like our report? Tell us in the forum. 
If you have a bet, please bet with your head, not over it, and for God's sake, have fun.
*Greg Tingle is a special contributor for Gambling911
*Media Man http://www.mediamanint.com is primarily a media, publicity and internet portal development company. Gaming is just one of a dozen sectors covered