Hookers for Hillary: Sex Workers Caucusing for Clinton as Her Numbers Slip in Nevada
Published on:
Feb/15/2016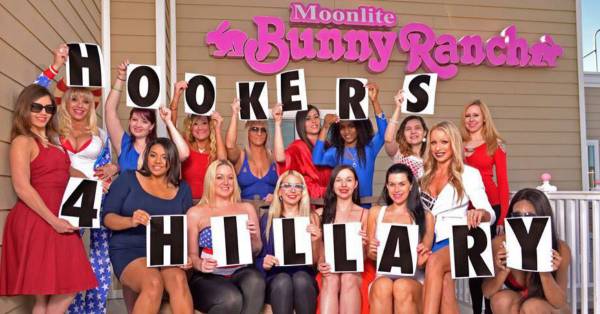 Legal prostitutes have come out to endorse Hillary Clinton to win the Nevada Caucus. That state's voter registrants has more than doubled since the last caucus.
Hookers for Hillary was the brainchild of brothel owner Dennis Hof and the working girls at the Moonlite Bunny Ranch, and it marked a hard left turn after Pimpin' for Paul, the group's 2008 and 2012 efforts to propel libertarian Ron Paul into the White House. 
It is hard to argue with the attention-getting power of sex workers in stilettos, plunging red-white-and-blue necklines, noms d'amour such as Entice Love, Air Force Amy and Caressa Kisses.
But behind Hof's publicity stunt turned political action is a sobering reality.  It comes at a time when her poll numbers are declining in the Silver State.
Clinton's odds in Nevada have but severely cut by BetOnline as noted below. Also scroll down to watch the video of prostitutes talking about the former Secretary of State.
US Presidential Election

Odds to Win the Democratic Party Nevada Caucus

 

08:00 PM
701
Hillary Clinton
 
-150
 
702
Bernie Sanders
 
+120