Zynga Partners With Bwin.Party to Offer Real Money Online Poker in UK
Published on:
Oct/24/2012
(GlobeNewswire via COMTEX) -- Zynga, the world's leading provider of social game services, and bwin.party, the leading international real money gaming operator, today announced an exclusive partnership to offer real money online Poker and Casino games in the UK market. Zynga's UK-based RMG service and bwin.party will launch RMG products including Poker and a full suite of 180 Casino games in the first half of 2013, which include table games such as slots, roulette and blackjack.
"Bringing together Zynga's expertise in social gaming with the top international real money gaming operator is the best way to create the highest quality gaming experiences for our players in the UK," said Barry Cottle, Executive Vice President, Corporate and Business Development, Zynga. "Partnering with an established leader like bwin.party is a strategic and prudent way for us to enter a key RMG market while giving local players the real money games they've been asking us for."
Advertisement: Play free online poker or for REAL MONEY via your webcam at Camasino.com.  Licensed in the Isle of Man.  Operators of Canada's biggest land-based poker room .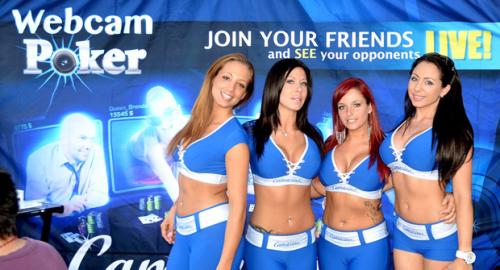 "Today's announcement is another example of our success in leveraging our assets through strategic blue-chip partners," said Jim Ryan and Norbert Teufelberger, Co-CEOs of bwin.party. "Zynga is the world's leader in social games with hundreds of millions of active players worldwide and a significant player base in the UK. We are delighted to have been selected as their chosen partner for this important step in their evolution, and hope to expand our relationship into other products and markets."
Zynga's real money UK poker customers will join the bwin.party dotcom player liquidity pool -- getting the benefits of playing on the largest regulated poker network. Zynga's UK-based RMG service will be powered by the established operating platform, software, and related support of bwin.party.
In addition to the full suite of Casino and Poker games, Zynga's UK-based RMG service will also leverage the company's world renowned entertainment brand, FarmVille, to offer local players the first-ever, online FarmVille-branded real money slots game.
Zynga's UK-based RMG service will operate under bwin.party's Gibraltar gaming license.