Lock Poker Successful Move to Merge Network
Published on:
Dec/07/2010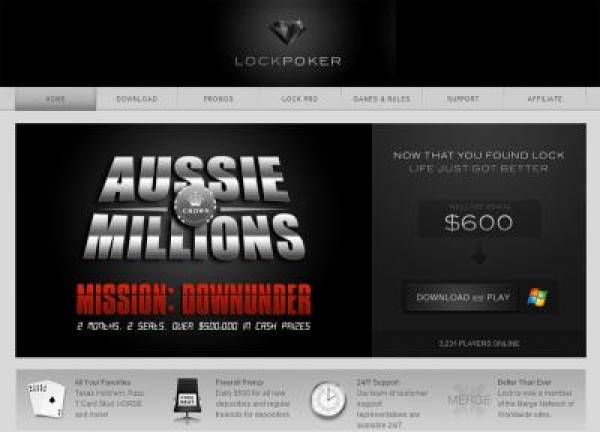 Lock has successfully joined the Merge network.  "Merge is a natural fit for us," remarked Jennifer Larson, founder and CEO of Lock. "They are aggressive, innovative and very progressive in design and development. They are also dedicated to allowing their partners to be authentic which is integral to the success of a network in the long-term."
Anthony Taylor, Chief Executive Officer of Merge Gaming said: "We are delighted that Lock Poker have agreed to join the network and we are thrilled to be working with such an innovative and experienced marketing group. This deal will bring even more liquidity to the network and aid our continued growth."
Eric "Rizen" Lynch, VP of Lock Poker remarked: "I am very excited about the move to the Merge network and I will be working closely with them to further innovate Lock's product. We will also now be able to offer great rewards to the North American market. Our philosophy is built on investing in the true poker player, and appreciating and rewarding their passion and dedication. We now have the tools to achieve that."
To check out the new platform, click here.
LOCK
Lock is the world's most innovative online gaming brand. Lock launched their first masterpiece, Lock Poker, over two years ago and recently launched their ground breaking Casino. They exploded into poker industry by introducing the Bluff Online Poker challenge, becoming the first company to develop a Mac download casino and hiring Eric Rizen Lynch as their VP of Product development. Lock continues to bring a fresh perspective to this exciting industry and its mandate is to drive innovation through superior design and initiative. vhttp://www.lockpoker.com/ & http://www.lockcasino.com
MERGE GAMING
Merge Gaming is the fresh new face in the online poker world, growing rapidly and providing a solid, secure, gaming platform for it's partners. We are dedicated to providing users with the best possible online gaming experience, and providing our operators all the tools necessary to run a successful poker business. Merge Gaming accepts players worldwide and is focused on catering to all player groups through active promotions, game variety, quality software and security.