What Is The Payout If The Lions Win Versus The 49ers Week 1
Published on:
Sep/06/2021
The Detroit Lions are a +7.5 underdog after opening at +9 versus the San Francisco 49ers.  The Lions are playing at home.  An outright win by Detroit pays out $280 for every $100 bet.  Be sure to take advantage of BetUS 200% crypto bonus (max bonus $2500)
The Lions are expected to be bad this season, with payout odds of $20,000 on a $100 bet to win the Super Bowl.  That might not be a bad thing.  At least this year Lions diehard fans will watch each game with the lowest of expectations, and maybe there will be a surprise in store.  Who knows?  Oddsmakers have them winning just 5 regular season games in 2021.
Its the beginning of the Jared Goff Era in Detroit.
BetUS resident Lions fan, Las Vegas Cris (notice he doesn't use his real name), admits they were happy that Matthew Stafford is no more.
"We knew we had to do some type of a rebuilding," he said.  "Stafford was so loved there may be more Lions fans rooting for the Rams this year."
Oh really?
Well, Vegas Cris explains that it's not just Stafford who has exited.
"They've lost 11,000 snaps," he noted.
The 49ers, meanwhile, have the 7th shortest odds of winning Super Bowl 56.  They should also win 11 or more regular season games according to the oddsmakers.
All the components are in place for San Francisco to have a successful season.  The running attack and the run defense should seal the deal in this game.
Trey Lance (pictured below) will be the future of the franchise in the quarterback position presumably.  For now Jimmy Garoppolo will start but his issue is staying healthy.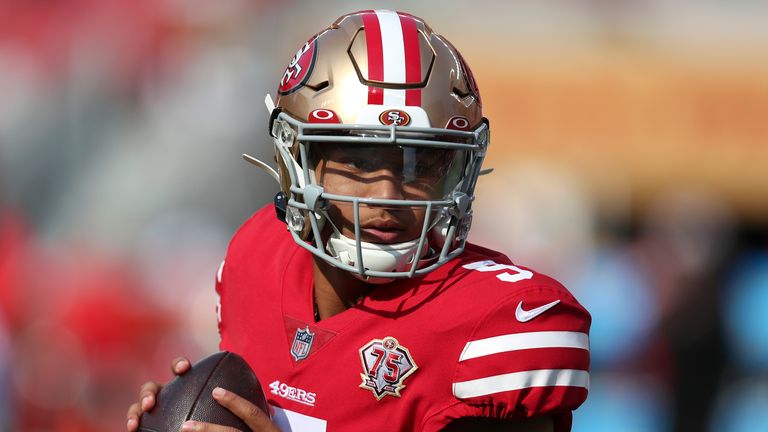 49ers @ Lions Sun, Sep 12, 2021 EST
| Rot | First To Score | Moneyline |
| --- | --- | --- |
| 3001 | 49ers     | -150 |
| 3002 | Lions     | +120 |
| Rot | First Scoring Play Of The Game | Moneyline |
| --- | --- | --- |
| 3007 | 49ers TD     | +140 |
| 3008 | 49ers FG     | +350 |
| 3009 | 49ers Any Other Score     | +5500 |
| 3010 | Lions TD     | +260 |
| 3011 | Lions FG     | +375 |
| 3012 | Lions Any Other Score     | +5500 |
| Rot | Will there be a Defensive or Special Teams TD | Moneyline |
| --- | --- | --- |
| 3013 | Yes     | +200 |
| 3014 | No     | -250 |
| Rot | Total TDs in the Game | Moneyline |
| --- | --- | --- |
| 3015 | Over  4½  TDs | -155 |
| 3016 | Under  4½  TDs | +125 |
| Rot | Total FGs Scored in the Game | Moneyline |
| --- | --- | --- |
| 3017 | Over  2½  FGs | -210 |
| 3018 | Under  2½  FGs | +170 |
| Rot | Longest TD in the Game | Moneyline |
| --- | --- | --- |
| 3019 | Over  40½  Yards | -115 |
| 3020 | Under  40½  Yards | -115 |
| Rot | Shortest TD in the Game | Moneyline |
| --- | --- | --- |
| 3021 | Over  1½  Yards | -110 |
| 3022 | Under  1½  Yards | -120 |
| Rot | Longest FG Scored in the Game | Moneyline |
| --- | --- | --- |
| 3023 | Over  47½  Yards | -115 |
| 3024 | Under  47½  Yards | -115 |
| Rot | A Team to Score 3 Unanswered Times | Moneyline |
| --- | --- | --- |
| 3025 | Yes     | -200 |
| 3026 | No     | +165 |
| Rot | Team To Score Longest TD | Moneyline |
| --- | --- | --- |
| 3027 | 49ers     | -180 |
| 3028 | Lions     | +150 |
| Rot | Team To Score Longest FG | Moneyline |
| --- | --- | --- |
| 3029 | 49ers     | -120 |
| 3030 | Lions     | -110 |
| Rot | Team Scoring 1st Wins Game | Moneyline |
| --- | --- | --- |
| 3031 | Yes     | -180 |
| 3032 | No     | +150 |
| Rot | Team to Call 1st Timeout | Moneyline |
| --- | --- | --- |
| 3033 | 49ers     | -115 |
| 3034 | Lions     | -115 |
| Rot | Double Result | Moneyline |
| --- | --- | --- |
| 3035 | 49ers/49ers     | -135 |
| 3036 | 49ers/Tie     | +4000 |
| 3037 | 49ers/Lions     | +1200 |
| 3038 | Tie/49ers     | +1100 |
| 3039 | Tie/Tie     | +4500 |
| 3040 | Tie/Lions     | +2200 |
| 3041 | Lions/49ers     | +450 |
| 3042 | Lions/Tie     | +3500 |
| 3043 | Lions/Lions     | +425 |
| Rot | Race To 10 Points | Moneyline |
| --- | --- | --- |
| 3045 | 49ers     | -230 |
| 3046 | Lions     | +170 |
| 3047 | Neither     | +8000 |
| Rot | Race To 15 Points | Moneyline |
| --- | --- | --- |
| 3049 | 49ers     | -260 |
| 3050 | Lions     | +225 |
| 3051 | Neither     | +1600 |
| Rot | Race To 20 Points | Moneyline |
| --- | --- | --- |
| 3053 | 49ers     | -240 |
| 3054 | Lions     | +325 |
| 3055 | Neither     | +550 |
| Rot | Race To 25 Points | Moneyline |
| --- | --- | --- |
| 3057 | 49ers     | -140 |
| 3058 | Lions     | +700 |
| 3059 | Neither     | +160 |
| Rot | Race To 30 Points | Moneyline |
| --- | --- | --- |
| 3061 | 49ers     | +130 |
| 3062 | Lions     | +1100 |
| 3063 | Neither     | -135 |
| Rot | Race To 35 Points | Moneyline |
| --- | --- | --- |
| 3065 | 49ers     | +300 |
| 3066 | Lions     | +2200 |
| 3067 | Neither     | -375 |
| Rot | Race To 40 Points | Moneyline |
| --- | --- | --- |
| 3069 | 49ers     | +500 |
| 3070 | Lions     | +3500 |
| 3071 | Neither     | -850 |
| Rot | Win Margin 3-Way | Moneyline |
| --- | --- | --- |
| 3073 | 49ers to Win by 6 or More Pts     | -165 |
| 3074 | Lions to Win by 6 or More Pts     | +450 |
| 3075 | Any Other Result     | +225 |
| Rot | Highest Scoring Half | Moneyline |
| --- | --- | --- |
| 3079 | 1st Half     | -115 |
| 3080 | 2nd Half     | -105 |
| 3081 | Tie     | +1800 |
| Rot | Highest Scoring Quarter | Moneyline |
| --- | --- | --- |
| 3083 | 1st Quarter     | +500 |
| 3084 | 2nd Quarter     | +180 |
| 3085 | 3rd Quarter     | +450 |
| 3086 | 4th Quarter     | +220 |
| 3087 | Tie     | +750 |
| Rot | Winning Margin | Moneyline |
| --- | --- | --- |
| 3089 | 49ers to win by 1-6 pts     | +300 |
| 3090 | 49ers to win by 7-12 pts     | +350 |
| 3091 | 49ers to win by 13-18 pts     | +400 |
| 3092 | 49ers to win by 19-24 pts     | +700 |
| 3093 | 49ers to win by 25-30 pts     | +1200 |
| 3094 | 49ers to win by 31-36 pts     | +2000 |
| 3095 | 49ers to win by 37-42 pts     | +3300 |
| 3096 | 49ers to win by 43 or More pts     | +4000 |
| 3097 | Lions to win by 1-6 pts     | +450 |
| 3098 | Lions to win by 7-12 pts     | +900 |
| 3099 | Lions to win by 13-18 pts     | +1800 |
| 3100 | Lions to win by 19-24 pts     | +3600 |
| 3101 | Lions to win by 25-30 pts     | +6600 |
| 3102 | Lions to win by 31-36 pts     | +10000 |
| 3103 | Lions to win by 37-42 pts     | +11000 |
| 3104 | Lions to win by 43 or More pts     | +12500 |
| 3105 | Tie     | +5500 |
| Rot | Total Points Scored | Moneyline |
| --- | --- | --- |
| 3107 | 00-20 pts     | +2500 |
| 3108 | 21-30 pts     | +700 |
| 3109 | 31-40 pts     | +280 |
| 3110 | 41-50 pts     | +200 |
| 3111 | 51-60 pts     | +320 |
| 3112 | 61-70 pts     | +650 |
| 3113 | 71+ pts     | +1200 |
| Rot | Will there be a Succesful 2 Point Conversion ? | Moneyline |
| --- | --- | --- |
| 3155 | Yes     | +325 |
| 3156 | No     | -450 |
- Ean Lamb, Gambling911.com