The USC Trojans take on the Arizona Wildcats.  The line here is Trojans -14.5.  Jazz Sports offers a generous welcome bonus (max bonus $1000).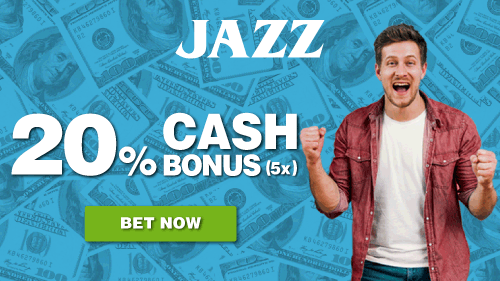 Preview
"Arizona is a scrappy team, and head coach Kevin Sumlin knows how to create a winning gameplan, but the Wildcats don't have a strong record against the Trojans, and the line for this game suggests this one won't be close either. But that's the on-paper scenario, and the Trojans still have to play the game. If USC doesn't take Arizona seriously, the Trojans will lose.
"USC should come out firing on all cylinders and force the Wildcats to keep up with them on offense. This is a great way to force turnovers and create defensive stops. If USC can strike a proper balance between the run and the pass, Arizona doesn't really have the linebackers at the second level to bother USC. Expect the Trojans to attack this with passion.
"At the end of the day, USC should win this game rather handily. The Trojans have way too much talent on offense, and they have enough on defense to stifle any team. The question for USC has always been effort on Saturdays. Are they interested? Are they focused? These things have bit Trojan head coach Clay Helton in the rear a couple of times, and he'll want to shed that narrative on Saturday with a convincing win." - Athlon Sports
Prediction: USC 42, Arizona 24
Props
USC @ Arizona Sat, Nov 14, 2020 EST
| Rot | First Scoring Play | Moneyline |
| --- | --- | --- |
| 1009 | USC TD     | -115 |
| 1010 | USC FG     | +500 |
| 1011 | USC Any Other Score     | +4500 |
| 1012 | Arizona TD     | +170 |
| 1013 | Arizona FG     | +800 |
| 1014 | Arizona Any Other Score     | +5000 |
| Rot | A Team to Score 3 Unanswered Times | Moneyline |
| --- | --- | --- |
| 1015 | Yes     | -375 |
| 1016 | No     | +275 |
| Rot | Team Scoring 1st Wins Game | Moneyline |
| --- | --- | --- |
| 1017 | Yes     | -190 |
| 1018 | No     | +160 |
| Rot | Winning Margin | Moneyline |
| --- | --- | --- |
| 1019 | USC to win by 1-6 pts     | +450 |
| 1020 | USC to win by 7-12 pts     | +450 |
| 1021 | USC to win by 13-18 pts     | +400 |
| 1022 | USC to win by 19-24 pts     | +450 |
| 1023 | USC to win by 25-30 pts     | +700 |
| 1024 | USC to win by 31-36 pts     | +900 |
| 1025 | USC to win by 37-42 pts     | +1500 |
| 1026 | USC to win by 43 or more pts     | +1300 |
| 1027 | Arizona to win by 1-6 pts     | +750 |
| 1028 | Arizona to win by 7-12 pts     | +1300 |
| 1029 | Arizona to win by 13-18 pts     | +2200 |
| 1030 | Arizona to win by 19-24 pts     | +4000 |
| 1031 | Arizona to win by 25-30 pts     | +6500 |
| 1032 | Arizona to win by 31-36 pts     | +9000 |
| 1033 | Arizona to win by 37-42 pts     | +10000 |
| 1034 | Arizona to win by 43 or more pts     | +11000 |
| Rot | Double Result | Moneyline |
| --- | --- | --- |
| 1035 | USC/USC     | -230 |
| 1036 | USC/Tie     | +3500 |
| 1037 | USC/Arizona     | +1100 |
| 1038 | Tie/USC     | +1200 |
| 1039 | Tie/Tie     | +4000 |
| 1040 | Tie/Arizona     | +2500 |
| 1041 | Arizona/USC     | +550 |
| 1042 | Arizona/Tie     | +4000 |
| 1043 | Arizona/Arizona     | +500 |
| Rot | Will Game Go to Overtime | Moneyline |
| --- | --- | --- |
| 1044 | Yes     | +1000 |
| 1045 | No     | -3000 |
- Mary Montgomery, Gambling911.com